---
Assessing the way forward for airport foreign exchange
Despite claims of poor value for money and a future where cash is no longer required, specialists in the airport foreign exchange sector insist the business remains viable and can thrive, with a focus on innovative, multi-channel services. Jason Holland investigates.
''Rip off' airport currency exchange rates hit new lows against the Euro and Dollar'.
'Airport exchange rates reach SHOCKING new lows'.
These are just two of the sensationalist newspaper headlines to have appeared this year that reinforce perceptions that airport currency exchange rates are not value for money.
High transaction fees are often cited, and many consumer advice pages note that the airport rate can usually be beaten if travellers take the time to do research in advance of their trip and either buy elsewhere or make use of online services.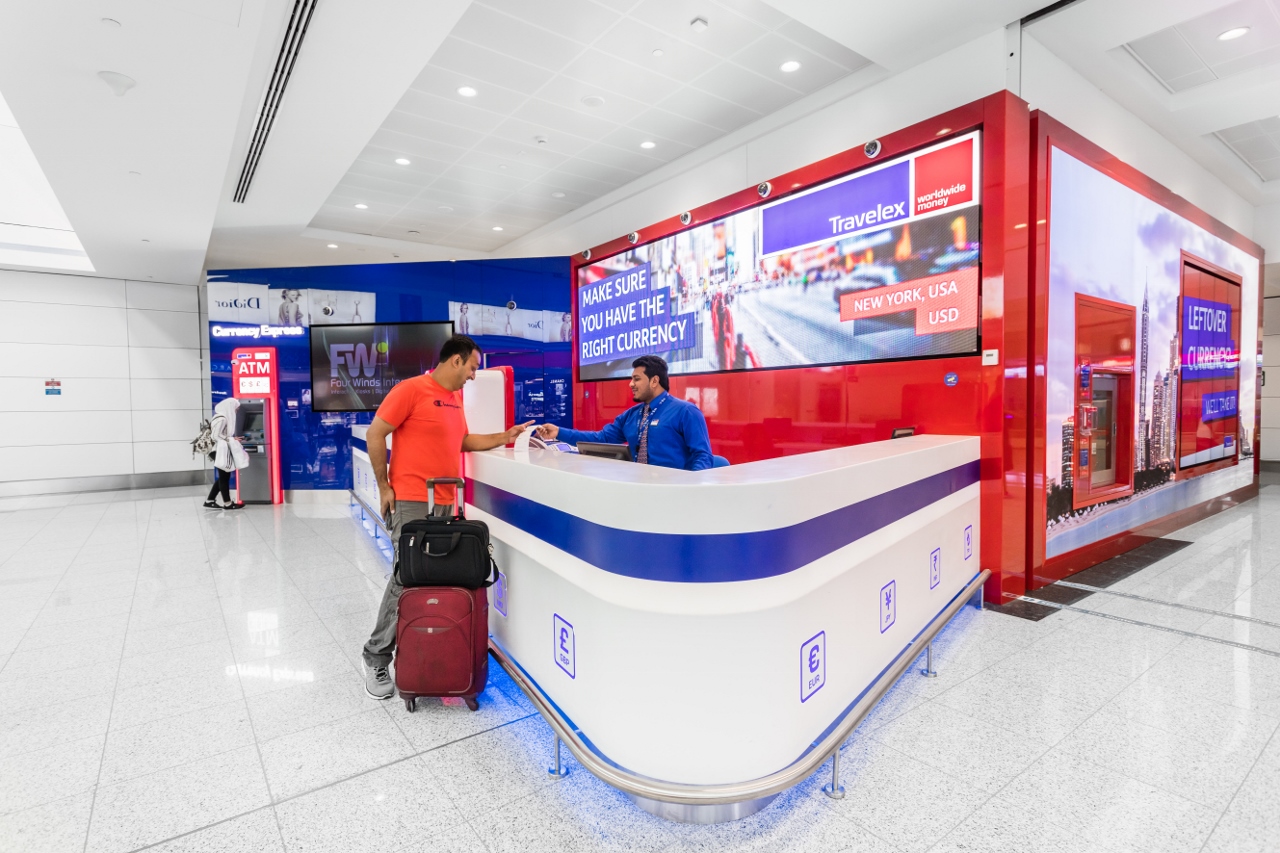 Convenience and accessibility: Foreign exchange providers such as Travelex remain a staple of the airport market, and senior executives say there is room to grow.
But these stories fail to take into account the convenience, accessibility and other advantages of airport currency exchange locations, which remain an essential service and a fixture of the airport environment.
"Our partners want our presence in their airports because they know travellers still have a need for foreign exchange and don't always have easy and reliable access to currencies via other means," says Travelex North America CEO James Hewitt (pictured below). [Travelex has a presence in 115 airports around the world, including Dubai International, London Heathrow, Hong Kong, New York JFK, San Francisco, Paris Charles de Gaulle and Atlanta.]
He argues that the majority of travellers understand that goods and services in airports tend to be at a premium, "because of the higher costs related to running operations within the secured environments in airports".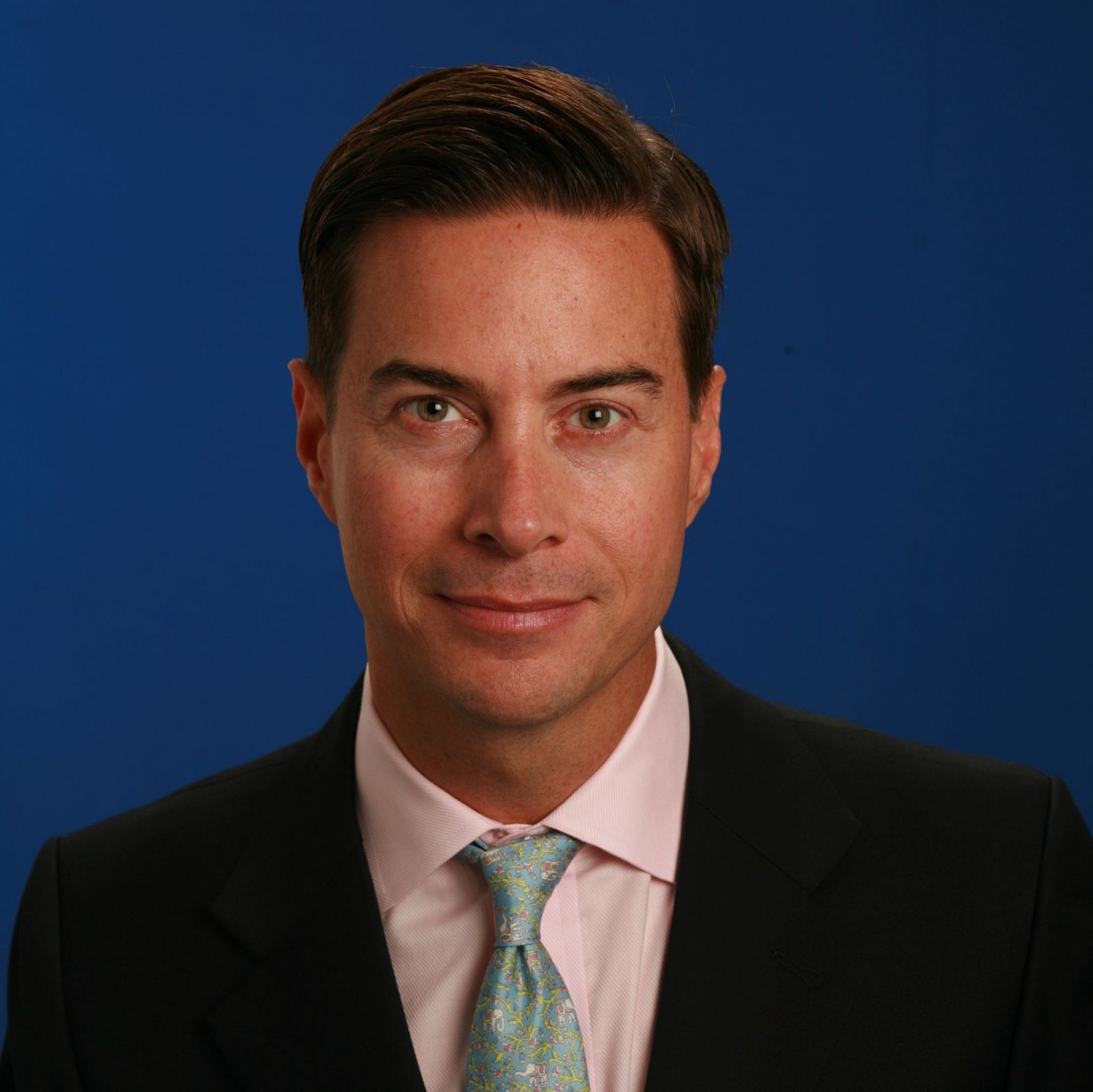 ICE UK and Ireland Head Louis Bridger says that consumers view airport foreign exchange "as a convenient solution for those who have limited time or ability to arrange their travel money in advance". [ICE has over 400 currency exchange branches throughout Europe, the USA, Canada, Mexico and China and serves more than 60 international airports.]
Bridger notes that while ICE works to keep prices "fair and competitive" at its travel locations around the world, there are fundamental differences in how an airport branch operates compared to online services. "Online prices are not always the same as airport branch prices due to differences in distribution, costs of operation, regional competition and other factors such as ongoing volatility in the market," he says.
Despite this, Hewitt notes that there continues to be a strong demand for currency exchange globally, while Bridger reports that demand for foreign exchange services at airports is growing broadly in line with the growth in international travel.
Global Exchange Group Corporate Communication and Customer Service Manager Maria Jose López Pérez says that contrary to what current trends may indicate, the use of cash among customers is still predominant and buoying airport foreign exchange locations. [Through its commercial brands Global Exchange and Globo Cambio, the Global Exchange Group has more than 310 branches at 57 international airports in 22 countries across the world.]
"Global Exchange has recently developed the first study about the use of cash in Spain and the data reveals that nine out of ten people carry cash with them on a daily basis and three out of ten when travelling internationally," she reports.
"The main reasons for this were the security of it being a payment method accepted globally and for any use in all destinations, as well as privacy and avoiding high bank card commissions."
Travelex's Hewitt notes that there are other factors behind the continued use of cash. "In particular, we continue to see a strong need for currency exchange in destinations where credit and debit card acceptance continues to lag," he reports. "As seasoned travellers are aware, you still need cash in many, many places."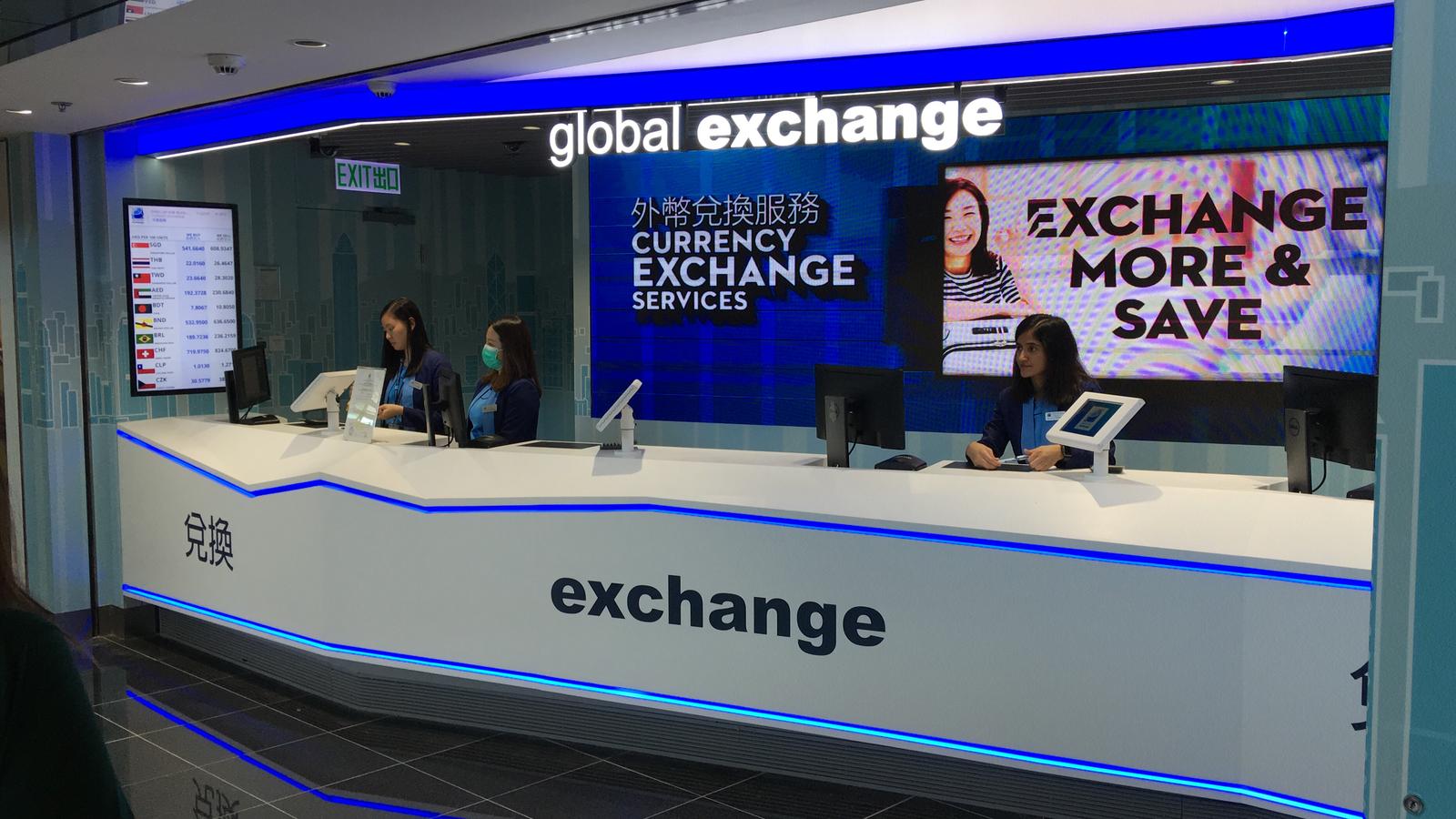 Global Exchange served 5.5 million customers in 2017, and this figure is expected to rise to more than 7 million by the end of 2018.
ICE's Bridger says that while there is a clear movement away from cash, generally speaking, it is happening in different ways and at varying paces around the world. The future will be "less cash rather than cashless", he argues.
"Card and mobile payments are on the increase, but there is a sustained demand for cash. Our customers may like to use their debit/credit card or a prepaid travel card for some transactions abroad, but they always like to carry cash for smaller costs such as taxis and tips and for cash-only transactions such as in local markets.
"While the perception can sometimes be that cash is declining rapidly, in reality it's much slower than people think and in some countries cash still dominates."
Nevertheless, future proofing the airport foreign exchange category will require offering modern, digital services – and this is clearly the direction in which these specialists are going. Passengers are being encouraged to pre-order currency online wherever possible, to take advantage of competitive rates, while enjoying the convenience of collecting their cash at the airport.
"The exchange rate market is highly competitive and travellers now have a whole host of ways to access travel money," says Bridger. "Foreign exchange operators need to create a competitive difference in order to survive. While cash remains our core business, it's vital for us to innovate and provide alternatives."
A Travelex UK spokesperson notes that while demand for airport foreign exchange services remains "relatively strong", there has been "a moderate shift from buying currency over the counter to pre-ordering online and collecting in-store".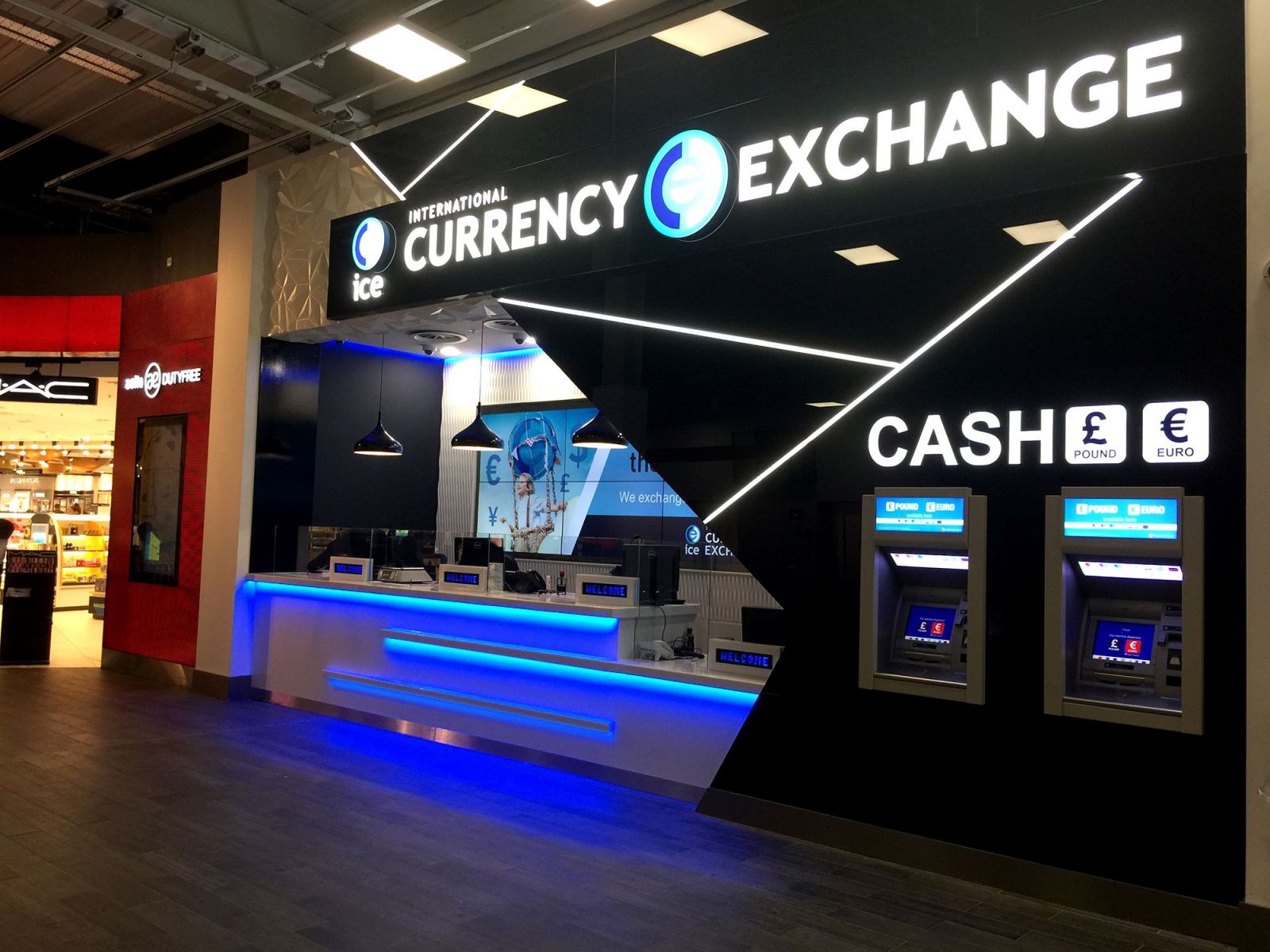 ICE is focused on developing its multi-channel offering but says cash remains its core business.
Hewitt adds: "Travelex is always looking for ways to offer value to our airport customers through our high-touch customer service, availability of currencies, and new stored value and digital products. Consumers also know that the Travelex brand extends beyond airport services, and for the advance planner, currency ordered from our website or app and delivered in person, has a strong appeal."
The digital channel is the fastest growing part of Travelex's business, Hewitt says. "We live in an Amazon world: everyone wants everything quickly, and generally with the convenience of doorstop delivery. While our airport retail business remains a cornerstone of our brand, currency exchange has seen a similar shift in changing consumer behaviours.
"Travellers planning an upcoming trip can order the currency they need for overnight home delivery via our website or our smartphone app. We are continuing to evolve and are meeting our customers' changing needs across these emerging channels. This evolution is creating exciting opportunities for our company."
Bridger broadly agrees with this assessment. "Clearly, online is a more cost-effective service for us to deliver and this is reflected in the rates and services we offer. As such we do actively encourage customers to organise their travel money in advance of their departure and buy online for better rates."
ICE offers a click and collect facility which allows customers to buy their currency online at a better rate and pick up in their local branch or at the airport they are travelling from.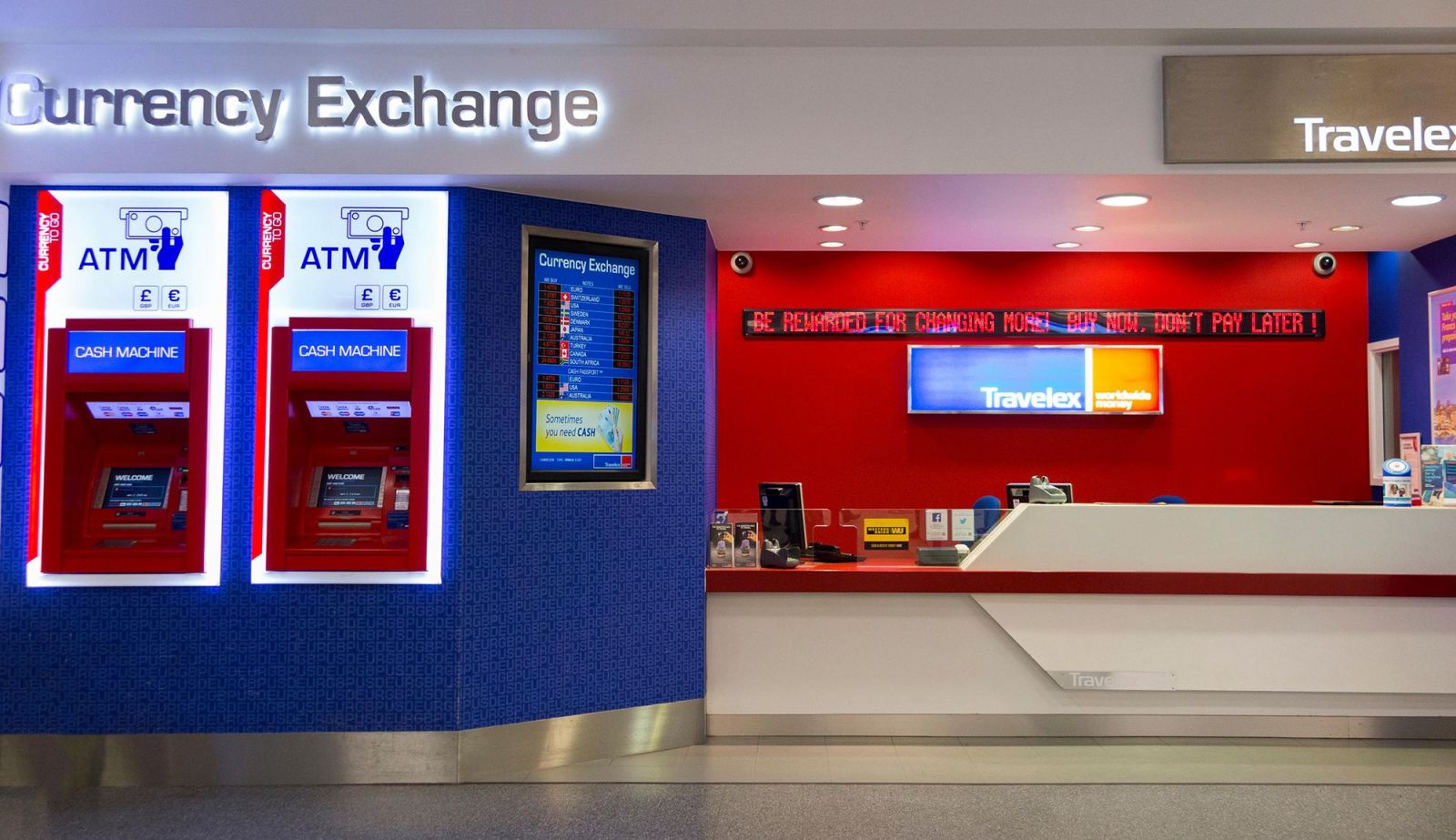 "Travelex is always looking for ways to offer value to our airport customers through our high-touch customer service, availability of currencies, and new stored value and digital products," says Travelex North America CEO James Hewitt.
"Using click and collect, customers can sidestep commission fees and get a more favourable rate, putting more back in their pocket for another day," says Bridger. "We also promote a free buyback guarantee. This ensures customers will be able to return any excess currency at the same rate they bought it – especially useful if the exchange rate goes down while they are away."
Bridger believes that it is vital for foreign exchange companies to develop a multi-channel offering in order to provide customers with "convenient, cost-effective and flexible services to meet their needs".
"We are taking advantage of technology to make it swift and simple to get travel money, whether someone wants to pick it up on their commute from one of our 30 convenient click and collect locations in railway stations, major airports and the high street, or if someone wants to order their currency online with secure next-day delivery.
"We are living in a digital age and consumers want to manage their finances when and where it suits them. At ICE we are investing heavily in enhancing our proposition for travellers with a new website launching early in 2019 which will transform the customer experience online. We also know security and value for money is key so we are launching a new prepaid currency card [in 2019] in partnership with Mastercard which will make travelling abroad both easier and more cost-effective for customers, supported by a mobile app."
Global Exchange's Pérez says her company has recently noticed that travellers have included their currency exchange needs as one of the elements that must be planned well in advance before travelling. It has therefore implemented a similar service to ICE.
"Our customers can request money through our corporate website to be delivered at home or make a reservation in order to collect the currency at the airport, which is an option Global Exchange offers in all of the 22 subsidiaries that make up the group," she says.
"At the same time, technology has always been and continues to be one of the most important allies in our sector. In our case, it is focused on solving fundamental issues such as communication with any global traveller because in Global Exchange we find it essential that our customers understand the transaction that is being carried out."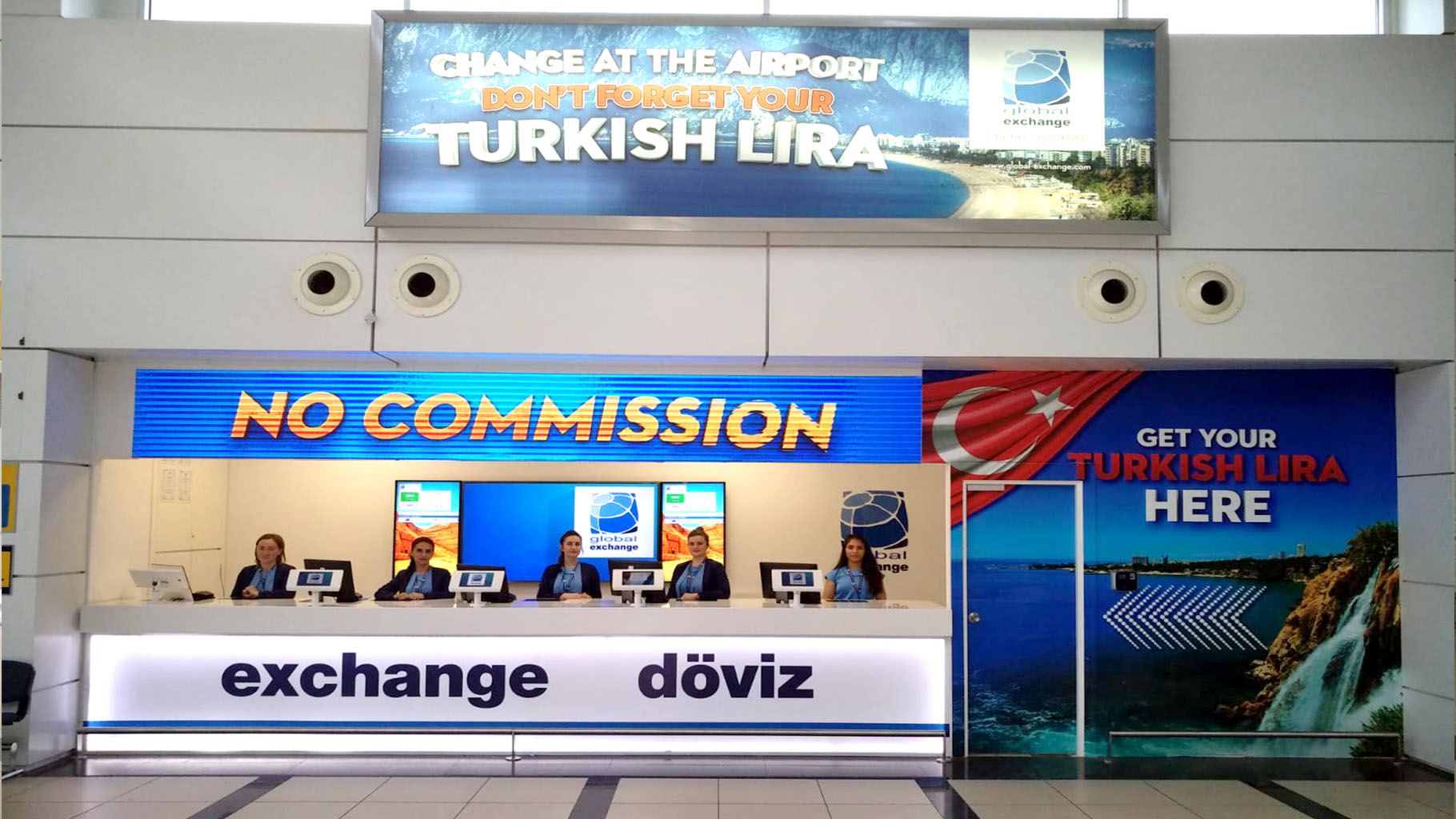 Global Exchange says it is currently experiencing growth in North Africa (Morocco), the Middle East (Jordan), Europe (Denmark, Spain, Russia, Switzerland and Turkey - with Antalya International Airport pictured above), as well as Australia and Hong Kong.
With this in mind, the company has implemented 'client screens' in the majority of its offices. "This is a personal assistance device that displays all the information on the transaction using a visual method and in the language chosen by the client," says Pérez.
Travelex is also actively committed to innovation and keeping pace with technology, says Hewitt. In October, the company launched Travelex Pay, a joint venture with sister company Swych. "Travelex Pay enables Chinese WeChat wallet holders to use their WeChat account to shop at major retailers in the USA," he says. "We are already seeing a substantial level of interest among Chinese visitors to the USA. It's an incredible innovation in consumer payments, and we are working on more market launches for Travelex Pay in 2019."
The airport foreign exchange market remains highly competitive, but companies still face some significant challenges, including rising operating costs.
Bridger says one of the best ways to offset this is to invest in training frontline staff to deliver an improved customer experience. "[We] use their expertise to help a customer budget appropriately for their holiday," he explains.
"We often find that customers exchange too little before they travel and then face uncertain charges and commission fees when they are abroad and need to exchange more on holiday. Providing an expert and convenient service for our customers, whether that's in-store or online, is therefore at the heart of our business model."
Customer service is a vital pillar of any airport experience, and the foreign exchange units can help deliver this. When asked what an airport itself can do to improve passengers' experience of using foreign exchange services, a London Heathrow Airport spokesperson emphasised the service factor.
"We are currently working with Travelex to locate new foreign exchange bureaus in convenient locations such as the gates, and there is a trial currently underway in Terminal 4 offering a mobile foreign exchange unit in alternative locations throughout the day. Both aim to ensure passengers can access travel money wherever they are in their airport journey," the spokesperson says.
"If passengers are in a rush, there are ATMs located in all Heathrow terminals offering both sterling and foreign currency, although travellers are encouraged to pre-order currency online wherever possible to take advantage of competitive rates and the convenience of collecting money at the airport. In addition, members of the Heathrow Rewards programme receive exclusive rates when ordering currency online."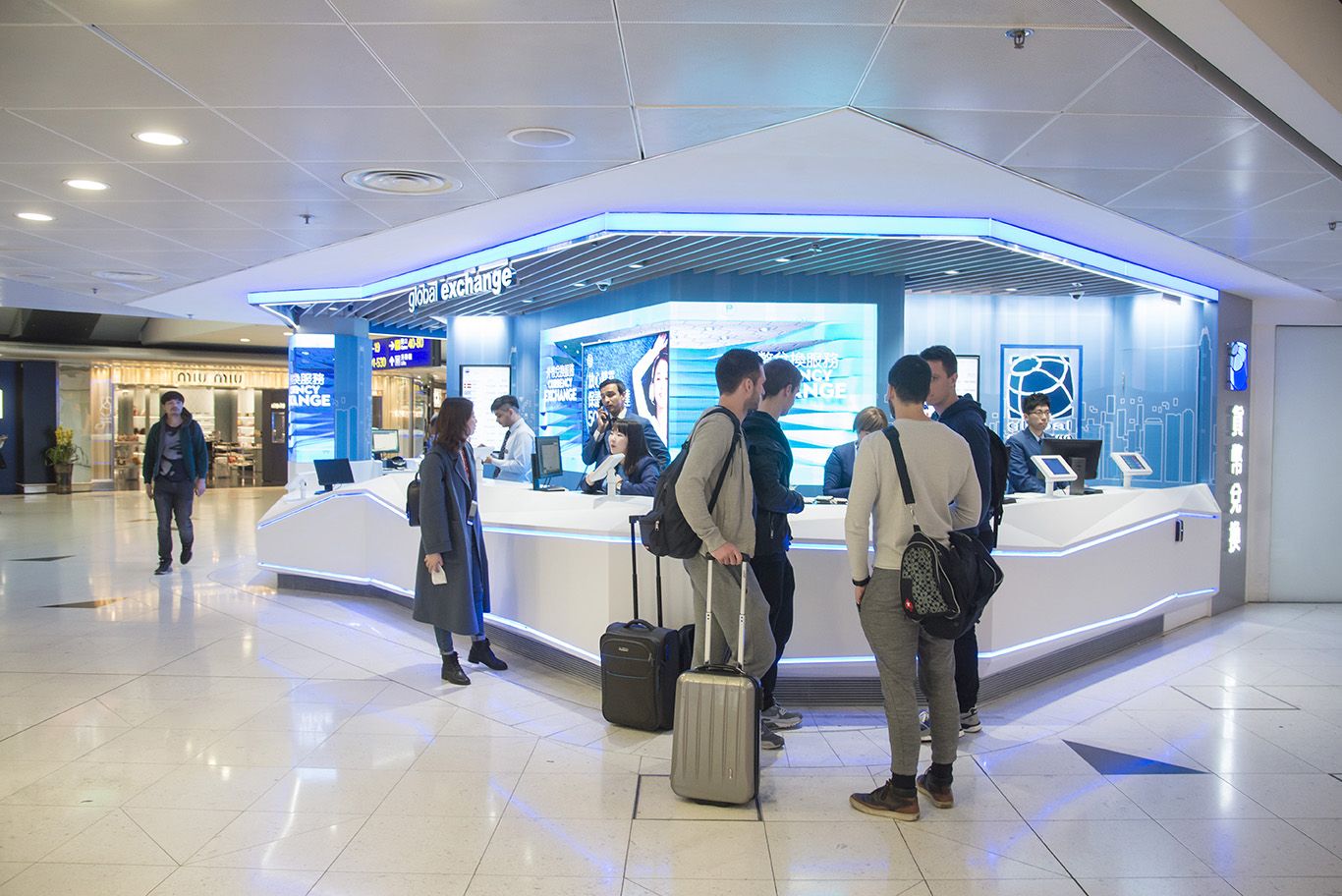 "Technology has always been and continues to be one of the most important allies in our sector," says Global Exchange Group Corporate Communication and Customer Service Manager Maria Jose López Pérez.
Global Exchange's Pérez maintains that customer service is a key distinguishing factor for airport currency exchange locations. "Our main concern is to offer a service that best adapts to the dynamism of airports and to travellers' needs, such as 24/7 availability, a wide variety of currencies for sale and purchase, straightaway and with kind and professional staff who offer solutions with agility.
"Our main priority is that customers perceive excellence in the customer service we provide while at the same time we meet their needs with the utmost diligence."
Far from the 'rip-off' accusations that are made in some newspapers, it is sentiments such as these – along with the dynamic, multi-channel offerings described in this article – that show that airport currency exchange companies can still provide a valuable, and at times vital, service.
What are the most purchased currencies today, and by which nationalities?
ICE UK and Ireland Head Louis Bridger: "In the UK and Ireland, the most purchased currencies are currently Euros, US Dollars, Japanese Yen, Canadian Dollars, Australian Dollars and New Zealand Dollars."
Travelex North America CEO James Hewitt: "The answer varies by airport and by air corridors served. For instance, at San Francisco International Airport, there are many Asia-bound flights so we carry more of those currencies in our branches. In our New York JFK branches, there are many flights to Europe, the Caribbean, and Latin America, so – as you can imagine – the Pound, Euro and most Caribbean and Latin American national currencies are prevalent.
"We have over 100 currencies in our secure vaults. We can ship any of these currencies overnight to a traveller's home or office. No matter how exotic the destination, it's almost certain we will have the currency and can get it to a traveller quickly."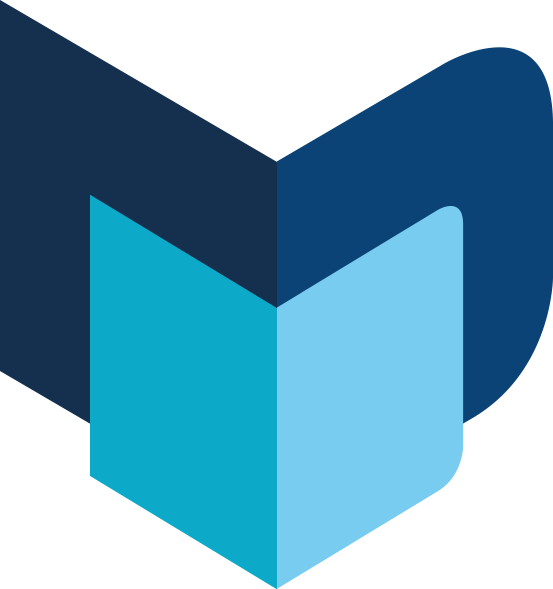 ---
The Moodie Davitt e-Zine | Issue 253 | 3 December 2018