Reimagining the airport commercial offer
Representatives from Manchester Airports Group and Greater Toronto Airport Authority joined cosmetics company Shiseido, advertising specialist VGI, and Central Japan International Airport in a blockbuster panel to discuss the future of the airport commercial offer.
How can airports expand and improve on their commercial and experiential offerings in order to increase both passenger satisfaction and profits?
That question was considered by a diverse panel (pictured below) in one of the standout sessions of Trinity 2018.

'Reimagining the airport commercial offer': A blockbuster panel featured (from left to right) The Moodie Davitt Report President Dermot Davitt as moderator; Manchester Airports Group Executive Vice President Business Development & Lounges Beth Brewster; Greater Toronto Airports Authority Vice President Customer & Terminal Services Scott Collier; Central Japan International Airport Co President & CEO Masanao Tomozoe; Shiseido Travel Retail Asia Pacific General Manager Kenji Calméjane; and VGI Global Media Airports Chief Operating Officer Jonathan Goldsmid.
Brewster, who leads the MAG internal team in charge of lounges, highlighted the opportunities of the lounge market (in airports and beyond), many of which she believes are missed by the industry at large.
For the passenger, she said, the lounge – when done well – can offer so much. And for the Trinity, they offer more than is often realised.
From the opportunity to connect with passengers before and after their journey to the ability to gather data, to the simple fact that a lounge can be positioned in a non-premium location and still draw in passengers, Brewster said that MAG sees great commercial potential in lounges.
MAG's Beth Brewster said passenger lounges offer an ideal opportunity to communicate with travellers about airport services before arrival. "This is an incremental industry," she said, citing MAG findings that lounges do not cannibalise profits from F&B outlets.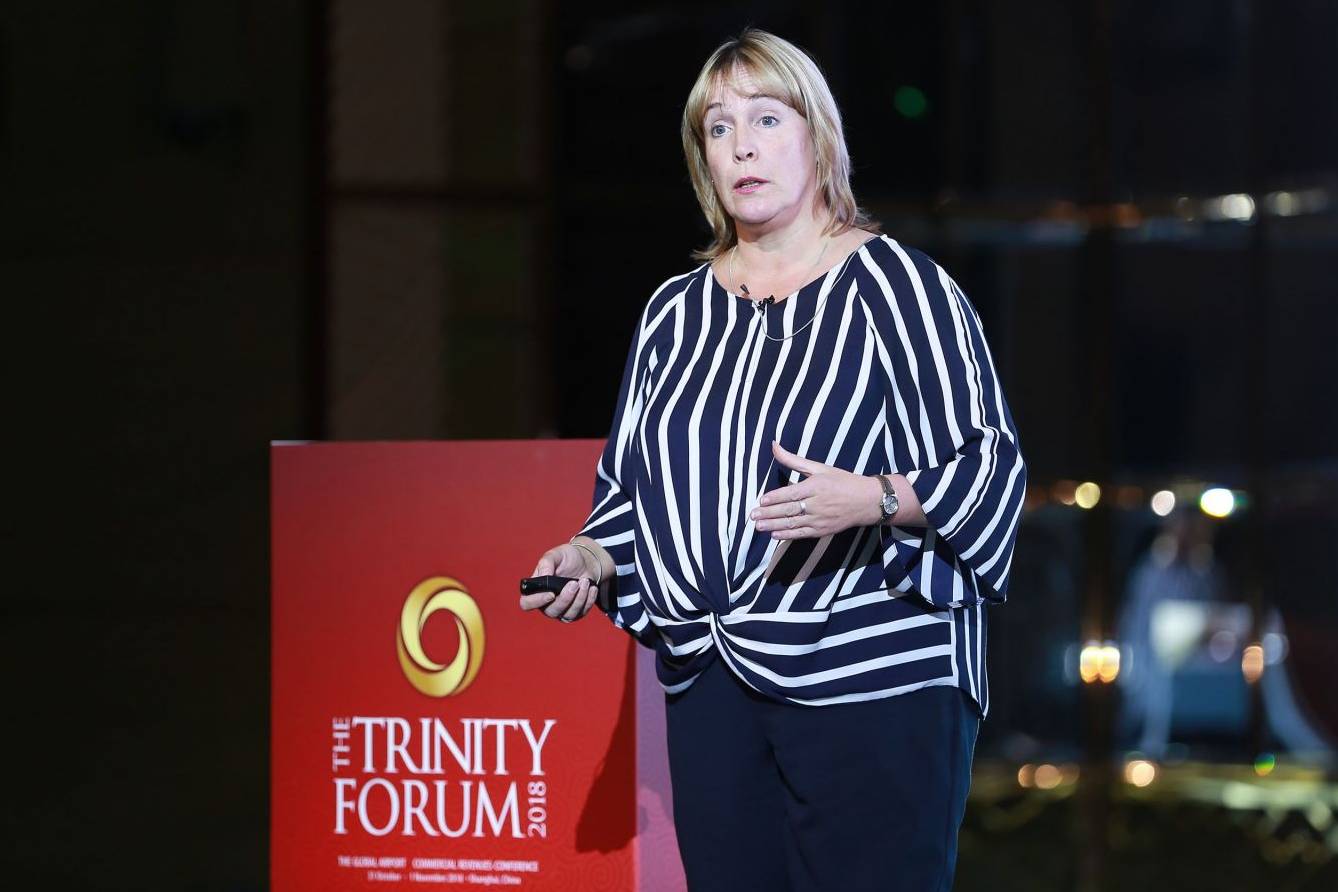 Ebullient, upbeat and passionate, Greater Toronto Airports Authority's Scott Collier revisited a topic he spoke on at last year's event: the importance of collaboration between various partners at the airport.
Last year, Collier made a call to action, inviting brands to visit Toronto to see how they could work together towards a more innovative future. He said both the principle and spirit of Trinity had taught his company so much, and the spirit of collaboration continues to inspire.
He then asked delegates whether the current concession model was a broken concept. Collier challenged the concept of landlord versus tenant and asked the audience to consider how the Trinity can come together to offer the best service possible. "It's not about us," he said. "It's about the customer."
Greater Toronto Airports Authority's Scott Collier was in typically ebullient form. "Passengers are our passion," he said. "We're open for business and we want to do it differently."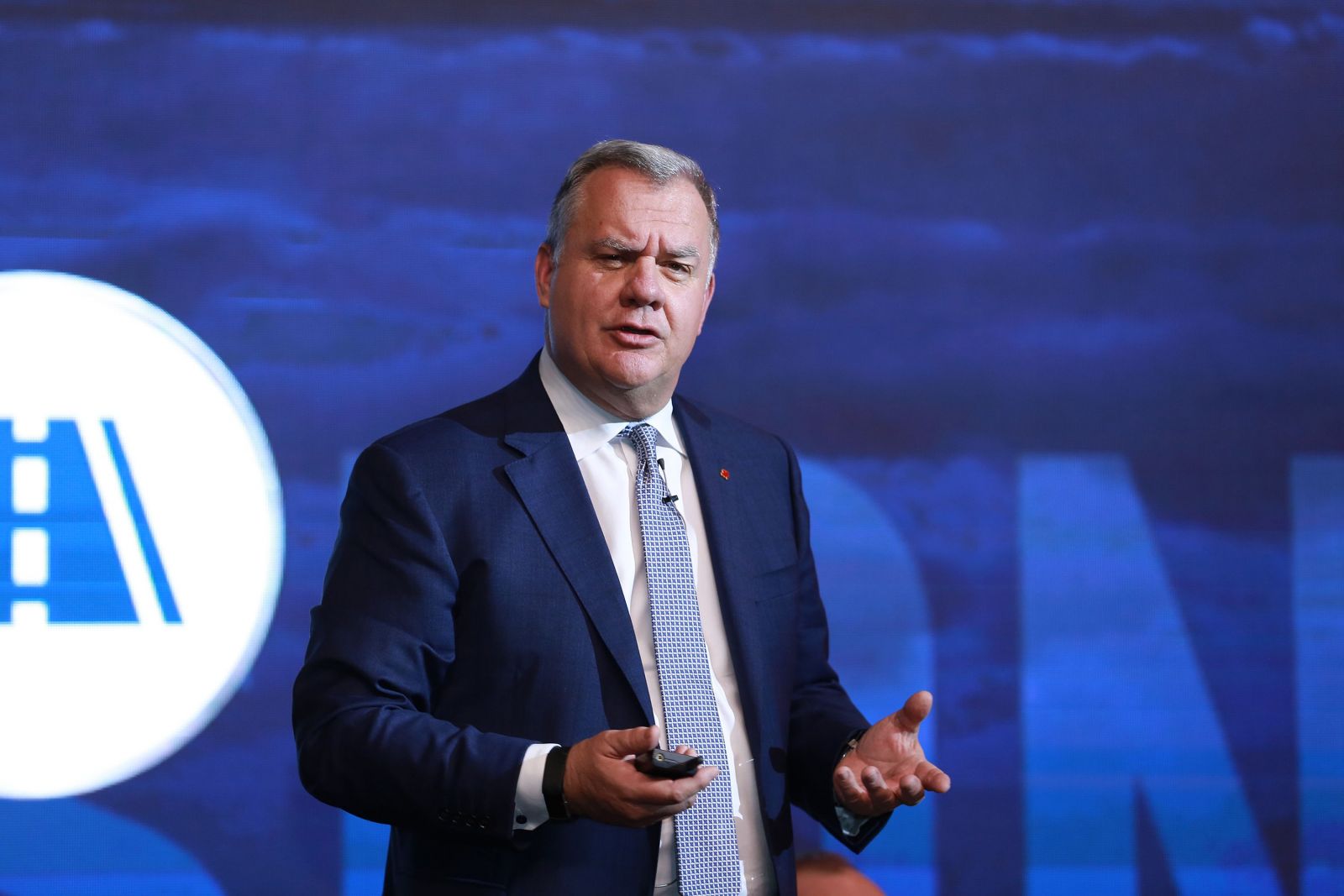 Central Japan International Airport Co President & CEO Masanao Tomozoe shared his company's vision of the future. Championing excellent customer service and a people first approach, the airport's focus is on creating engaging experiences – in retail and beyond – and creating a Sense of Place.
"We have been doing lots of stupid things to attract as many people as possible," he joked, as he shared photos of activations featuring popular characters such as Pikachu and Hello Kitty. The airport recently opened its 'Flight of Dreams' complex, a commercial space featuring interactive exhibitions – including a Boeing 787 jetliner as centrepiece.
Tomozoe said his team aims to make the airport experience as memorable as the trip itself, and there is no fear of thinking outside of the box to achieve that. From sharing local culture to offering wellness options and even hosting weddings at the airport, Centrair approaches the airport offer with an enthusiasm and creativity that captivated the audience.
Central Japan International Airport's Masanao Tomozoe shared his company's vision of the future. Championing excellent customer service and a people-first approach, the airport's focus will be on engaging experiences – in retail and beyond – and creating Sense of Place.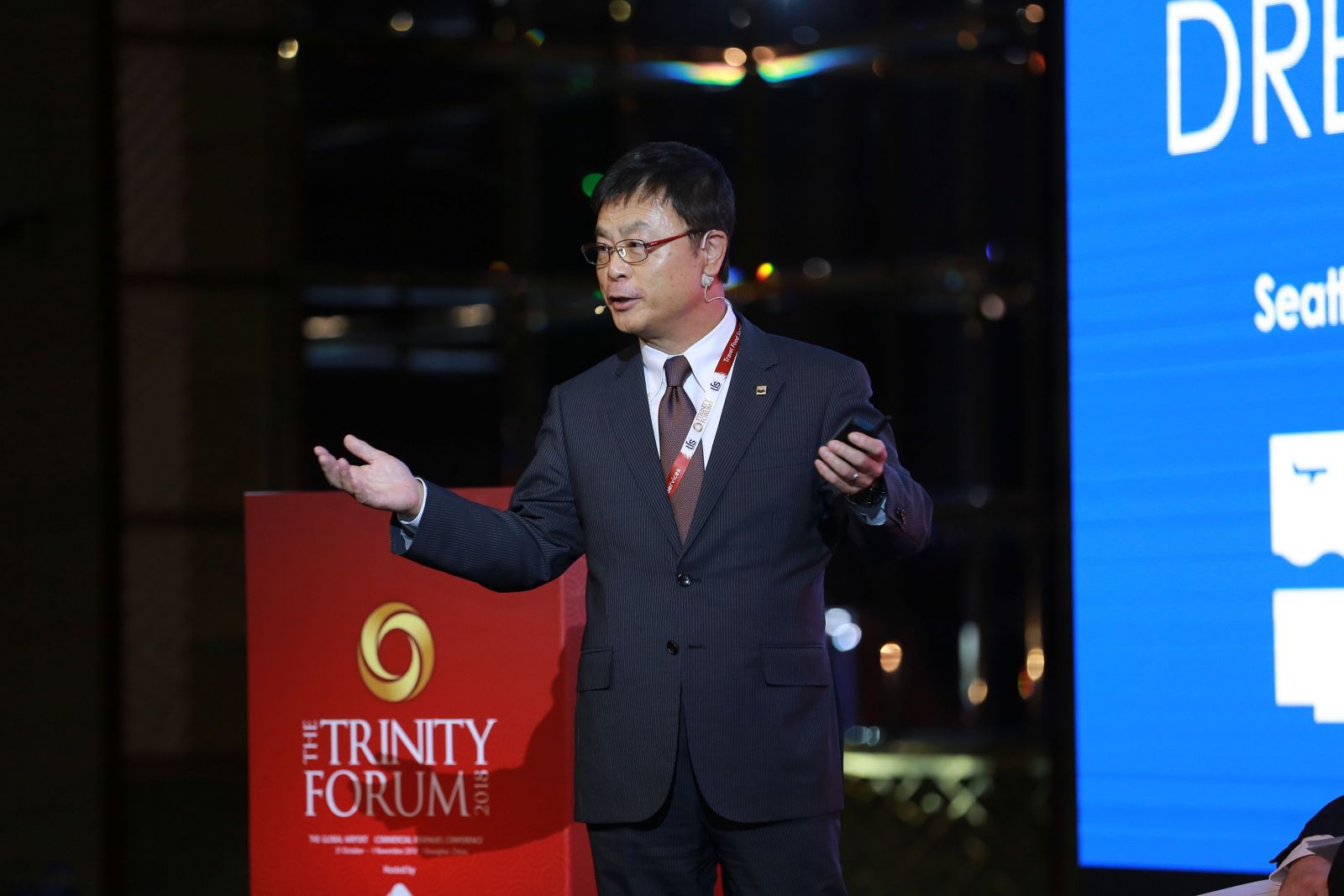 Adding the brand perspective was Shiseido's Kenji Calméjane, who considered the impact of digital retail and communications on the industry. He began by noting that while disruption was the subject of the week, he believes airports are dynamic and engaging spaces already.
How, though, can we strive forward? How can we fight back against the threat of online retailers and the like? Echoing Martin Moodie's opening comments, he said: "It's not an issue of physical retail. It's an issue of [avoiding] bad physical retail."
Calméjane argued that storytelling and experience were the future of physical retail. "I think the beauty category has raised its game," he said, referencing the bold and experiential activations that have recently graced travel retail beauty stores and spaces.
Airports should be a place to tell a story, said Calméjane, especially in a time when digitalisation "brings competition for both wallet and attention". Shiseido is investing in the storytelling process, he noted. He pointed to the brand's ambitious plans for a "multisensorial" art installation at the magnificent soon-to-open Jewel Changi Airport complex in Singapore.
Another contributor to future success will be the ability to harness the 'Connected Journey', said Calméjane, adding that "data silence" was a threat to the industry. It was, unsurprisingly, a popular opinion among the Trinity speakers. Calméjane urged delegates to consider the idea and benefits of collaboration.
Shiseido Travel Retail's Kenji Calméjane delivered a superb (and superbly illustrated) address that urged greater interaction with customers via enhanced storytelling.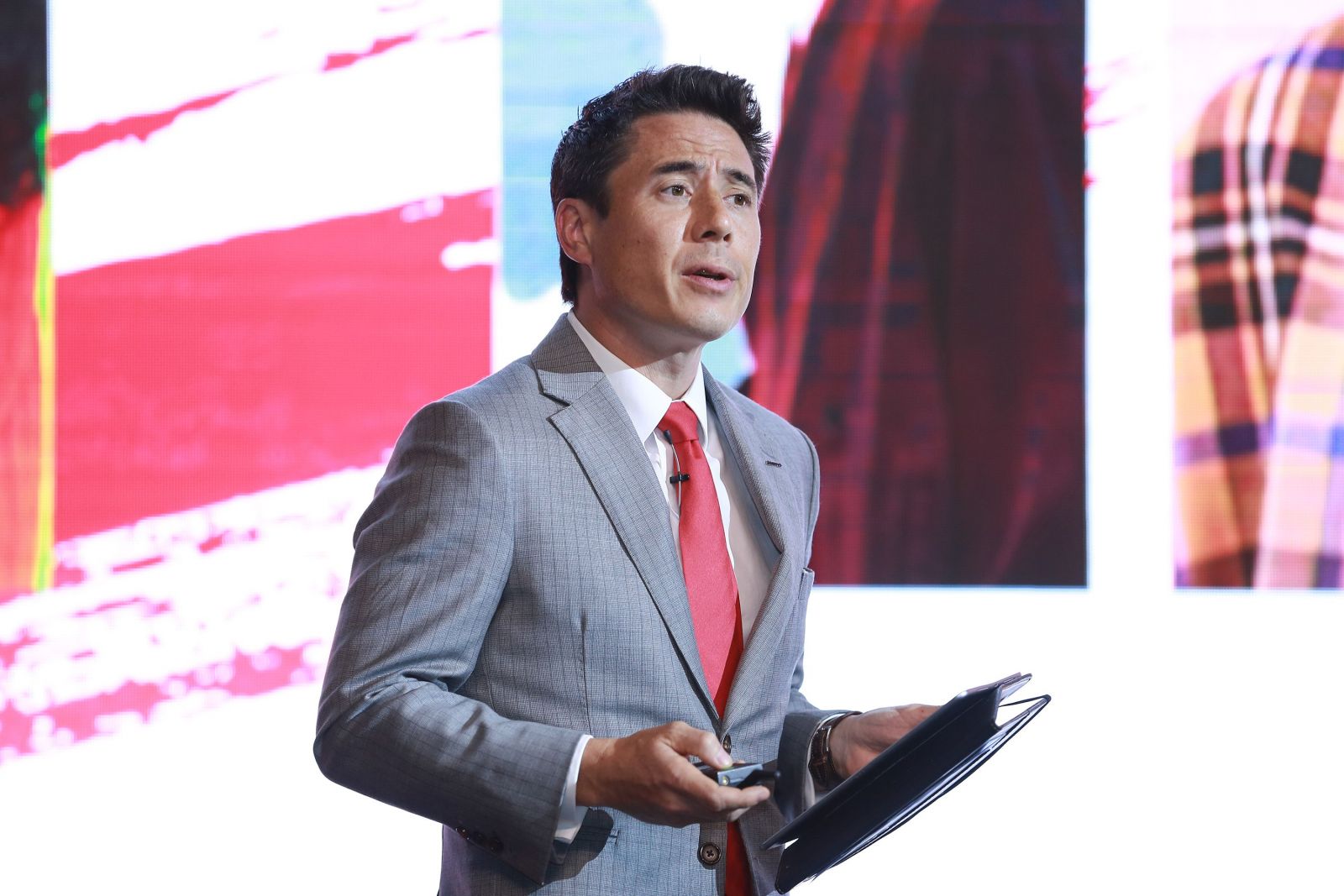 For VGI's Jonathan Goldsmid, airport advertising offers countless opportunities to engage and inspire consumers. It is, he said, an increasingly important element of airport life and revenue.
However, airports are not always the first to embrace new technology in the area. Advertising, in particular airport and OOH advertising, is a highly digitalised and innovative medium. Airports need to better harness its potential, he said.
The audience was once again urged to embrace a partnership model to create a seamless passenger experience. Goldsmid was critical of the status quo. "We have to explore new ways to partner," he said. "We need to be prepared to fail in the pursuit of growth."
He closed with a question, on behalf of the advertising industry, to airport operators: "If we can help enhance passenger experience, make investments that help an airport to stand out and create Sense of Place, would you be open to bringing us into the conversation sooner?"
VGI's Jonathan Goldsmid highlighted some of the best OOH advertising campaigns of recent years, both in airports and elsewhere. He urged delegates to work together in order to harness the opportunities these can offer.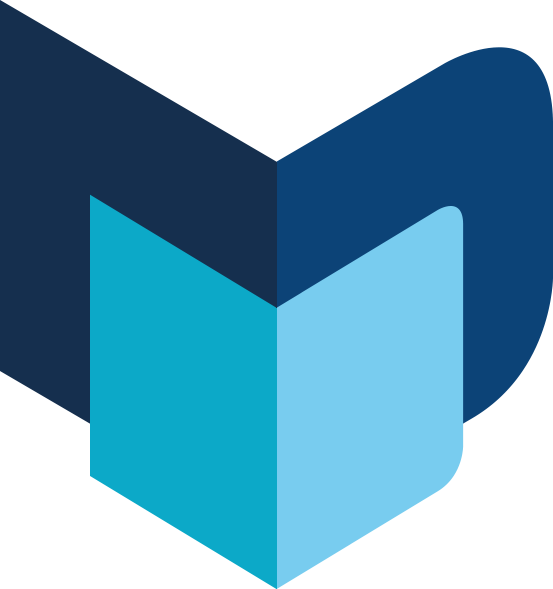 ---
The Moodie Davitt e-Zine | Issue 252 | 16 November 2018