20 JULY 2018
---
The Moodie Davitt Stock Watch serves as an indicator of overall business confidence in the global travel retail & duty free industry. Share prices of major publicly listed companies that own travel retail operations are monitored on a weekly and year-to-date basis to offer an indication of business confidence in the sector.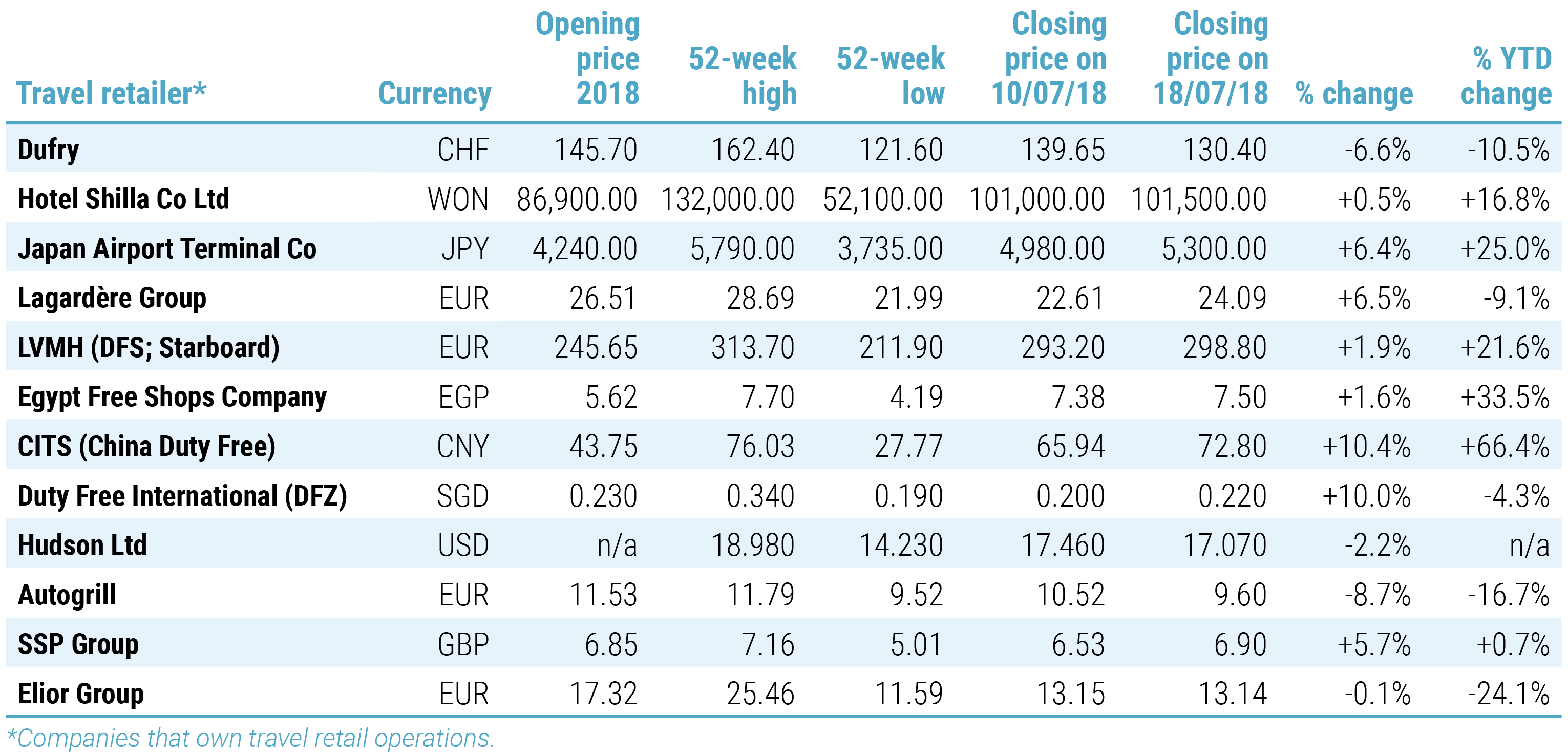 Shares in China Duty Free Group (CDFG) parent China International Travel Service (CITS) surged to a new 52-week high in the period tracked here (closing prices on 10 and 18 July).
The company's stock price hit CNY76.03 on 18 July, before closing at CNY72.80. That is up from CNY43.75 at the start of 2018 – a huge +66.4% increase, making it our top performer so far this year by some distance.
The surge coincides with the Grand Opening of Duty Zero by cdf, the retail joint venture between CDFG and Lagardère Travel Retail, at Hong Kong International Airport last week. "Sales at Duty Zero by cdf have been robust since the soft opening in November last year," reported CITS General Manager Peng Hui. "Within eight months of commencing business, our sales revenue has already reached beyond projections, coming as a huge encouragement to us."
CDFG also secured the rights to operate duty free shopping onboard Costa Cruises' Costa Atlantica on 15 July. It is a critical gain for the company's burgeoning cruise retail business. And it is closing in on other big successes to be revealed soon.
At the other end of the spectrum, shares in Autogrill fell (-8.7%) to a new 52-week low of €9.52 in the current period, finishing at €9.60. Shares in the company are now down -16.7% since the start of the year.
According to a recent report in Bloomberg, Autogrill is evaluating opportunities to increase the value of the group, including a listing of its US unit HMSHost. Bloomberg estimated that HMSHost's enterprise value could top US$3.1 billion.
Elsewhere, shares in Duty Free International (+10%), Lagardère Group (+6.5%) and Japan Airport Terminal Co (+6.4%) all rose. Shares in Dufry fell -6.6%, and are down -10.5% since 1 January.
---
The Moodie Davitt e-Zine | Issue 244 | 20 July 2018