Engaging and efficient:
The arrivals duty free store
We take a tour of the Delhi Duty Free arrivals shopping environment, where penetration has surged since a store upgrade was finished last year.
The Delhi Duty Free arrivals business hinges on the critical spirits category, on value messaging and on fast, efficient transactions. The future, even if the business continues to be dominated by liquor, might look more nuanced, with room for a greater share of white spirits, of beauty and even of accessories, a small but rapidly growing part of the mix.
A fascinating tour of the store with Delhi Duty Free Chief Operating Officer (now Deputy CEO) Ashish Chopra underlines just how vital a role the core Scotch business plays, from store front post-immigration to well into the shopping environment.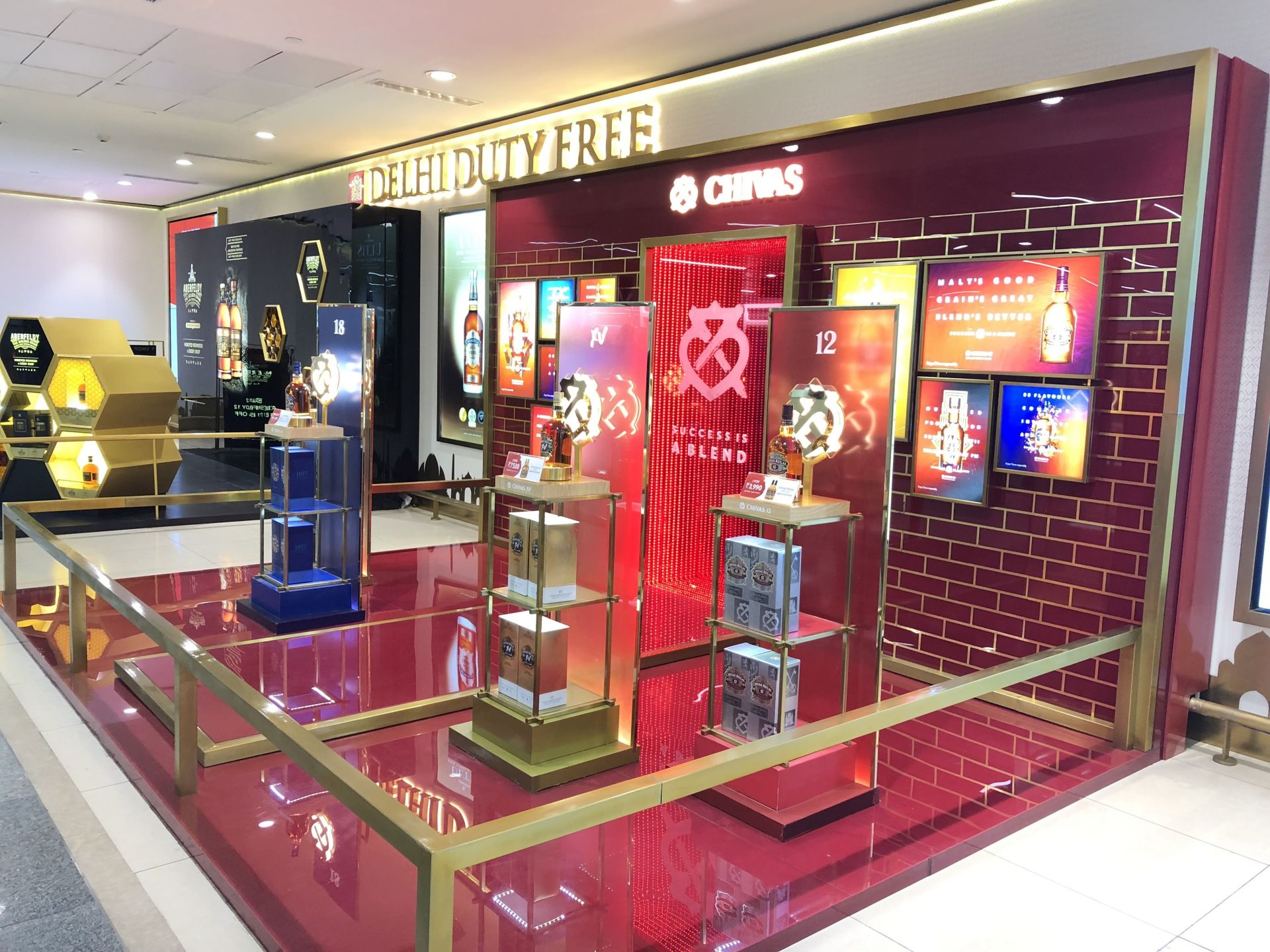 Regal touch: Chivas resonates strongly in the arrivals environment, as does the other great brand staple of the store, Johnnie Walker. The area directly post-immigration, above, offers brands the opportunity for elegant showcases before travellers begin their arrivals journey.
From an area that previously resembled two stores, this shop feels very much like one, with the same look and design to the flooring and ceiling that takes the traveller from start to finish. The wide aisles ensure ease of flow at busy times, although as in departures, they would probably help increase engagement with the traveller at a slightly narrower width.
Overall retail space is slightly less than the previous configuration at 1,081sq m but penetration has improved significantly, as Chopra explains. "ATV is about +2% higher than before in arrivals but penetration has risen by +25%. In the past two years our business has increased by +47% in arrivals on passenger growth of +22%, driven by the new shop and more people buying. That is a big leap forward, and represents one of the better rates of penetration you will find in the duty free world."
That growth is down to several factors, from strong and repeated messaging in-store to the more rounded offer and high-class service that encourages trading up among consumers, on Scotch in particular.
The journey begins immediately after the passport counters, with digital messages supporting pricing on key brands Johnnie Walker Black and Chivas Regal. Three unmissable product showcases lead the way from the counters into the store – all for liquor brands unsurprisingly, with the category representing over 70% of arrivals and 62% of all sales.
The showcase for Johnnie Walker (Black Label is about 10% of total arrivals sales), Chivas, Dewar's and other key Scotches begins right at the entrance. Chopra explains: "We had the choice to hide these 'hero' brands closer to the tills but these brands are so important that we could not take that risk. People want their favourites first so we do that and then we allow them to relax, tempting them with other categories."
It's very much about value here too, with Black Label at Rs3,990 for two and then price segmentation from here up through Rs5,000 and Rs6,000. Crucially, dual packs help maximise two-litre allowance use, with over 80% of transactions involving a two-bottle purchase.
The average transaction in arrivals is more than Rs7,000 so Delhi Duty Free no longer promotes Red Label or low-budget Scotches, though these are available later in the store. The aim here is to grab the attention with a more premium offer and encourage uptrading from there.
As an illustration of the power of the core brands, Delhi Duty Free sells close to 70,000 bottles of Black Label a month, with records of 72,000 set in December 2018 and January 2019, and overall annual sales climbing +31% for this one line in the Johnnie Walker family.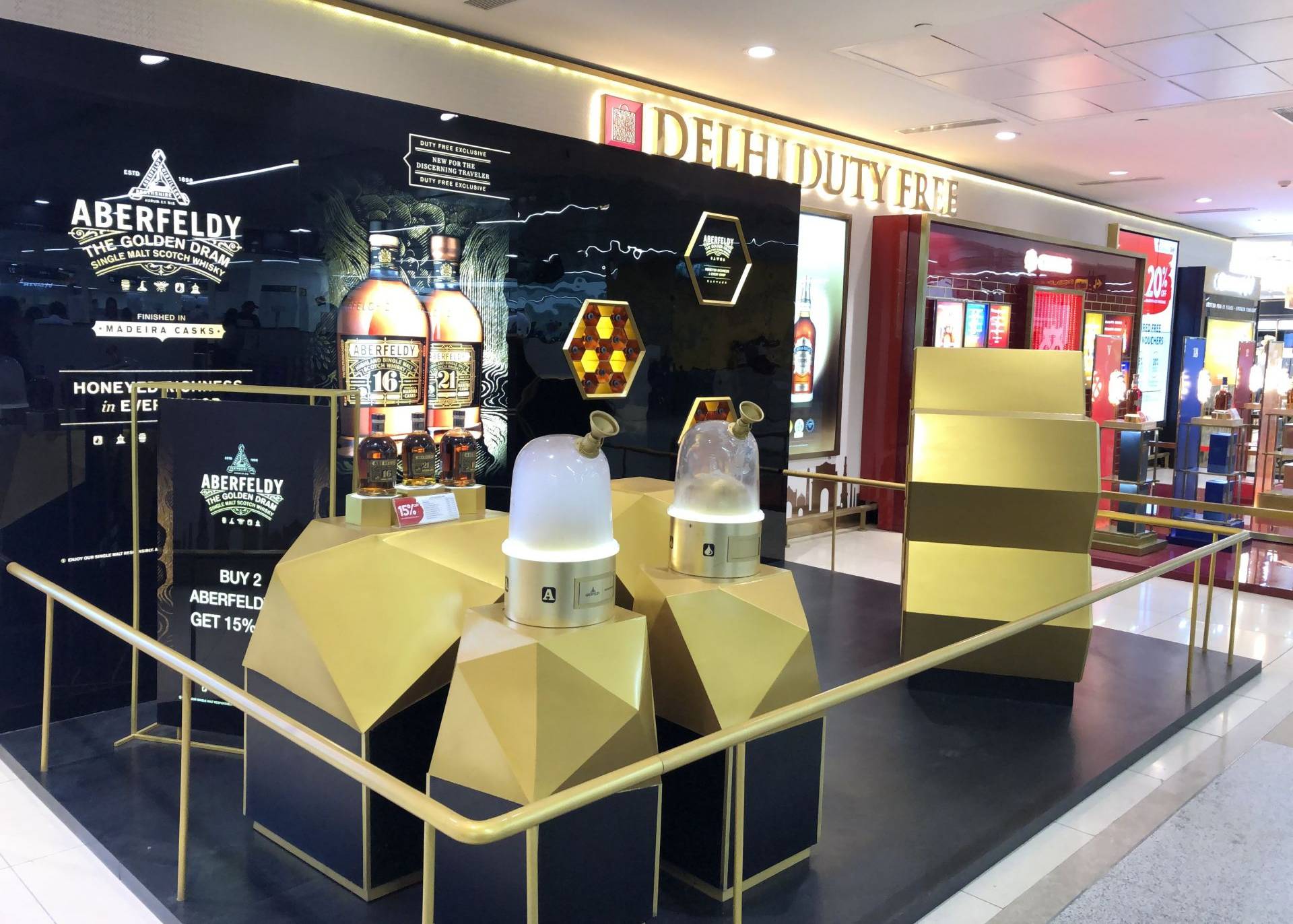 Mass appeal: Scotch brands dominate the environment early in the arrivals store journey
June is a key month for arrivals with many Indian families travelling on holiday, making it also a vital promotional period on liquor. Here, encouraging higher spend within the Johnnie Walker or Chivas families becomes important. In June this year sales of Blue Label reached 2,500, from a monthly average of just over half that figure, with a well-run promotion that included Gold Label from the range. "That growth came even as traffic was down, yet our spend increased by +10%, based on incentives and offers," notes Chopra. Chivas 18yo and other higher value items also benefit from the halo effect around the core 12yo.
Chivas, in its own dedicated and highly visible space, and a Johnnie Walker House close to the entrance, help amplify what are probably the most prominent brands in arrivals, although these are crunched down versions of these brands' stores in departures.
"The limitation on spend of Rs50,000 per transaction in arrivals means that we cannot sell the rarest and finest items, but we decided to still take a specialist approach to Johnnie Walker in particular, as it's such a key brand," says Chopra.
To further encourage higher spending within whisky, The Whisky Collection (about 60% of liquor value sales) offers a strong range of malts, led by Glenfiddich.
The zone is Delhi Duty Free's version of the ARI concept (pioneered in Dublin but adapted for other markets) for this space.
Chopra says: "It has unique handwriting, generic as per the ARI design but personalised too by the brands, which stand out through their displays and screens. Glenfiddich has a 2m wallbay as it's the biggest malt and the wider Grant's family is a major contributor at around 10% of our business."
Each major supplier highlights an iconic brand with space to also feature other lines in its portfolio. "Glenfiddich Select Cask is among our best sellers, at Rs5,000 to Rs6,000 depending on the promotion," says Chopra. "In June we sold close to 13,000 bottles in the month."
There is a prominent promotional zone for engagement in arrivals too – an important element as tastings are not allowed here.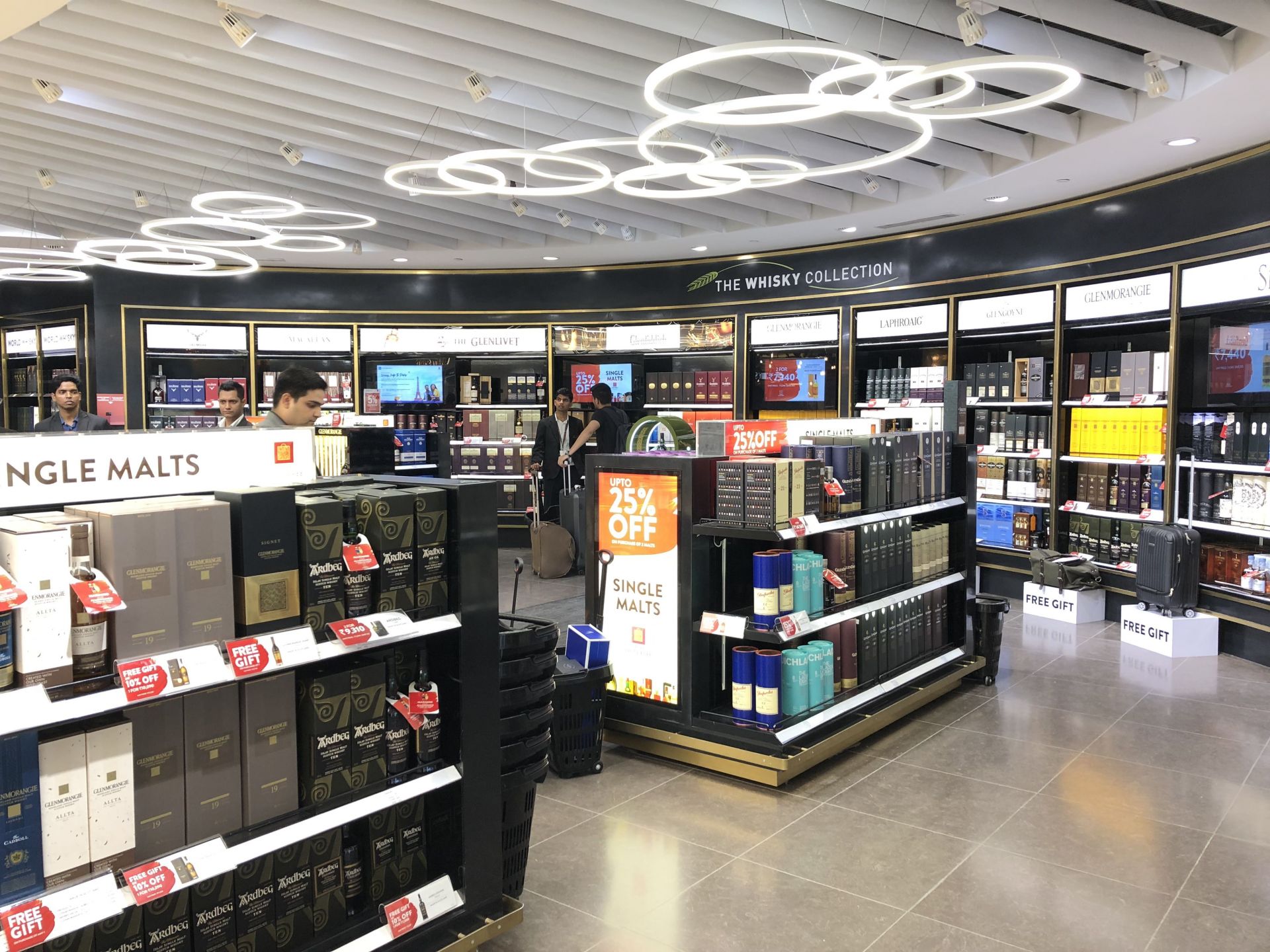 The Whisky Collection: The ARI liquor concept is given excellent exposure in arrivals, with single malt brands to the fore
Cross-selling is another feature of Delhi Duty Free's stores, and in arrivals this is most recognisable through the confectionery displays that are threaded through the other categories. "This makes sense to us as confectionery has the highest cross-sell of any category due to its impulse nature," notes Chopra.
From brown spirits we move to white spirits in the arrivals duty free store journey, and a sub-category of emerging strength across the Delhi Duty Free business.
Gin is growing at a rapid rate of around +80% year-on-year but from a small base; it is still just under 1.5% of liquor sales. Even so, its rise has prompted the retailer to extend from one wall bay to two.
Vodka is around 6% of spirits sales, with Grey Goose a strong performer at its premium price point. Cognac accounts for around 1.5% of sales.
"We have our spending limit but even when we have high-value lines in arrivals we still have customers asking what is the most expensive," says Chopra. "We always do well with The Macallan Oscuro for example, which is right on the Rs50,000 limit. In general we don't see too many brands playing in the Rs30,000-50,000 range.
"Overall this space has to be productive and transactional. It gets very busy. In a peak month we sell around 8,000 liquor bottles a day so you have to be efficient."
Beauty accounts for 239sq m in arrivals, with arrivals accounting for 40% of category sales from a lot less space than it occupies in departures (705sq m).
Highlights include dedicated space for Chanel, Dior, Estée Lauder and a wallbay for MAC, the latter not available in arrivals until now.
"MAC enjoys huge success among Indians and we do even more in arrivals from this 10sq m space than we do in larger departures space. We have the regular range, and although we do makeup sessions not many people have the time.
"We are one of the few retailers in India to have Chanel, on or off-airport, and not many arrivals duty frees have Chanel in dedicated space so that is a statement of faith in us. On these major brands we have not allowed much personalisation on the floor but there are canopies to allow better brand representation.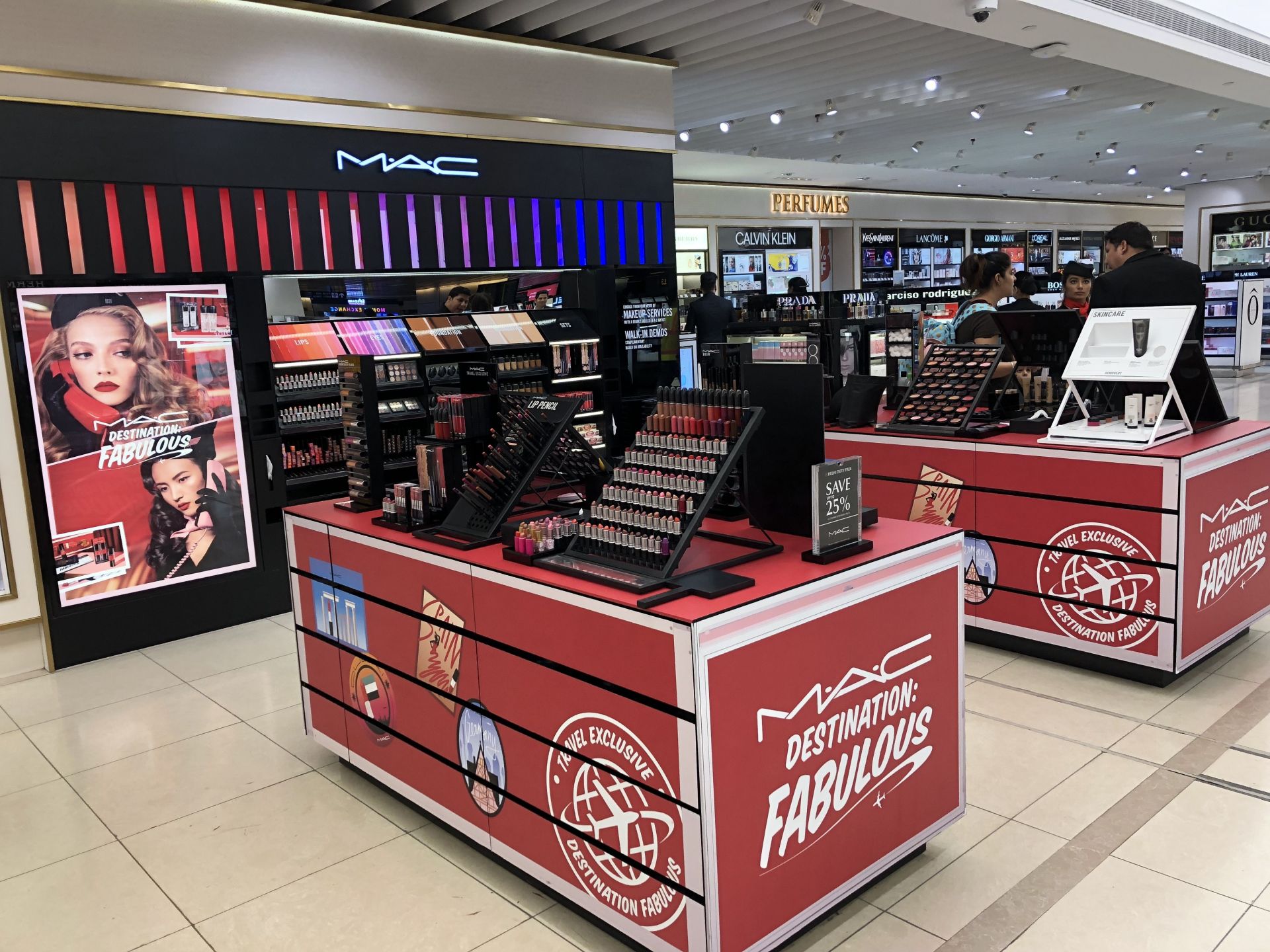 "MAC enjoys huge success among Indians and we do even more in arrivals from this 10sq m space than in larger departures space"
"We also have the Carolina Herrera Private collection, Gucci both in departures and arrivals and Tom Ford, which is doing very well. It is largely a perfumes business in arrivals though in departures the needle is shifting with the addition of more makeup and colour brands. We find here that perfumes at Rs3,000-4,000 suits the Indian wallet. We see good performances from Tiffany, Hugo Boss and other key Coty brands in arrivals.
"P&C in arrivals becomes a habit; the shopper sees it the first time, and may buy next time. Shop & Collect is a motivator to also buy in arrivals as it carries a -10% discount, and we promote this heavily in departures too."
As Delhi Duty Free cannot sell fashion accessories in departures, seeing watches, jewellery and sunglasses in arrivals is unexpected. But the business is a niche gem, says Chopra.
"Luxury is selling beyond our imagination. We do about US$200,000 a month from this small 47sq m space. Sunglasses was a new introduction to arrivals, led by Luxottica.
"We have fashion watches, where Swatch and Fossil do well and fall inside the Rs50,000 limit. These are non-cannibalising sales too, from people who don't buy liquor or who are completing their spending allowance. We are figuring out how we can make this space even more productive."
Tobacco sales are just 1% of the arrivals business, mainly affected by an allowance reduction from 200 to 100 sticks several years ago.
Confectionery remains a solid performer, at around 11% of arrivals sales, and outweighing its contribution in larger departures space. Chopra says: "Lindt is the best seller. Unlike some other brands it does not have Indian production so people have trust in the Swiss-made message on the pack. Toblerone and Hershey's are popular too. It is an offer-driven business, and we have multiple touch points, with the impulse buying opportunity at the cash till points."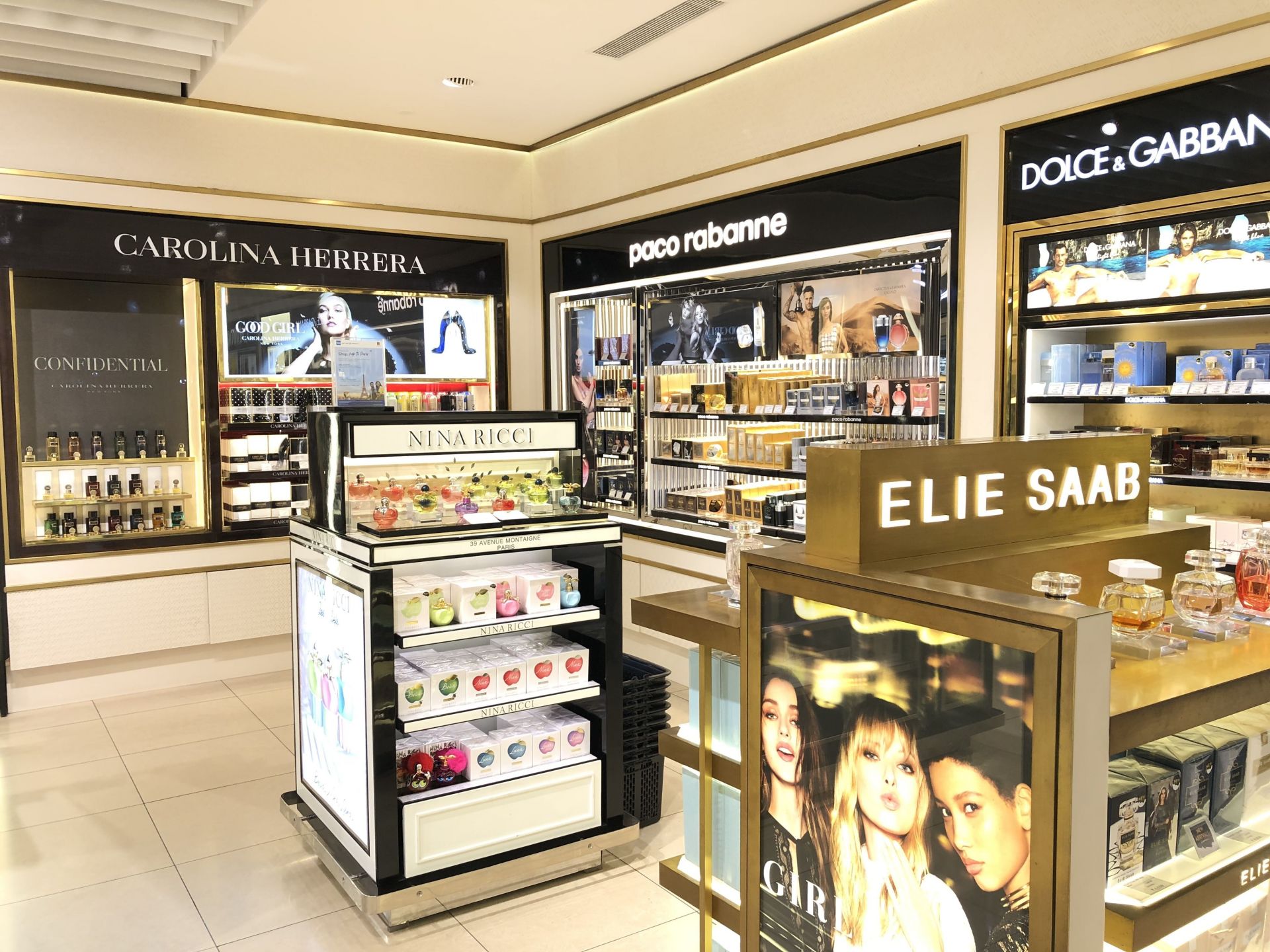 Promoting the value message in and out of the store, even from the baggage zones, is key for Delhi Duty Free in arrivals. "We are repeating our early messaging across the price ranges later on in the journey, using digital as much as possible and reminding people to maximise their allowances."
Ultimately, selling in arrivals is still about knowing the Indian consumer and their shopping habits well.
"Trolley bags are still huge with Indians; sometimes they judge their purchases by what brand of bag they receive," notes Chopra. "Also we do not use the same queueing system as many other places. People here have a different mentality and will not wait so we try to open enough till points to make transactions fast. We are exploring some mobile solutions that will help. We have added more impulse lines near the tills too as well as some smaller SKUs in liquor to allow people to make up their full allowance if needed."
The message is clear. Even for one of the duty free world's most successful arrivals businesses, there is scope to do even better.
"It is largely a perfumes business in arrivals though in departures the needle is shifting with the addition of more makeup and colour brands."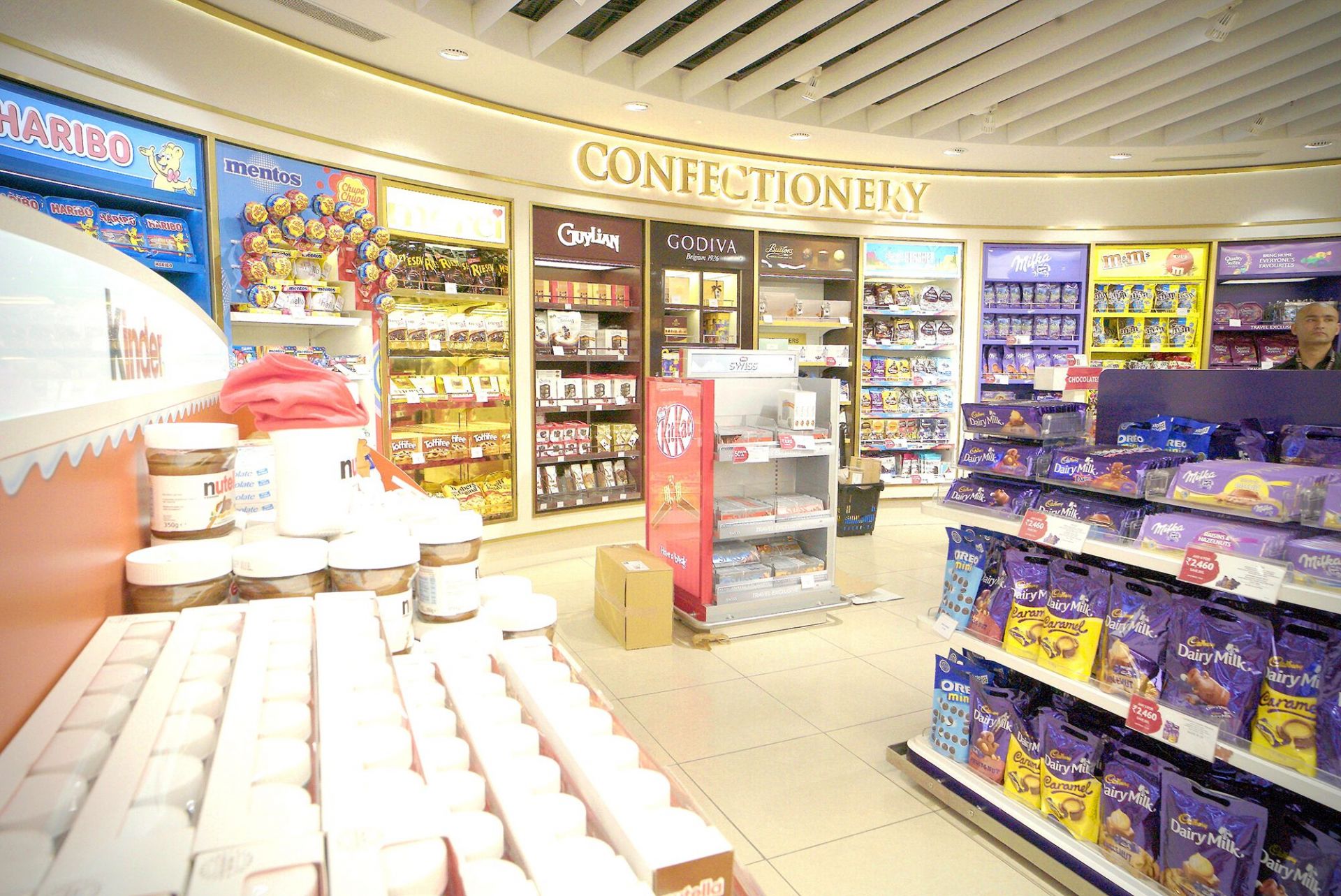 Brand integrity: Shoppers trust the international marques that populate the confectionery shelves in arrivals, with importance attached to the manufacturing expertise of Switzerland, Belgium, Italy and other source markets

Spotlight Series
September 2019