Category commentary:
The spirits brands' perspective
At well over 60% of total Delhi Duty Free sales, spirits brands play a powerful role in the business, notably in arrivals. We get the views of four of the pivotal brand owners about the new stores.
How have you partnered with Delhi Duty Free to shape the new store environment for your brand and your category?
Diageo Global Travel Managing Director Eduardo Barp: Diageo Global Travel has been in partnership with Delhi Duty Free (DDFS) since the day it launched in 2010. Over the years our teams have worked hard together to build a hugely valued and trusting relationship, working collaboratively to explore and create opportunities while taking on the industry challenges that have ultimately influenced our success to date.
We have worked very closely with DDFS to create the best shopper experience for Delhi passengers. With Diageo-owned brand Johnnie Walker maintaining its position as the top-selling brand in global travel retail (IWSR Drinks Market Analysis 2019) and with it being a much-loved brand in India, we worked with DDFS to create its very own luxury execution, paying close attention to detail to ensure we engaged with our Indian shoppers. The new store environment in departures displays some the best-selling Johnnie Walker lines, along with rare and fine offers.
Driving penetration is critical to the industry, and our brand strategies and plans are designed to recruit new drinkers. A great example of this are the recent innovative launches of White Walker by Johnnie Walker and the Game of Thrones malt collections, collaborating with a cultural phenomenon for many millennials, appealing to fans of the world's most-popular TV show.
In addition, our new store retail design environment also reflects our recruitment strategy, rooted in the authentic brand story of the original John Walker grocer's store in Scotland, but taking on a more modern, gender-neutral look and feel to attract and engage both existing and new shoppers within DDFS.
The new store layout is a beautiful space and offers shoppers an easy to navigate and hassle-free experience where they can browse from whisky to gin and select what they are looking for with no fuss.
DDFS often gets limited editions from Diageo Global Travel, such as the Johnnie Walker Black Label Cities Edition series. Collections like these bring exclusivity and differentiation to the retail space and tap into key consumer shopper motivations including gifting, making this aspect appealing to consumers and adding an extra layer to the retail space for travellers.
The malts area of the new store layout is another stunning section which offers shoppers a variety of different taste profiles, as does the 'Grab and Go' section which appeals to travellers who have a little less time to explore the whole store.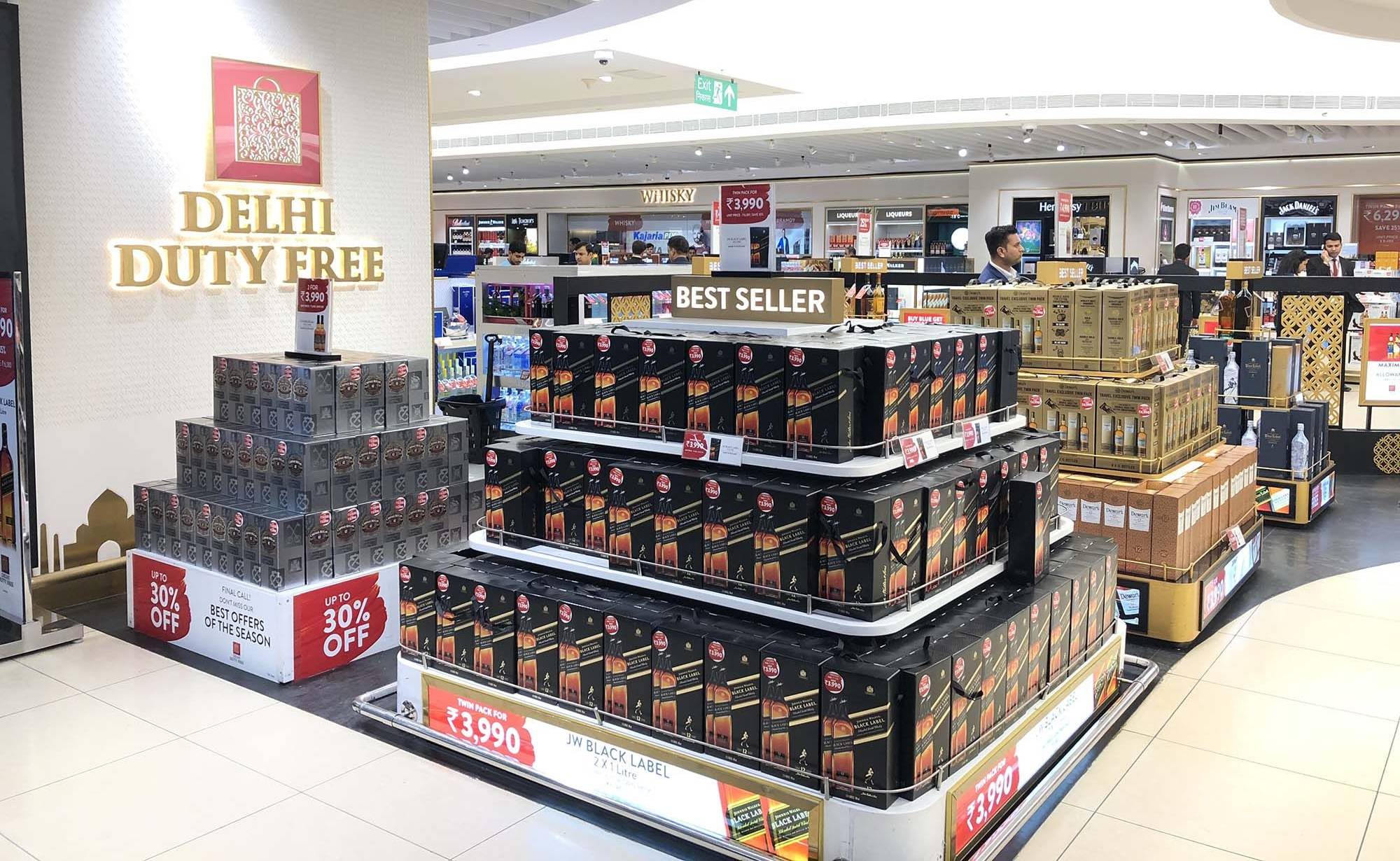 Johnnie Walker Black Label represents about 10% of total arrivals sales, with dual packs aimed at maximising allowance use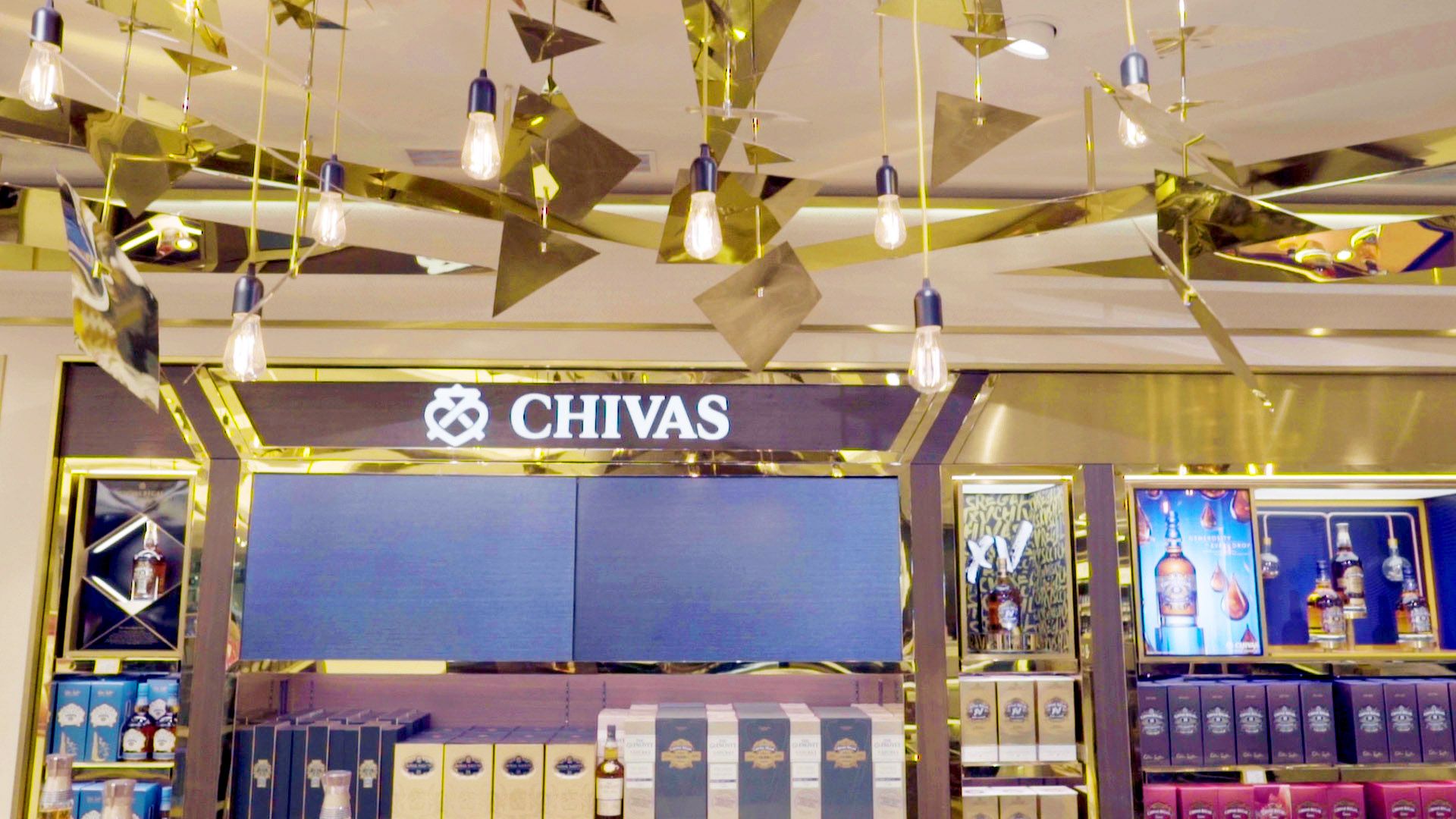 All that glitters: The eye-catching design of the Chivas Regal arrivals space
Pernod Ricard Global Travel Retail Chairman & CEO Mohit Lal: The modernisation of the Delhi Duty Free stores was a well-planned initiative involving all stakeholders from the conception stage with a singular shopper-centric approach. Delhi Duty Free now offers a global shopping experience with the new store layout aimed at maximising shopper footfall and conversion. Our Chivas shop-in-shops in the new stores amplify the shopper brand engagement while also driving value growth through our premium portfolio.
William Grant & Sons Managing Director, Global Travel Retail Ed Cottrell: The William Grant & Sons Travel team were there to see it at first hand in March. We had a very collaborative meeting with Ashish Chopra and his team, where we could see the opportunities for our brands and were made to feel part of their promotional strategy for the new store.
I like the fact that it is a walkthrough with lots of space for vendor partners, including our competitors, to really show off the brands with both physical and digital assets. There's real scope for getting brand messages across.
Walking through you pass through the categories one by one, in the case of spirits with dark spirits on one side and clear spirits on the other. It's not liquor on the right and cosmetics on the left and so on, as you often see; I feel that what they have done is both practical and logical, and will I'm sure be successful.
Lastly, it has all been done rather elegantly. The colours in the shop are warm and regal, giving it a Taj Mahal-type feel. It is very Indian and I think also very chic.
What I like about Delhi Duty Free is that when we agree something with them, they execute it brilliantly and they have really delivered for its partners – and importantly, in equal measure, the consumers – with this new store.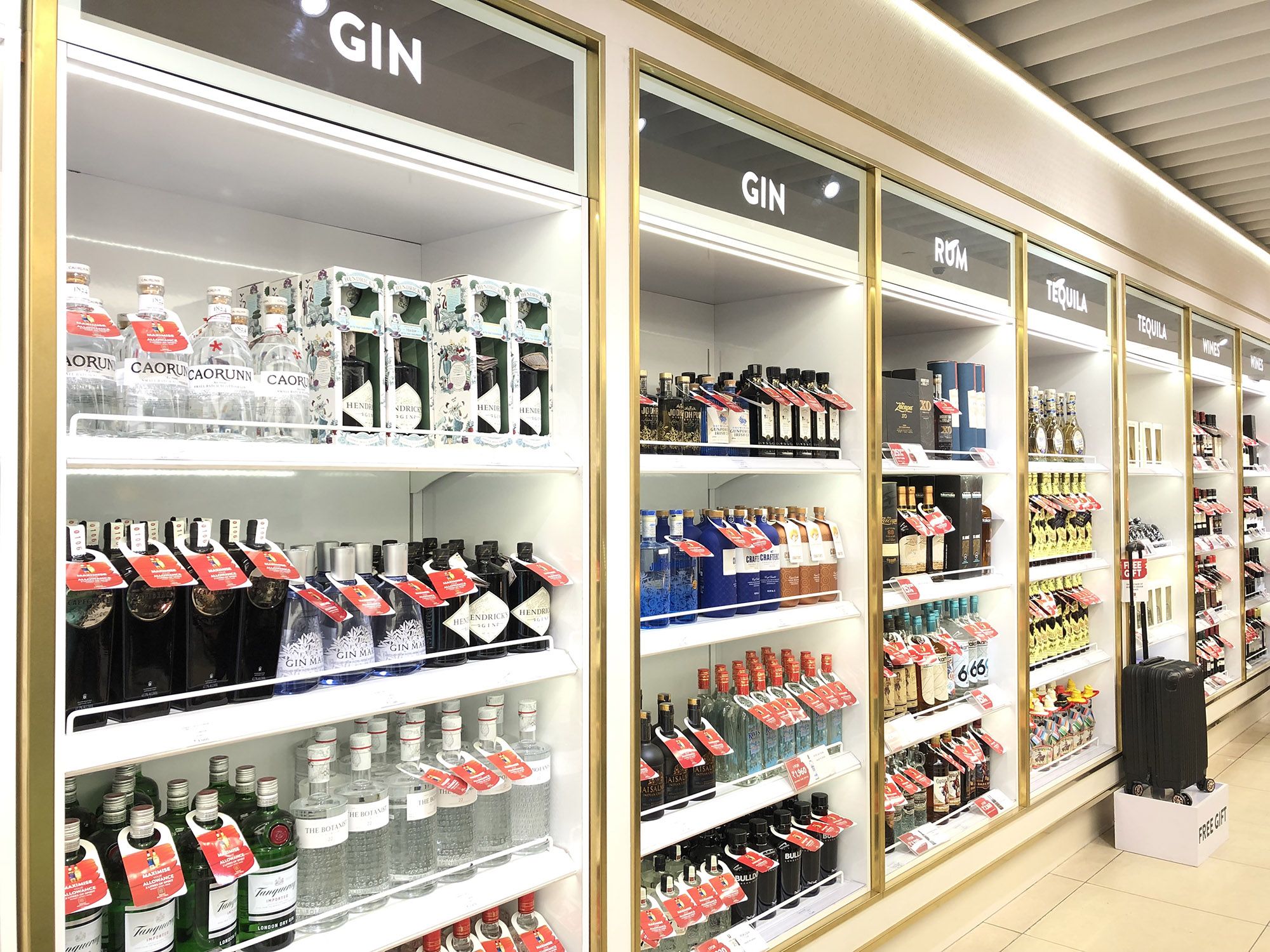 William Grant & Sons brand Hendrick's is among those leading a surge in gin sales from a relatively small base
Brown-Forman General Manager IMENA (India, Middle East & North Africa) Siddharth Wadia and IMENA Travel Retail Area Manager Sorcha Breen: We have worked closely with Delhi Duty Free to create a category vision for the American whiskey portfolio, which is seeing a renaissance globally. In addition creating category identity, we have also partnered with Delhi Duty Free to create an increased brand awareness for the Jack Daniel's portfolio.
This brand visibility allows us to communicate the brand values and identity, while also highlighting the importance of our barrels. We are the only major distiller in the world to make our own barrels in our own cooperages. It is because all of the colour and 70-80% of its flavour comes from the barrel so we want to ensure that this is one of the main ingredients.
The new store layout has ensured that Delhi Duty Free is now a destination for premium brands, and provides the consumer with an immersive shopping experience.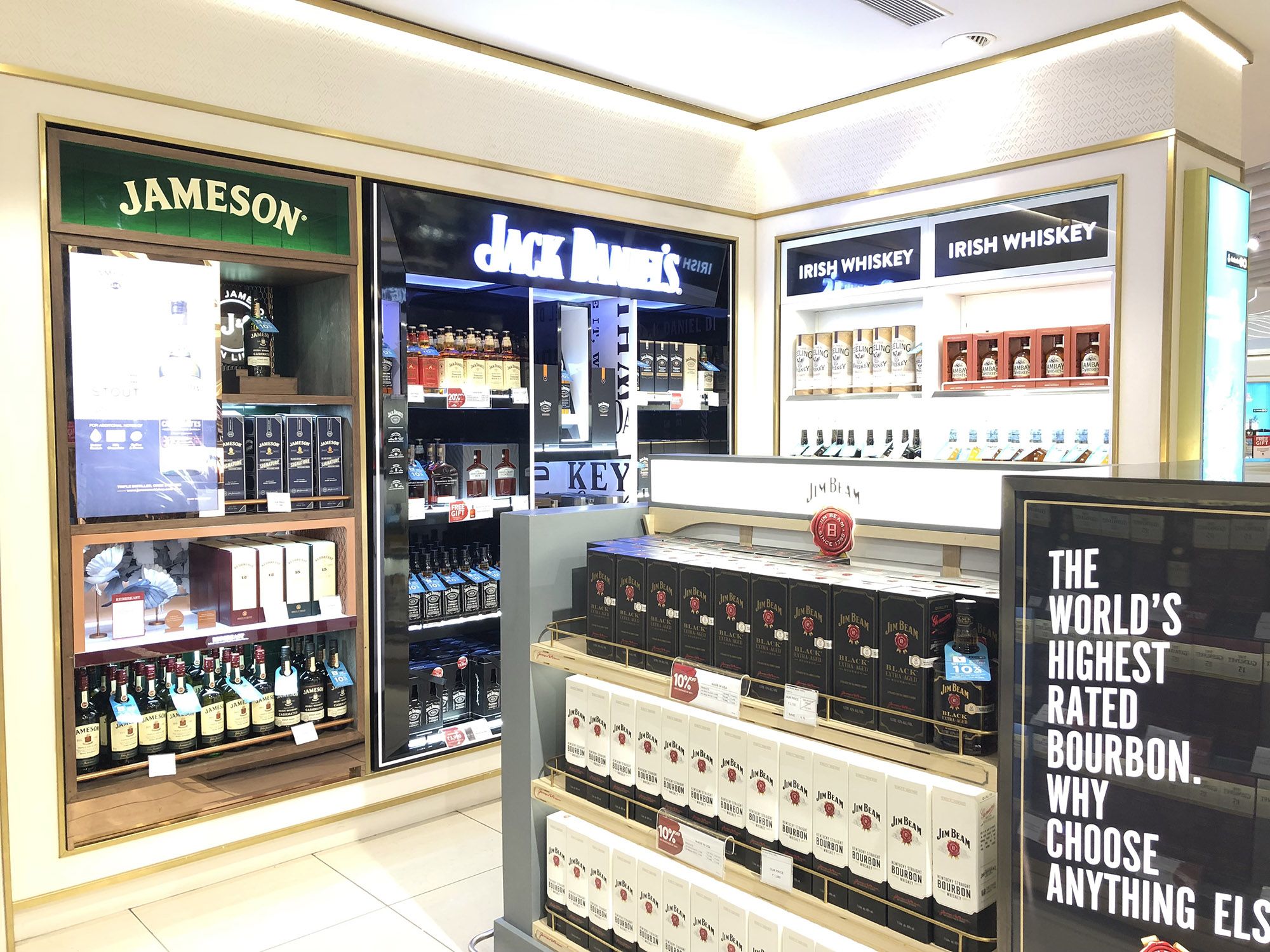 Taste of Tennessee: Jack Daniel's whiskey is leading growth within its category, aided by special editions and first-to-market line extensions through Delhi Duty Free
How important is the Delhi Duty Free business for your brand and company?
Mohit Lal (Pernod Ricard): Delhi Duty Free is one of the key contributors to our luxury brand portfolio, especially Royal Salute, The Glenlivet and Chivas. We have successfully launched new products and travel exclusives in the new store with the recent example of Chivas XV, which is a great example of our partnership.
Siddharth Wadia (Brown-Forman): Delhi Duty Free is a key strategic partner for Brown-Forman, and one that has been instrumental in helping us seed our brands and gain exposure to the growing Indian passenger base. It is currently the number one sales location in India for the Brown-Forman portfolio, and we look forward to continuing the growth and partnership throughout this year.
Ed Cottrell (William Grant & Sons): We have been very successful in Indian travel retail and our business there continues to grow very fast. Our presence at Delhi Duty Free, which we have worked with for the past 12 years, has been a major contributor to that. In fact, we have achieved double-digit growth in each of the last four years with this partner.
Three of our brands are performing extremely well in the form of single malt Scotch whiskies Glenfiddich and The Balvenie and then Monkey Shoulder, our premium blended malt Scotch whisky. The latter has been a real hit with the Indian millennials who want to break away from more traditional Scotch blended whiskies.
We've seen more modest growth in gin sales in Indian travel retail; Hendrick's has had some traction but its sales value is small compared to the three whiskies.
Eduardo Barp (Diageo): As the single largest duty free retailer in India operating out of Indira Gandhi International Airport T3, coupled with its drive and ambition to offer world-leading travel retail shopping experiences, our business relationship with Delhi Duty Free is of significant value and importance.
DDFS is a key player in India and across MENA and Asia. Our aim is to drive positive conversion by working together to create inspirational innovations, limited editions and exclusive activations that ultimately influence shopper spend and drive premiumisation. It's important that we have the support and shopper intelligence that Delhi Duty Free provides. Their guidance and insight can really make the difference when bringing to life a successful product or brand activation on the retail floor.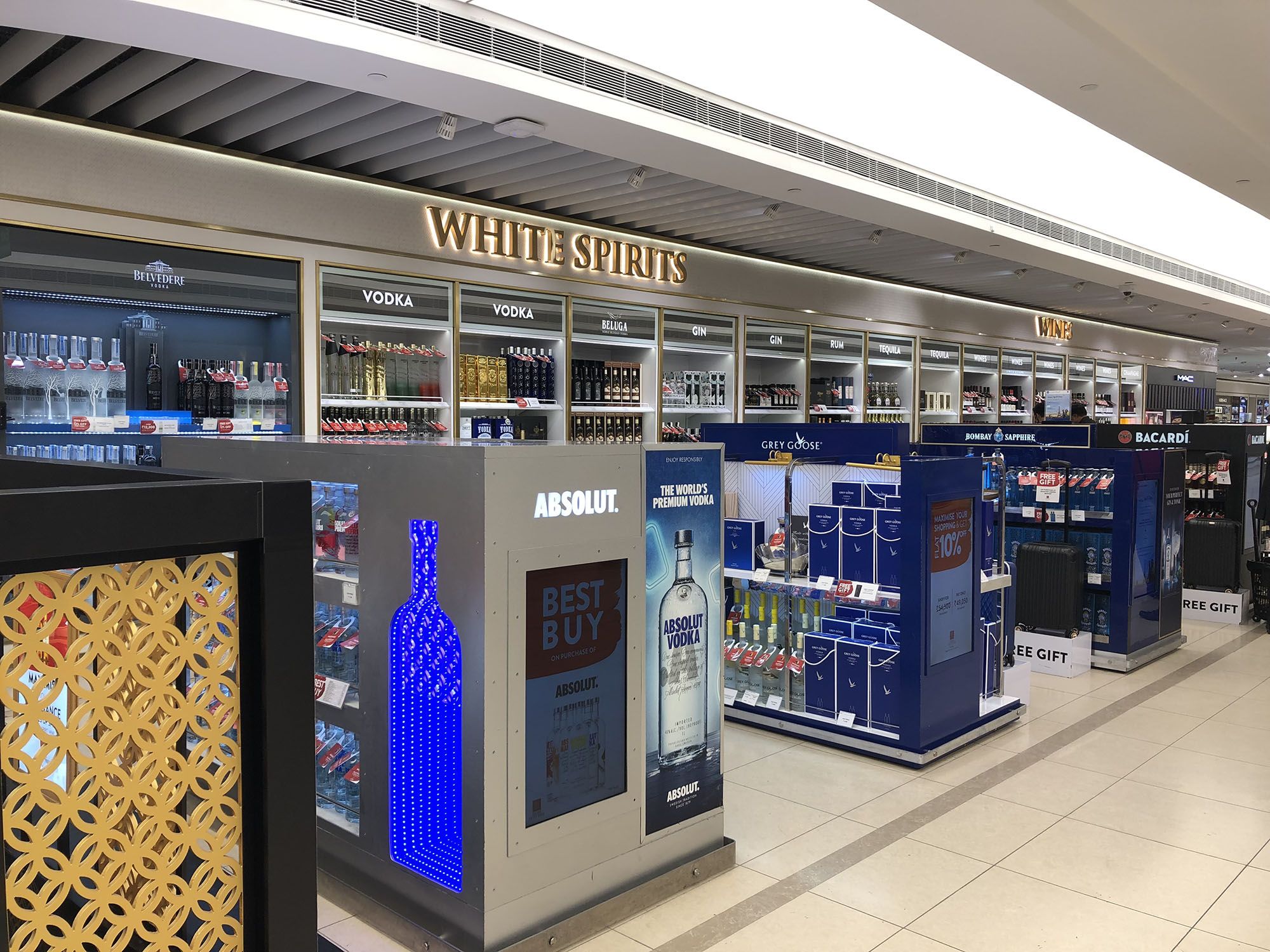 Prime position: Vodka, led by power brands such as Absolut, is growing, buoyed by prominence in departures that aims to prompt sales in arrivals (pictured)
How do you view the opportunity to drive growth at Delhi Duty Free? What are the key factors and influences that will shape your brand's trajectory here?
Mohit Lal (Pernod Ricard): We have gained strong insights through an extensive in-house shopper study. This revalidates our views that the Indian sub-continent shopper not only looks for value offers but also wants to premiumise and explore duty free exclusives while moving away from what they would normally consume in the domestic environment. We will continue to strongly partner with Delhi Duty Free with complete focus on shopper needs, building both commercial and brand value for all stakeholders.
Eduardo Barp (Diageo): As India's progressive economy continues to grow, so does the opportunity to progress travel retail in Delhi. Our partnership with Delhi Duty Free is crucial to developing our communications with shoppers whether that is through social media, digital and/or out-of-home media throughout the traveller's journey. Global travel is ever-changing and it's important that we are ready to adapt and evolve with it.
Within the new store layout at DDFS there is a striking personalisation zone at which we plan to elevate gifting and personalisation through Johnnie Walker, both at scale and via more bespoke elements. When shoppers purchase a bottle of Johnnie Walker, they will now be presented with the opportunity to choose a charm with their initials for the bottle neck and get the label of the bottle personalised – with the addition of gift wrapping, gift bags and occasion-led ribbon.
Additionally, we are delighted that the permanent visibility of Johnnie Walker within the arrival and departure halls will remain and we will also have the opportunity to experiment more with our gin and liqueur brands. Tanqueray Sevilla's role is to recruit millennials with Baileys Strawberries and Cream having the objective of driving penetration and recruitment all year. Both are a testament to our growing partnership and outlines the predicted trajectory ahead.
We want to ensure we are relevant for shoppers and offer them one-of-a-kind experiences, such as products based around cultural moments. A recent example of this is the launch of the Game of Thrones Single Malt Scotch Whisky Collection. This includes eight limited edition whiskies, each of which has been inspired by and paired with a 'House' from the epic TV series Game of Thrones. Innovations like these make variants more accessible to the next generation and will be a continued focus of Diageo's moving forward.
Ed Cottrell (William Grant & Sons): I see it as one of our most dynamic opportunities in global travel retail at the present time. You have to: India is the biggest whisky market in the world and people have a great sense of sophistication about whisky.
Arrivals is where most of the business is in airport stores – in our case about 70% – so the combination of this great store and the resources we have put into this location will underpin any new growth.
We have a travel retail team of two permanently stationed in Delhi and another in Mumbai – Hardeep Sethi, Manmeet Kaur and Kishor Jankar – and we have a really good team of brand ambassadors on the shop floor that know our products inside out. BAs are our most effective sales drivers, attracting travellers from the concourse and into the store and then converting into purchases.
This customer base expects to see the best of international whisky brands and Delhi Duty Free is absolutely delivering that. William Grant & Sons brands are integral to that offer – a lot of Indian consumers are familiar with the names and seek out our products, which are very well presented. That is what will drive the growth.
Sorcha Breen (Brown-Forman): There is a fantastic opportunity to grow our brands within Delhi Duty Free, and this can be highlighted by the recent purchase of seven barrels of both Woodford Reserve and Jack Daniel's. The Delhi Duty Free Woodford Reserve barrel selection was the first private selection in Indian travel retail. Brown-Forman is one of the global leaders in whiskey and we have a wide range of premium American whiskey brands. We believe that with the positive partnership with Delhi Duty Free, expanding brand visibility and ensuring we engage with consumers on digital platforms will set us on the right trajectory for continuous growth.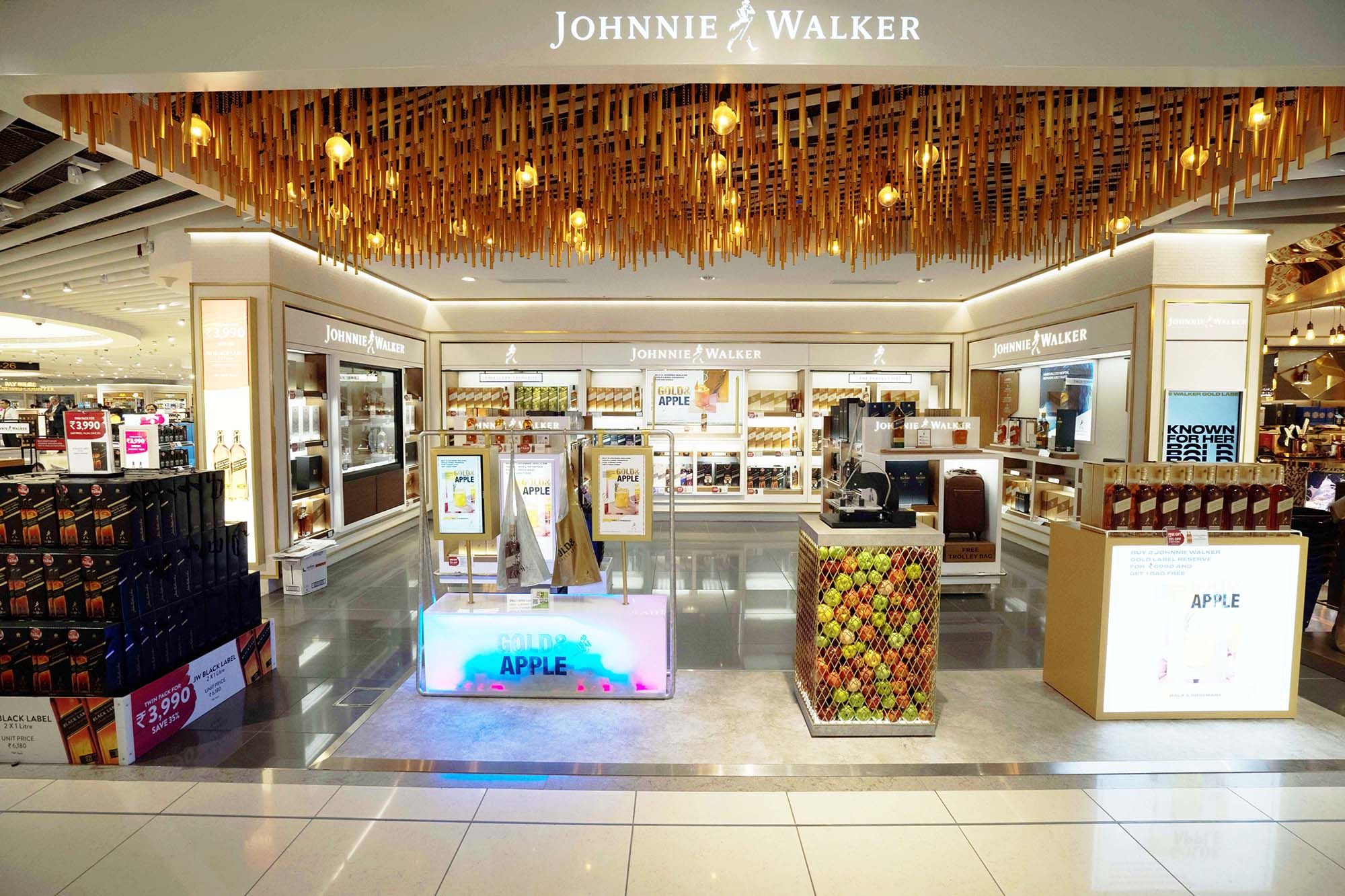 Multi-layered portfolio: The permanent installation for Johnnie Walker in departures
In a wider sense, how do you see the future for your business in the Indian market?
Mohit Lal (Pernod Ricard): There are strong tailwinds in the business with a positive outlook for passenger growth in the long term. This will be driven by a strong macro-economic environment and the rise in leisure travel of the middle class and affluent-income Indian consumers. Yes, there are short-term challenges with the changing Indian aviation industry landscape. However we are closely working with the Indian duty free operators to constantly innovate and drive incremental value.
Ed Cottrell (William Grant & Sons): It's important to understand how dynamic the Indian travel retail market is at the moment and we certainly recognise that as a supplier. We are prepared to invest in it because the bottom line is that this is one of the big four countries for us, China, South Korea and Russia being the others.
That investment is seeing us capture a lot of returning Indian consumers in particular and locations such as Delhi Duty Free are the perfect opportunity to present our brands to them. India is certainly one of the most exciting markets in travel retail at the present time, especially for our whiskies.
Eduardo Barp (Diageo): The Johnnie Walker portfolio is much-loved in the Indian market. We hope to recruit each new generation of Indian travellers into Johnnie Walker, at core price tiers from Red Label, Black and Gold through to Blue Label.
In addition to this, there are lots of opportunities for the Indian market. Increasing investment and focus beyond Johnnie Walker will help recruit new consumers and offer brands to suit a broader range of motivations and occasions.
Single malts represent around 10% of consumption in the India domestic market and we will invest in Singleton and Talisker.
Baileys is an untapped jewel in this part of the world, and we will invest in bringing the Baileys Treat Bar concept and innovations like Strawberries and Cream to travellers in Delhi.
Reserve brands like Tanqueray, Ketel One and Bulleit all represent opportunities for growth, through building the core brands and introducing innovations such as Ketel One Botanicals and Tanqueray Sevilla.
Siddharth Wadia (Brown-Forman): We are very proud of the popularity that the brand enjoys among consumers in India, making it the most popular American whiskey brand in the country. We are looking forward to the coming years, and our continued partnership with Delhi Duty Free.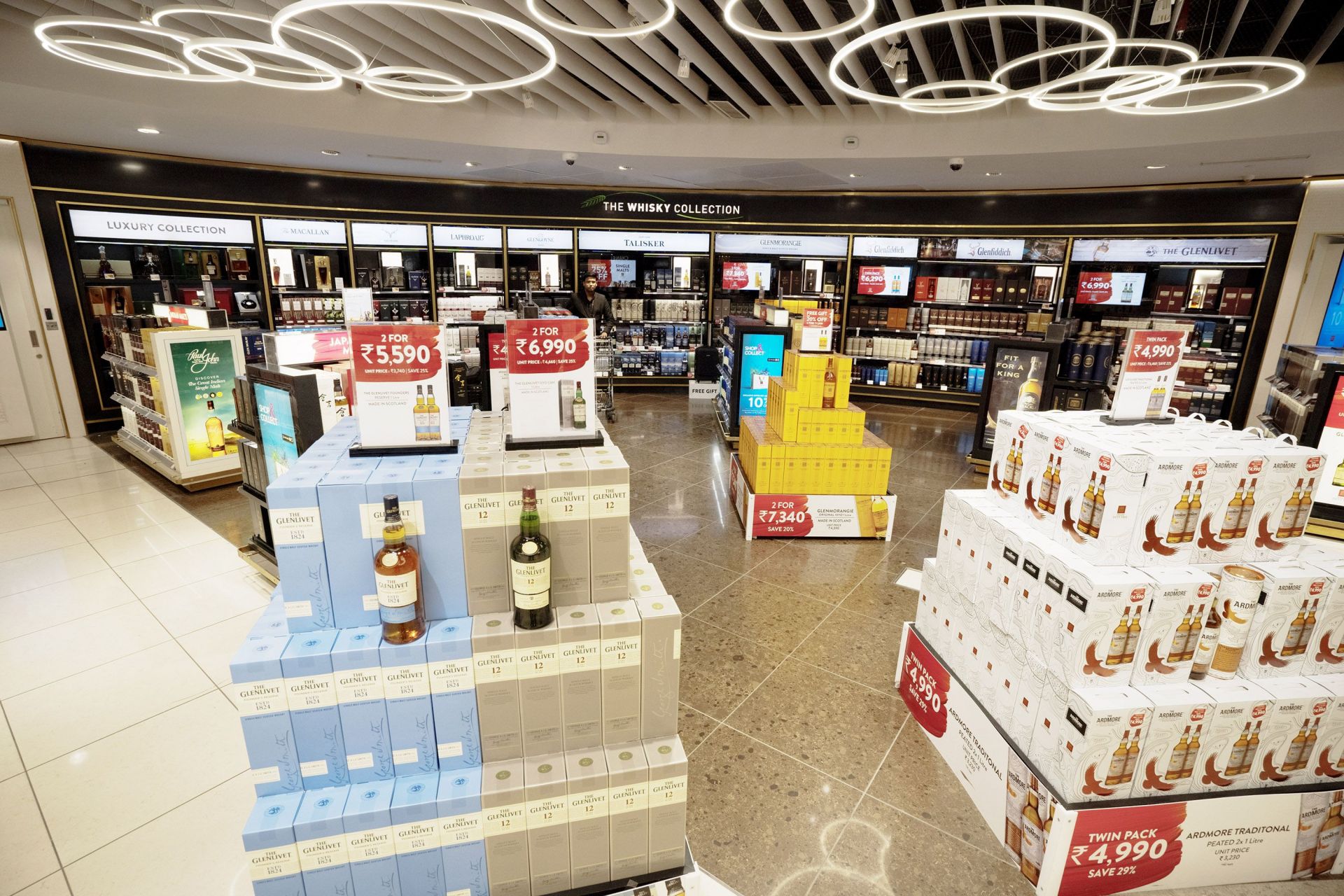 Ed Cottrell (William Grant & Sons): "This customer base expects to see the best of international whisky brands and Delhi Duty Free is absolutely delivering that." (The Whisky Collection in departures pictured)

Spotlight Series
September 2019