Category commentary:
Carving out a niche for confectionery
Confectionery represents just under 10% of total Delhi Duty Free sales and the Indian market is a high-volume business for travel retail. Here, three leading partners offer their views on the new environment and outline the importance of Delhi Duty Free as a showcase for their brands.
The Moodie Davitt Report: How have you partnered with Delhi Duty Free to shape the new store environment for your brand and your category? What is your view of the new store layout and its appeal to consumers?
Mondelez World Travel Retail Managing Director Jaya Singh: The new store environment really puts our global power brands in the spotlight. Toblerone is the number one chocolate brand in the channel and Cadbury is the clear market leader in the Indian domestic market. Delhi Duty Free has given our brands the space and visibility that leverages their popularity as well as confectionery's widely acknowledged high conversion rates. This was integral in capturing the attention of travellers and driving footfall in-store.
Our research has also revealed that biscuits as a category on its own has fantastic potential to drive incremental growth, and we are excited to see more space and visibility dedicated to products like Oreo as well as our new Milka and Cadbury biscuit innovations.
Lindt & Sprüngli Global Duty Free Division Head Peter Zehnder: We have teamed up with Delhi Duty Free Services and brainstormed together to define the best layout for Lindt and for the category. Lindt is the number one brand in Delhi Duty Free confectionery; it was therefore important to both sides to make sure that the brand exposure was at its best and to ensure maximum penetration for the category. The results are excellent and objectives are met.
Nestlé International Travel Retail General Manager Stewart Dryburgh: We have worked with the team in Delhi to ensure they have cutting edge, dynamic POS units, including the very latest version of the digital KitKat bus, an After Eight tower and great wall-bays on our other key brands Smarties and Nestlé Swiss.
The walkthrough layout in departures is easy to navigate with all categories extremely well sign-posted using lead brands. In addition the Delhi Duty Free team have successfully blended in a range of local products to ensure there is a real confectionery and fine foods offer to engage consumers. In the equally important but space-wise smaller arrivals store, the confectionery category is unmissable prior to exit, ensuring basket spend is driven.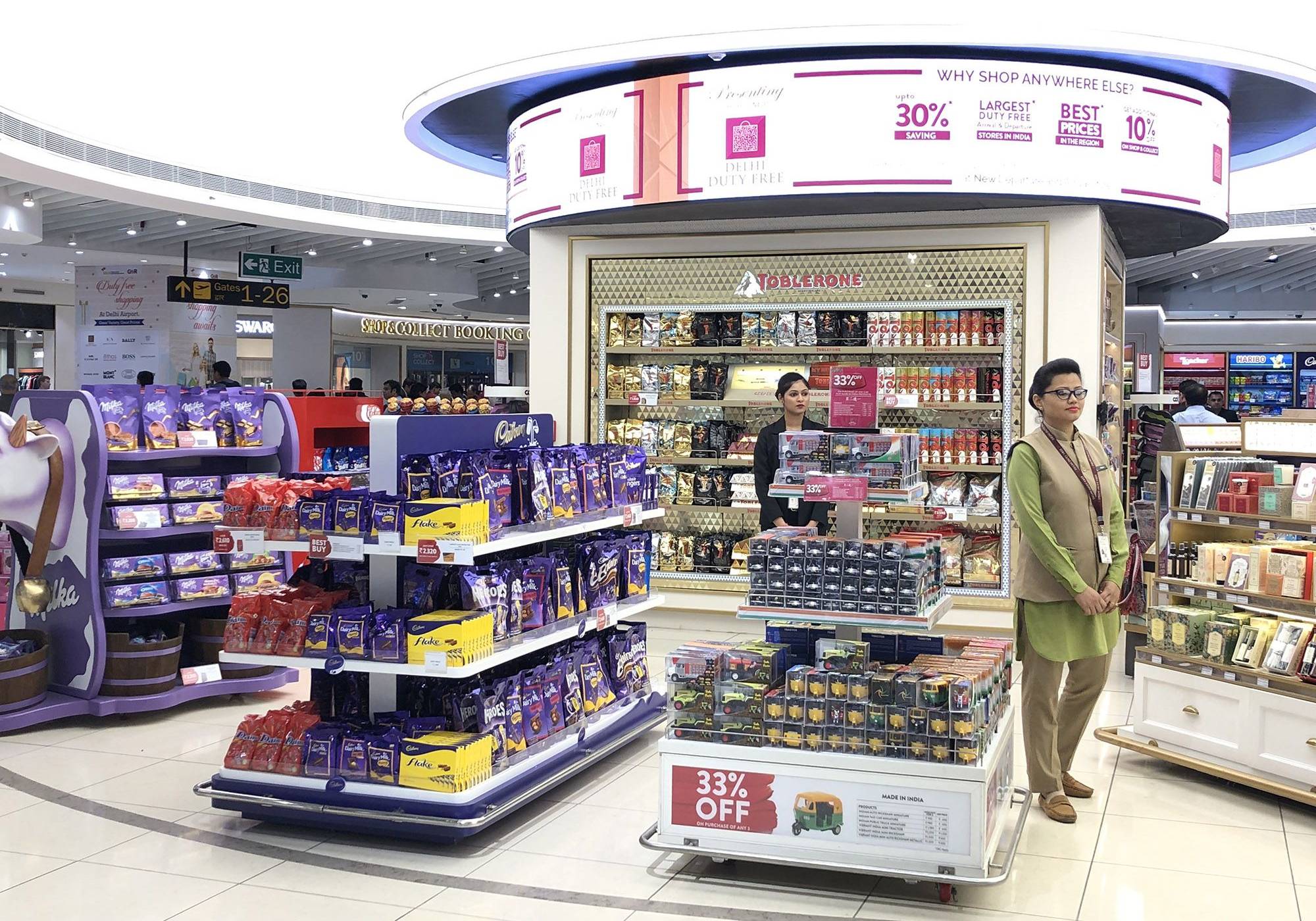 Strong showcase: Toblerone and Cadbury lead Mondelez World Travel Retail's presence within the confectionery departures environment
How important is the Delhi Duty Free business for your brand and company?
Peter Zehnder (Lindt & Sprüngli): Delhi Duty free is a key partner to Lindt. It is our top door within the Indian sub-continent travel retail business and our showcase for the Indian market. We're glad to have the opportunity to display our brands in such qualitative retail environment.
Jaya Singh (Mondelez WTR): Delhi Duty Free is very important for our company. Our partnership has enabled us to collaborate and implement several incremental revenue-driving category initiatives with great success.
Delhi Duty Free pioneered in India with cross-category placements, having realised significant incremental growth through selling Toblerone Tiny products within liquor and other categories. They were also our first partner on the subcontinent to come onboard with establishing biscuits as a standalone category, increasing space and visibility in-store.
These kinds of partnerships are not only essential to building our business, but to the overall growth of the category and the channel as a whole.
Stewart Dryburgh (Nestlé ITR): Delhi Duty Free is a fast growing operation and, being the capital of the fast growing Indian economy, it represents a key gateway to influence a growing number of Indian travellers.
Playing on price: "You have to be competitive" and deliver perceived value, says Stewart Dryburgh
How do you view the opportunity to drive growth at Delhi Duty Free? What are the key factors and influences that will shape your brand's trajectory here?
Stewart Dryburgh (Nestlé ITR): Having worked for three years in the domestic market I am well attuned to the high level of price sensitivity among Indian shoppers and their consequent, and completely understandable, demand for value for money. This is the entry point; you have to be competitive to play. Once you have that you then need to engage with exciting offers which are not available in domestic markets. If you can consistently deliver this then the Indian shopper will be a most loyal friend.
Peter Zehnder (Lindt & Sprüngli): We have analysed the shopper behaviour of the most important traveller groups and how they behave with the Lindt brand. Indians are the number one shopper group in travel retail confectionery with one of the highest shopping basket averages and the highest conversion rates worldwide.
They are looking for good value for money, are equally interested in gifting and self-consumption and value high quality products. So for all airports Indians are a very interesting shopper group in travel retail. As they tend to love Lindt we see massive opportunity at their home airports, especially with Delhi Duty Free.
We have taken into account their flavour preferences, e.g. the smooth melting Lindor balls and have accordingly adapted focus, planograming and merchandise at Delhi Duty Free. Thus, we're confident that the Lindt and Delhi Duty Free growth story will continue in the next years and will act as a role model for attracting Indian passengers worldwide.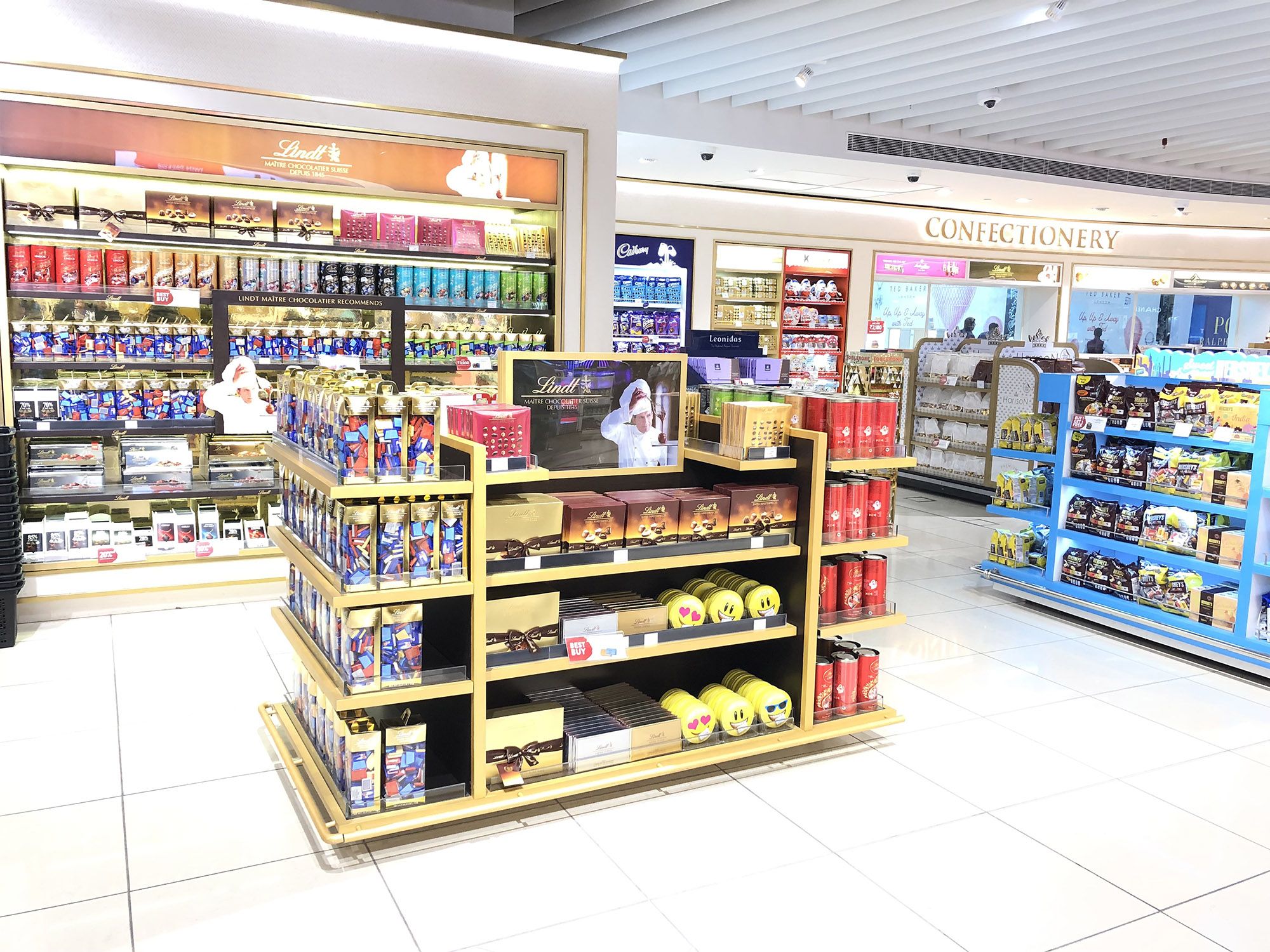 Leading with Lindt: The Swiss brand resonates strongly with Indian shoppers
In a wider sense, how do you see the future for your business in the Indian market?
Jaya Singh (Mondelez WTR): Our Indian business has grown substantially over the last five years, with Delhi Duty Free playing a major role in this. Cadbury and Toblerone remain extremely popular in India, and we're leveraging these brands' popularity with exciting travel retail exclusive products, such as the Toblerone Tiny Crunchy Almonds or the new Cadbury Premier League Ball. Together with Delhi Duty Free we will continue to innovate the travel retail offer in India – both on an engagement and product level.
Peter Zehnder (Lindt & Sprüngli): The Indian middle class will keep growing, and travelling more and more. The good news is that they are Lindt lovers! We are therefore optimistic about the potential.
Stewart Dryburgh (Nestlé ITR): The Indian economy is buoyant with a digitally connected young population and a fast-growing middle class with a thirst for travel. This makes it a key market for growth in global travel retail.

Spotlight Series
September 2019