BRAND PERSPECTIVE: SISLEY
---
Sisley's star shines brightly in China
Sisley, a French luxury beauty brand founded by Hubert and Isabelle D'Ornano in 1976, was a pioneer of phyto-cosmetology, the scientific use of plant extracts. Today the brand is sold in over 90 countries, 7,500 locations and 20 stand-alone stores. China – and the travelling Chinese – are front of mind for the company in terms of expansion.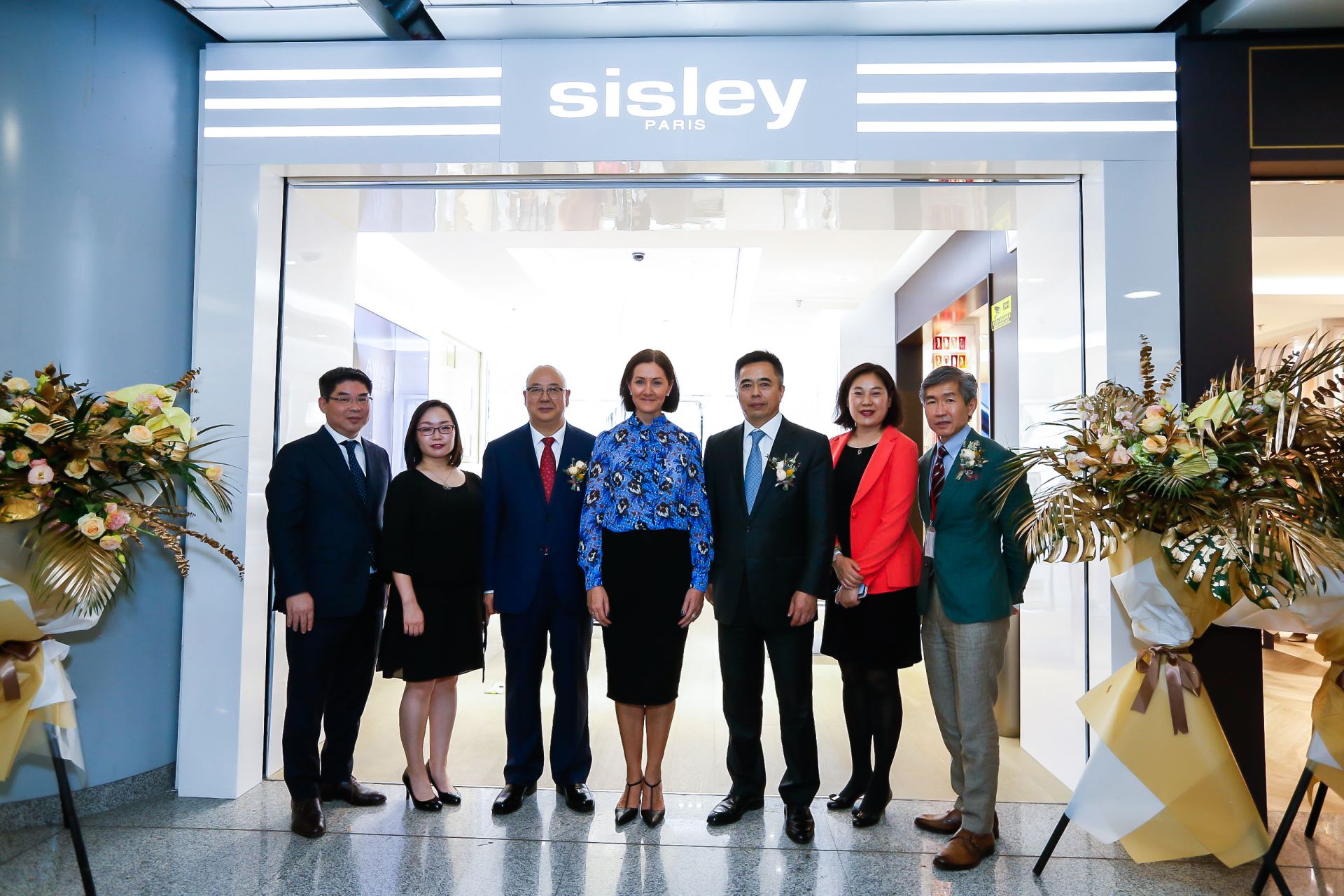 Sisley Asia Pacific Travel Retail Director Sue Lewis (centre) welcomes CDF-Sunrise Duty Free and Beijing Capital International Airport senior management to the luxury boutique
"China is now the number-one subsidiary for us," says Sue Lewis, Asia Pacific Travel Retail Director for high-end independent French beauty house Sisley, underlining the importance of the Beijing Capital International Airport (BCIA) showcase. "Last year, it went ahead of France. That's a big first for us so China is a very important market.
"We're a monobrand, so our image is paramount to us," she tells The Moodie Davitt Report. "In an airport environment, sometimes we can be challenged on space – and the amount that you can do in a certain space. So to have a boutique, it's just so rare."
Ms Lewis applauds the CDF-Sunrise concept of clustering a series of high-end beauty brands. "We're in such wonderful company and they enhance our brand. But just to have the space in such a premium place as Beijing Airport, it's something you couldn't turn down."
Ms Lewis says that the boutique has allowed Sisley to underscore its core principles of luxury and service to a key consumer demographic.
"Over the last two years, we've developed a lot of new store design elements," she says. "These things don't just happen, they take a lot of evolution and so we've now got a look that is a definite step up for us and we've been able to incorporate that here.
"This market is so progressive, so quick, and the standards are so very high."
"So within the store we've got a lovely [back wall] area for anti-aging products – we are very much known for anti-aging – and it's a beautiful gold highlighted display. It's about being able to create the ambience for the brand, so that consumers walk in and they know it's a luxury brand. And that's obvious here. It's very light, bright, spacious and inviting and that's what we want.
"It clearly shows the brand image. We're offering services from makeup and skincare and the travellers are so far responding positively to the services on offer.
"Globally we have three axes: skincare, makeup and fragrance [in 2018 the company also launched a new brand, Hair Ritual by Sisley -Ed]," Ms Lewis notes. "In various parts of the world, those categories are much bigger. The Middle East is big on fragrance, Europe is big on makeup, and Asia is big on skincare.
"But in Asia, we're really trying to move forward with makeup. It's a big opportunity and it's a wonderful recruiter so we've now got makeup stations with a whole new design for us and so that's incorporated here. It's a big step forward."
Ms Lewis praises CDF-Sunrise Duty Free for their spirit of partnership. "They're really superb to deal with. They make things happen. This market is so progressive, so quick, and the standards are so very high. And when you see what they've done in Haitang Bay… these are firsts for the industry, let alone for a developing market."
"It's a learning curve for all of us, but to have a boutique at an airport of this kind of scale is a first."
Having soft opened the BCIA boutique in time for Chinese New Year, Sisley has been encouraged by early results. "We're selling out, so that's one of the good things," says Ms Lewis. "The supply for this terminal comes from Terminal 3 so that's the feeder and it's just about keeping up with the demand. Once we can get the stock supply a little bit better, then it's going to boom even more. It's a learning curve for all of us, but to have a boutique at an airport of this kind of scale is a first."
In her speech at the evening event following the boutique's inauguration, Ms Lewis told guests, "This is the first boutique for Sisley in an airport, it's the first in Asia, and it's really not a surprise that we would open in China, given the rapid and progressive change that we see happening across travel retail here."
THE MOODIE DAVITT REPORT • JUNE 2019