BRAND PERSPECTIVE: LANCÔME
---
Lancôme gives global debut to Absolue boutique
Beijing Capital International Airport Terminal 2 is the world's first travel retail location to feature a standalone boutique for French beauty brand Lancôme's Absolue premium skincare range.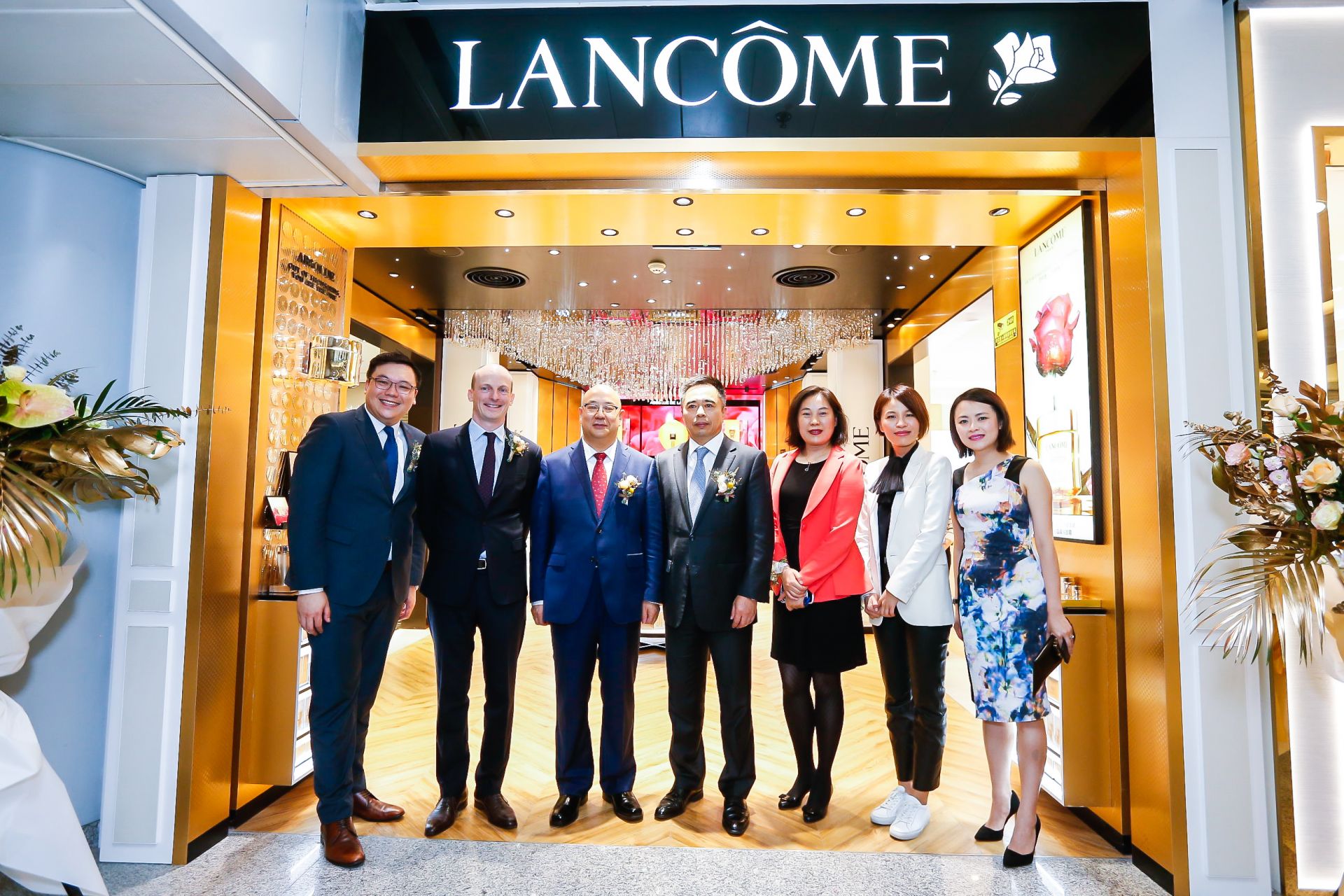 L'Oréal Travel Retail Asia Pacific Managing Director Emmanuel Goulin (second from left) proudly showcases the Absolue premiere
"This means quite something," L'Oréal Travel Retail Asia Pacific Managing Director Emmanuel Goulin told guests in Beijing of the decision to create an inaugural travel retail boutique with CDF-Sunrise Duty Free for for Lancôme's Absolue skincare line. "It means firstly that China is extremely important for Lancôme, but also that travel retail in China is even more so."
Talking to The Moodie Davitt Report earlier in the day, Goulin spoke positively about the way the boutique concept has met L'Oréal Travel Retail's aspirations for Lancôme, one of the premium brands in its glittering beauty portfolio.
"The idea of dedicating specific space for the premium brands and premium franchises was a good idea because premiumisation is a key trend right now in China," he comments.
"The problem we have in airports in China especially is that they are very congested, and in order to provide the right level of service to the consumers we needed more space. Therefore, we had been trying to think of a new concept, and so here the Absolue boutique is a premiere worldwide, created especially for this airport."
"To improve the consumer experience is a KPI that everyone in the industry should have."
The Absolue boutique, replete with chandelier, showcases the "Parisian chic" of the brand to the full, Goulin says, something a position in the more crowded main store would not allow. "The main store is focusing on the core franchises, and then the premium skincare of Absolue is only available here. We can guide the premium consumers to the boutique. They are the ones who are looking forward to discovering the Absolue range, and then we have more time and more space in an environment that is better suited to the service that we want to provide with such a franchise.
"The consumer reaction is very positive," Goulin continues. "We are in a learning process, so there are things we will improve; for example in how to better guide the traffic from the main shop to here because most of the passengers don't know yet that these boutiques exist. So it's a test-and-learn for us, like it is for everyone, but so far it has been very promising."
Goulin applauds CDF-Sunrise Duty Free for embracing the premiumisation trend. "We've been discussing for quite a while with them how to increase the penetration in the shop and to improve the consumer experience – which is a KPI that everyone in the industry should have.
"So I'm glad that they are being bold by testing new things and then giving us the opportunity as a group to participate and play our role in this premiumisation concept. They are happy to have something that is exclusive to them and that we are testing and running together. By doing so we will shape the future of this industry."
Does Goulin think the BCIA concept might form a template for other airports? "Yes, for sure, and we are fully supportive of this initiative," he replies. He reiterated that view in his speech that evening in a friendly comment to rival suppliers. "When these initiatives are serving the interest of all the actors in the industry – the airport, the retailers and the customers – I think that despite being competitors we all agree that this project is worth investing in, something that is outstanding and something that is differentiating. I believe this is what we are together realising."
THE MOODIE DAVITT REPORT • JUNE 2019