BRAND PERSPECTIVE: LA MER
---
La Mer's DNA
showcased at its best
Crème de la Mer, the luxury skin cream famously created by aerospace physicist Dr Max Huber to self treat his burns, has become one of the world's most renowned beauty products. It enjoys particular popularity with Chinese consumers, a success underlined by The Estée Lauder Companies commitment to a dedicated La Mer boutique at Beijing Capital International Airport.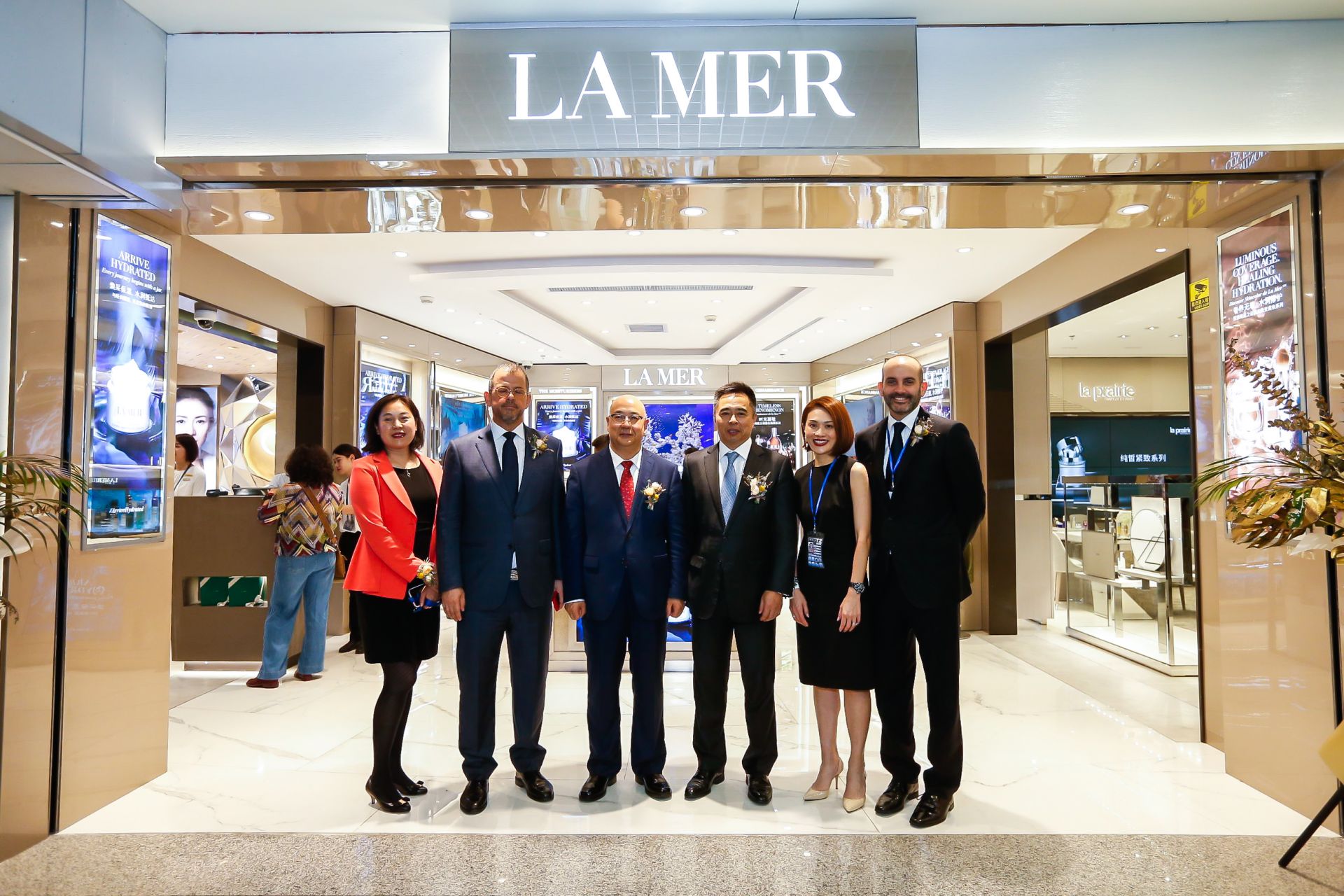 Brand, retailer and airport executives celebrate the Grand Opening of the stylish La Mer boutique
The La Mer boutique joins Estée Lauder Re-Nutriv as a dual offering from The Estée Lauder Companies within the Beijing Capital International Airport luxury cluster, underlining the US beauty house's huge popularity with the Chinese consumer at home and abroad.
The Estée Lauder Companies Senior Vice President General Manager, Travel Retail, Asia Pacific Javier Simon applauded CDF-Sunrise Duty Free for the boutique initiative during a well-received speech at the post-opening evening celebrations.
"We have very, very rare occasions to celebrate situations in which everyone wins."
"We have very, very rare occasions to celebrate situations in which everyone wins," he told guests. "The consumer wins with the opening of these free-standing boutiques. The airport wins, because the image is elevated. And the brands win because we get to express our DNA at its best."
"This is a very, very special occasion for us because this free-standing store is the first store for La Mer in an airport worldwide," he continued. "Our consumers are loyal. They keep coming back and buying more because the product is good. We will have many new specific products and special services in our boutique in Terminal 2."
In an interview a few years ago with the Asia Pacific Travel Retail Association, Simon noted that one of the biggest challenges for the cosmetics category in the channel was that it tended to be allocated insufficient space in many key locations. He also noted that there should be a clear delineation between mass and prestige products in travel retail stores.
Both those goals have been delivered in emphatic style by CDF-Sunrise and the results to date would appear to bear out Simon's theory.
THE MOODIE DAVITT REPORT • JUNE 2019