BRAND PERSPECTIVE: GUERLAIN
---
Guerlain highlights
its fragrance heritage
While the other CDF-Sunrise Duty Free boutiques at Beijing Capital International Airport are largely dedicated to skincare, for Parisian beauty house Guerlain perfume is the star of the show.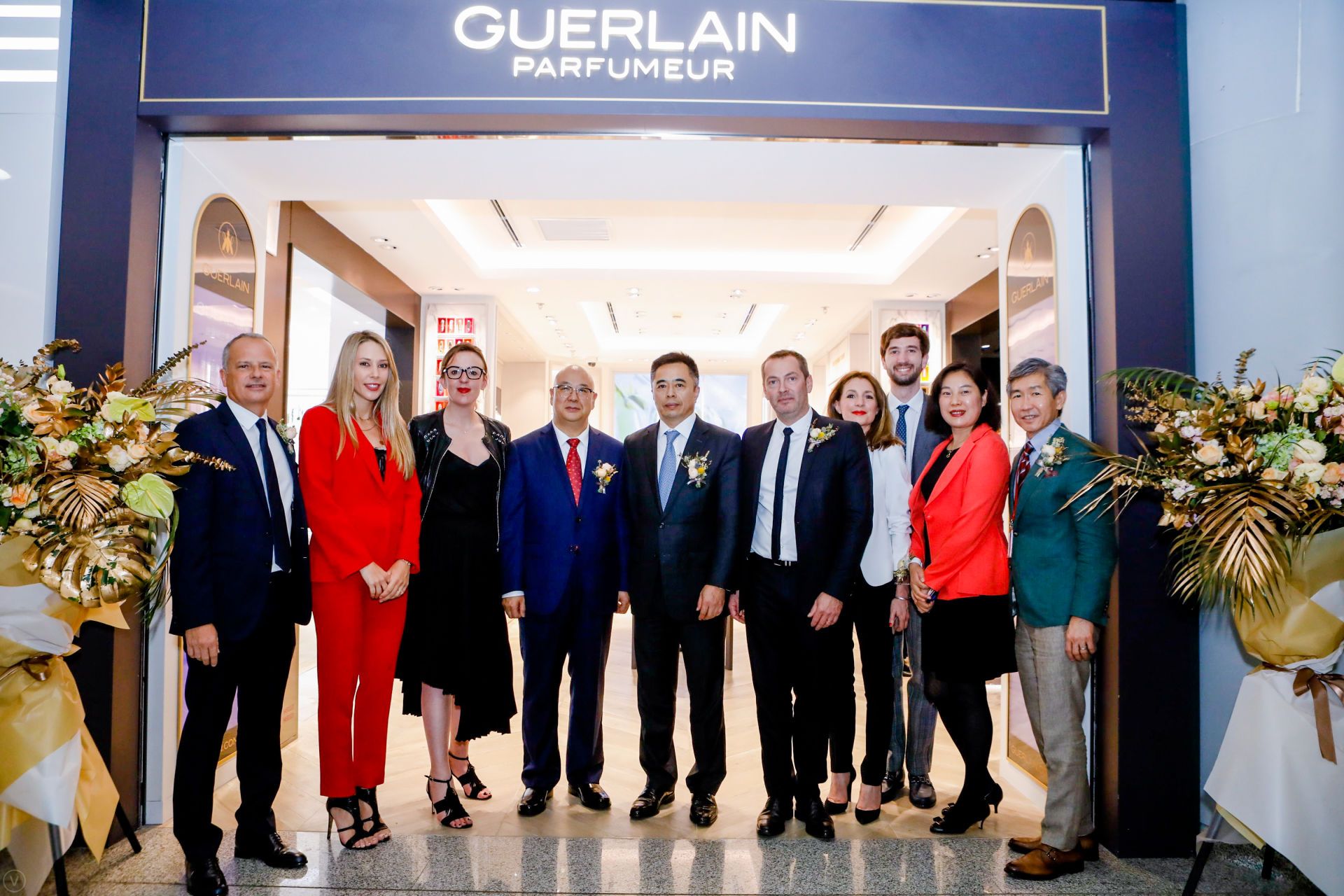 The Guerlain team gathers to greet CDF-Sunrise Duty Free and Beijing Capital International Airport management as the standalone boutique is officially opened
"We have built here with our partner a very strong and solid business in skincare and makeup but today we are here to tell another story," Guerlain International Managing Director Stéphane Augé told guests at the post-opening evening event. "The story is about perfume, because we know that in this region, makeup is still roaring, skincare is definitely flying, but for Guerlain, something is missing. And what is missing is fragrance. So with our team and with our partner, we have decided to prepare the future of the region."
"We wanted to make a big statement in the market and travel retail is very important as a brand builder."
That preparation has taken the form of a world-first Guerlain Parfumeur travel retail boutique featuring an elegant showcasing of the maison's fragrances and a multi-dimensional expression of its perfume-making heritage.
"We have a three-axis brand and are very well-balanced between skincare, makeup, and perfume," Augé tells The Moodie Davitt Report. "But we began with perfume, which we've been creating since 1828. Last year we celebrated our 190th anniversary. So, it was very important to come back to our roots as we try to prepare the future, and the future for us is perfume – especially when your name is Guerlain.
"We wanted to make a big statement in the market and travel retail is very important as a brand builder. So that's the reason why we have chosen our partner in the region because we have a very good track record with CDF-Sunrise and we wanted to start in Beijing."
"The results are very, very strong, above our expectations," comments Guerlain Travel Retail Worldwide Director Elise Vanden Brande. "And we're very proud, also, that CDF-Sunrise chose to support us on the fragrances part because as you've seen most of the emphasis is on skincare. For us, it was a very big statement to come here with fragrances and very specifically with such a personalised approach. So we're proud of the partnership."
Guerlain has certainly made an emphatic brand statement here, but it's a subtle and refined one too – the beautiful merchandising and artisan-like product display underlining the craftmanship implicit in fine perfume making.
There's a strong emphasis on personalisation with customers able to learn about fragrance and about their own olfactory and sensorial preferences. The boutique is all about engagement and education, offering an immersive experience but in a fun way.
The Grand Opening was highlighted by the attendance of two of Guerlain's famous Les Dames de Table, described by the Perfume Society as "the magicians of bottling". "They work in our factory and are the masters of the personalisation," explains Augé. "They create, prepare and design specific, exceptional pieces. And today, two of them are here to create a demonstration of the art of personalisation."

That personalised approach engages travellers via a four-step customisation. Shoppers first find a fragrance they like via a digital consultation process based on nosing a range of real scent families; picking from an array of coloured or classic Guerlain 'bee bottles' – an icon of the maison; choosing three styles to dress the bottle neck: a ribbon, a tied spiral twist, or a fanned bow; and finishing off with an etched message on the glass.
Such personalisation is integral to the maison's DNA. Guerlain even offers a bespoke service to its global customers, whereby they can visit company headquarters in Paris for a specific perfume consultation. "It takes more than nine months to create your perfume. But it's for you and it's for life," explains Augé.
How confident is Guerlain of the future of fragrance in China and in Chinese travel retail? "This bespoke experience demonstrates to us that we can bring some added value on personalisation," replies Ms Vanden Brande.
"Also, the feedback we have from the consumer is that they learned something about perfume itself – about how perfume is created and so on. As Stephane said, the origins of the brand were in perfume. This concept brings added value to the global brand and its global activities."
Brand Partner's Message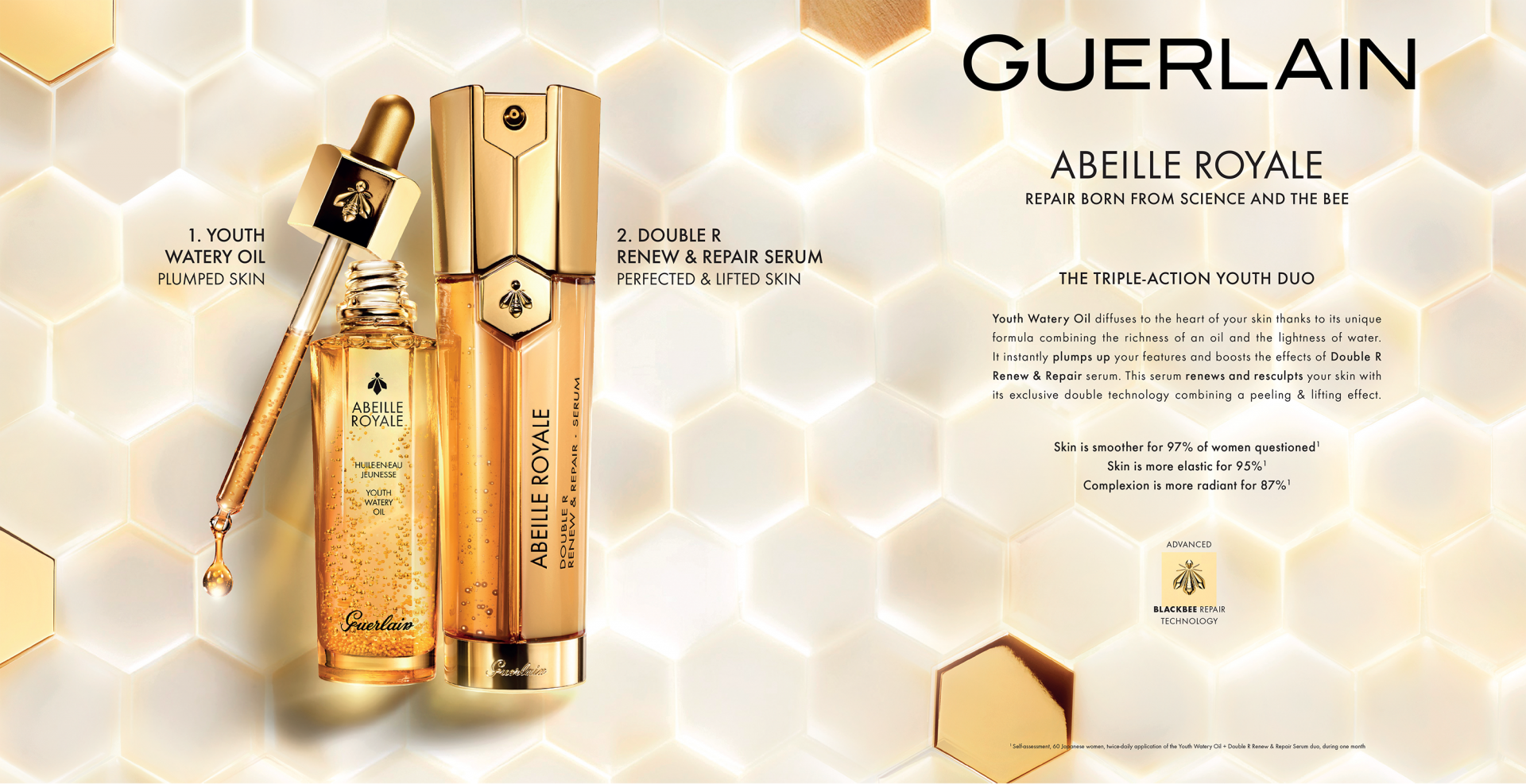 THE MOODIE DAVITT REPORT • JUNE 2019