---
Progress through strategic partnerships
"We have broadened our strategic partnership base to include organisations that better reflect our consumer orientation so that we can jointly harness insights and experiences to better connect with our growing passenger base."
So says Toronto Pearson International Airport Vice President, Customer and Terminal Services Scott Collier, addressing how the change in mindset about passengers and partnerships has helped shift the commercial model.
A powerful example is the airport's reimagination of traditional advertising and brand experiences. With Astral Media (a division of Bell Canada), it has developed a different style of advertising partnership for media across the terminals.
The big difference to the traditional model is that the airport has integrated media into partnerships across a number of channels, affording these companies the opportunity to be nimbler and more innovative when engaging with consumers in the terminals.
The airport has struck long-term agreements with Rogers (Telecommunications), CIBC (Financial), American Express (Credit Card), Genesis (Automotive), and Metrolinx (Up Express – train to downtown). Listening to the needs of passengers, Pearson has also opened its doors to ride share companies and today has an exclusive marketing partnership with Uber.
Tina Williams: "For our exclusive partners, having large campaigns and access to experiential space is more powerful and useful than just a media campaign alone"
"It's not just about static brand presence for our strategic brand partners," says Director Commercial Development Giovanna Verrilli. "Through these innovative relationships, we are able to jointly affect the airport experience for our passengers. We are able to leverage their expertise to reimagine various parts of the passenger journey while ensuring these partners gain the brand affinity they are looking for.
"It's through the broader approach of using our airport as a testing ground and not being afraid to fail that has allowed us to launch 'first to market' concepts and experiences with strategic partners. We support our partners in changing how passengers interact with their brand. It's a win-win for everyone involved if executed properly."
Vibrant visibility: The Genesis 'car to gate' experience is one of a kind at North American airports
Toronto Pearson International Airport Manager, New Business Development and Sales Tina Williams outlines the thinking behind the evolved strategic brand partnership and advertising model.
"The elevated retail and F&B offering at our airport is an essential part of the partnership experience. It provides a platform for brands to engage and show ROI for contextual marketing campaigns with immediate measurement, where brands are sold within the airport. The marriage of a total brand experience allows our partner brands to shine in a relevant way.
"We have created a partnership model that incorporates advertising, but is not dependent on advertising alone. With the fragmentation of media, brands must make their marketing dollars go further and make true connections with intended audiences."
"As North America's second largest international airport, we can offer 50 million-plus passengers with a propensity to spend their time and money with us – optimising the opportunity for our partners."
The Genesis experience at the airport underlines the opportunity to generate superb visibility, with its 'car to gate' experience, which the airport takes pride in saying is the first of its kind in the market (see above video).
The airport provides Genesis (a relatively new luxury brand from Hyundai) with an affluent Canadian audience in Terminal 1 domestic departures. Genesis sales teams usually visit potential customers at their homes; here the company presents experience and tailored vehicle solutions in the heart of the airport.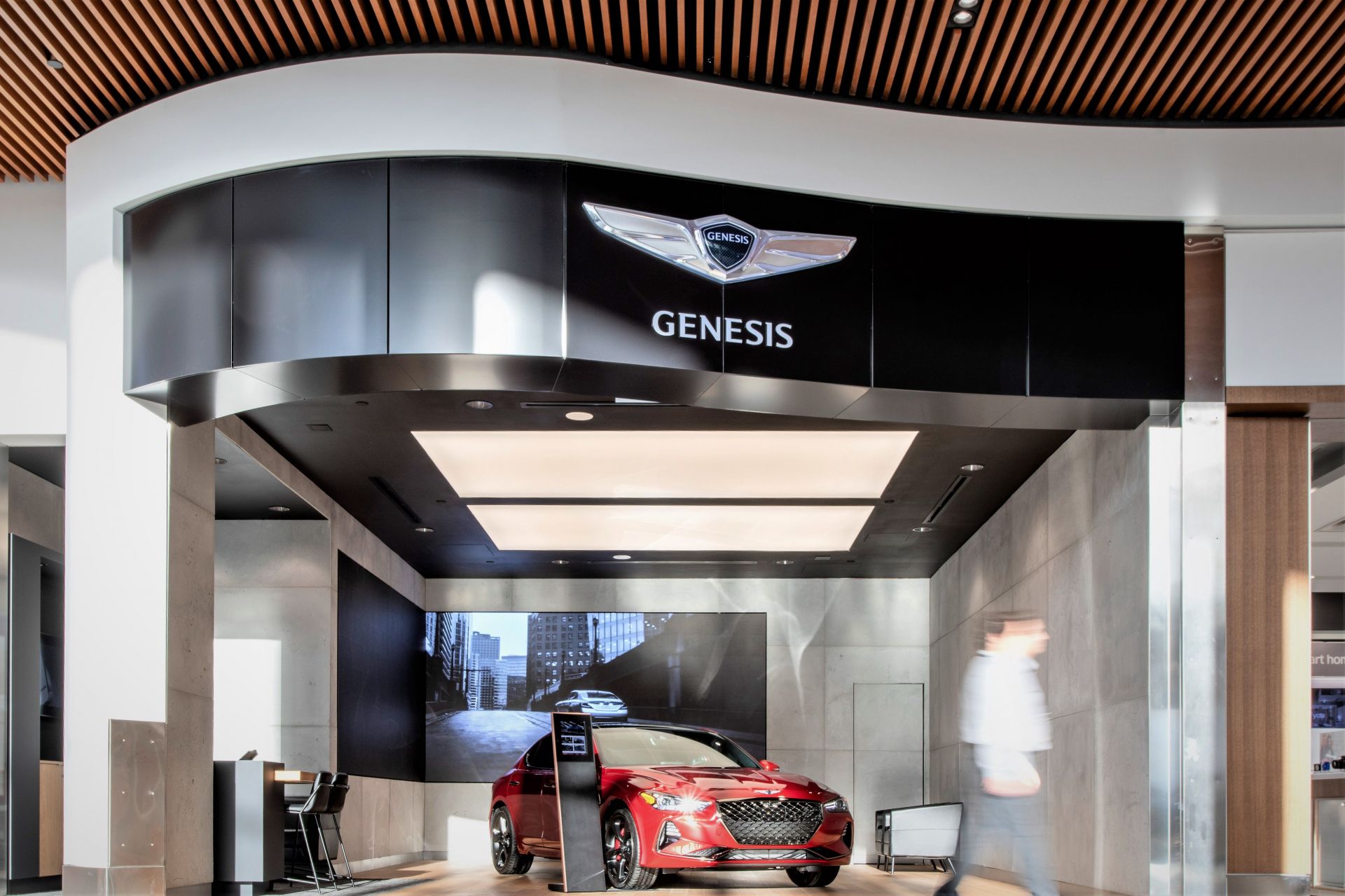 Steering a path to brand awareness: The Genesis showroom in T1 domestic
The reminders along the passenger journey are striking. It begins with a wonderfully creative, immersive projection showroom of the latest vehicle along the walkways, which are adjacent to the Genesis branded valet service in the parking garage. Then follow further powerful cues on the strategically placed advertising assets along the journey. These include positioning at fast track security lines and a sales boutique close to business lounges and crucially, Gate D20, the busiest airline gate in the country, serving Air Canada flights to Montreal and Ottawa typically.
Travellers can choose their own tailored Genesis and place an order at the sales boutique, an initiative that has delivered strong sales. Even the addition of a Starbucks coffee shop in close proximity to the boutique has assisted with driving a target audience to engage with the brand.
Williams says: "As we raise the bar of excellence, we continue to try new and exciting initiatives with our partners. In June this year we granted a once-in-a-lifetime opportunity for Genesis to invite selected customers to test drive their cars along the runway as part of a major campaign. It was remarkable and shows the reach that the airport can deliver for brands.
"These core partner brands want to shine and Genesis is an example of this. They effectively have 100% share of voice and exclusivity on a digital asset, complete with dynamic content and branding in domestic departures. It is very strategic."
She adds: "For our exclusive partners, having large campaigns and access to experiential space is more powerful and useful than just a media campaign alone. We made a strategic decision to align our partners' media and business objectives to the objectives of the airport. If we mixed the strategy, you'd have multiple brands competing for awareness in a large environment. This way, we work with fewer partners, but with much greater impact. These key partners dominate the media but with long-standing strategic partnerships."
Toronto Pearson recently renewed with CIBC for another five years – which includes multiple full service banking locations, a robust media plan, sponsored comfort zones and ownership of luggage carts, allowing passengers use at no cost. Genesis is entering its third year, while Rogers is a new partner for 2019.
"As financial partner, CIBC benefits from full service banking locations, a robust media plan, sponsored comfort zones and ownership of luggage carts"
The agreement with Rogers, Canada's biggest telecommunications company, will result in enhancements to the travel experience, including:
premium Ignite TV lounges for travellers to catch-up on shows while waiting for their flight;
charging stations throughout Terminals 1 and 3;
work stations for business travellers;
showcase of Rogers' latest technology and next-generation innovations; and
continuation of a retail footprint in International Arrivals that provides free phone calls for travellers to anywhere in the world.
Importantly, as noted, these partners are charged with helping Toronto Pearson to innovate and create new experiences for the passenger, not just leverage the space to advertise their own brands.
Collier says: "We are inspired that brands trust us to use the airport as an eco-system for prototyping new technologies and commercial platforms to engage with passengers and employees. These corporations are blessed with impressive consumer insights; we can create the environment to conduct real life consumer engagement in a cost effective, low-risk environment."
Rogers, Canada's biggest telecommunications company, is creating new experiences for the traveller through its Ignite TV lounges, charging and work stations, allied to its showcasing of new technology and next-generation innovations
American Express' 'Don't live life without it' campaign delivers superb brand visibility

Spotlight Series - January 2020