GROUND TRANSPORTATION & PARKING
---
Reactive to proactive to predictive: Tailoring the transport options
Offering the traveller choice through technology and striking new partnerships are key elements in driving satisfaction levels and revenues, says Toronto Pearson International Airport Director, Groundside Transportation Services Mark Regimbald. That approach helped parking and ground transportation deliver C$192 million in revenues to the business in 2018, or approximately 38% of commercial (non-aeronautical) revenues. The division has grown at an average of +6.4% a year since 2014.
"The passenger experience must come first and is part of the formula for success," he says. "That means choice, employee engagement through 'I Am Toronto Pearson' and partner relationships. Our revenue targets are high, but we manage because we focus on the experience and on continuous learning."
The biggest investment in parking over the past five years has been in business intelligence (BI), where Toronto Pearson has worked with partners to analyse space usage better, which in turn allows better planning.
Regimbald says: "I can tell you with a high degree of certainty that on a certain date we'll have, say, 85% occupancy, so we can then add dynamic pricing to figure out how best to satisfy demand. If the drive-up price is the highest you pay, we push people to book online for better prices.
"And if most people want to book online, we make it convenient for them through different offers and ancillary products such as valet or car wash.
"Some 200,000 people are now our subscribers, and we can talk to them directly with discounts, promotional codes and services such as lounge access. That way we've moved from being reactive, not knowing how many people to expect, to being proactive and now predictive."
Parking guidance is among the innovations introduced in the T1 parking garage, offering convenience and a better service. Now the airport company plans to roll out this technology to other garages.
Toronto Pearson is committed to improving the journey to and from the airport, whether travellers and staff use road or rail
The 'passenger first' approach adopted across the Pearson network plays a full part in thinking about parking and ground transportation.
Regimbald says: "We used to be a company that would declare our garage closed when it was full. The passenger would arrive and anyone who didn't pre-book would have nowhere to go. We would give them a voucher to go to another garage, but we found that 40% of drivers wouldn't use the voucher and would go to a competitor. So we said 'what kind of service is that?'
"Now we have turned it on its head. When we are full, we will valet your car for the same price as parking it here. We know that valet services are really added value for the business traveller and families with young children.
"We are not in the business of turning people away. The BI tool helps us figure out how we can still serve these travellers even when we are full. They come back and their vehicle is valeted and also on-site at the selected parking facility. There are added costs of course to us but it generates valuable loyalty.
"Most North American airport car parks are experiencing declines in volume, but we continue to drive additional top-line growth and make operational efficiencies. It's about service and convenience."
Regardless of whether travellers use road or rail to reach or exit the airport, Toronto Pearson says it will invest in improving the journey.
"Whether it's an Uber rider lounge on the ground level or the planned Regional Transit Center for ground transportation, we want our partners to have a connection to the airport. We want them to invest in the experience and in services that make the journey convenient, reliable and comfortable.
"With the 'I Am Toronto Pearson' movement, it has not been difficult to include the partners on the ground transportation side. It gives everyone who works at the airport a sense of belonging. It's all about the passenger and about how we can help. We have ambassadors across every company in the airport who share their stories, and we do a lot of recognition that spreads fast and engages people very well. Not too long ago people felt like they were doing all of this in isolation – not any more."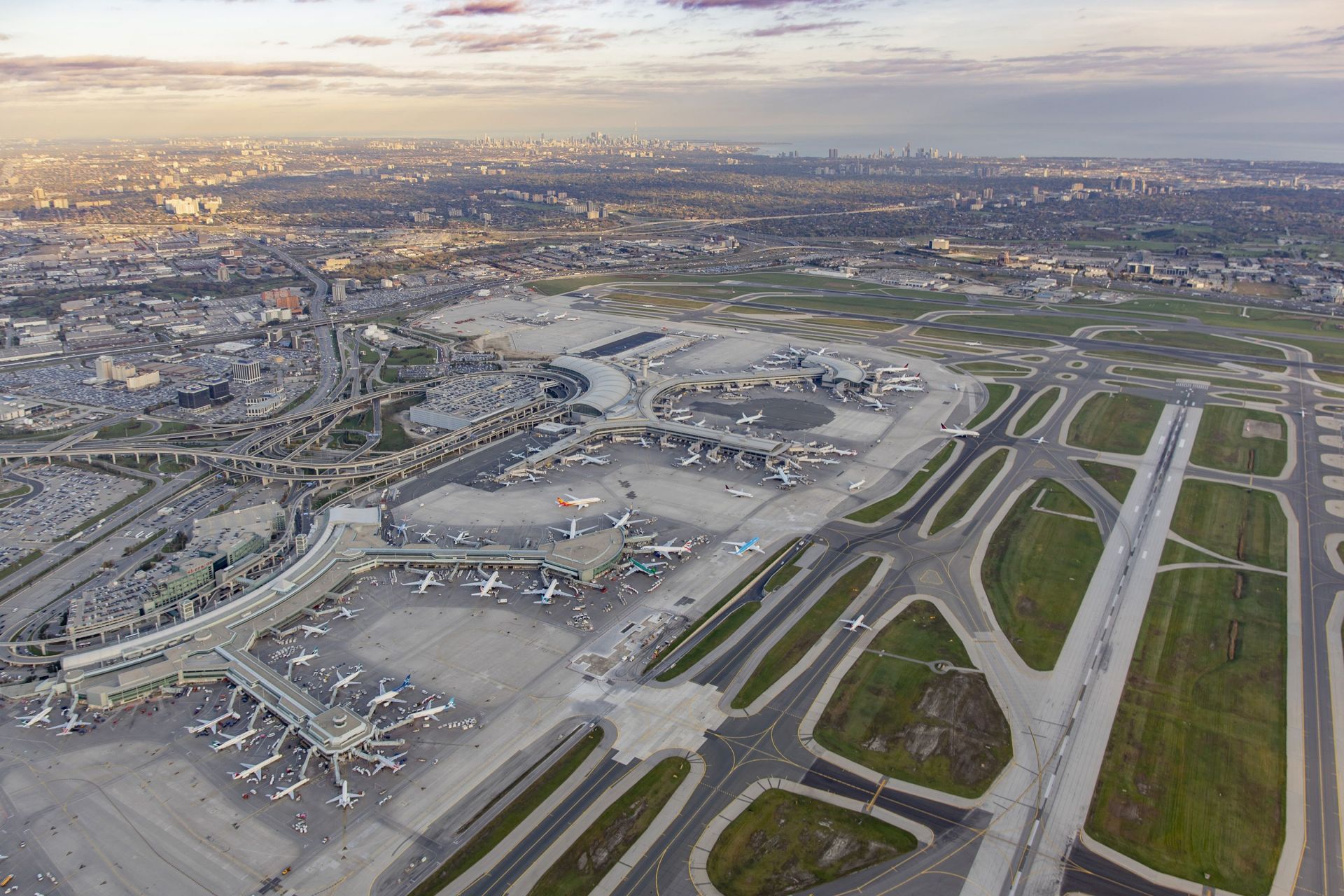 Meeting rising demand on the ground and in the air: Toronto Pearson's catchment area has a population of nearly 110 million
Ride-sharing response to consumer demand
In a groundbreaking move in June 2018, Toronto Pearson announced a pilot project for ride sharing companies Uber and Lyft to pick up and drop off passengers at the airport. It was a response to the average 100,000 ride-sharing requests issued by travellers every month until that point.
Director, Groundside Transportation Services at the Customer & Terminal Services division Mark Regimbald says the strength of the demand meant the airport company had to engage with ride-sharing but acknowledges the difficult conversations that prompted with competitors.
"Rather than concentrate on the perceived threat, we asked what we needed to do to maintain a competitive marketplace. All of that planning and focus on partnership meant that Uber and Lyft each became another travel partner among many."
Early on, the Toronto Pearson team established that the airport required separate spaces for traditional travel services and ride sharing. For the latter, this means Door P or Q in T1 ground level, and Door D in T3 arrivals, on the outer curb (with taxis on the inner curb). The service has since been enhanced with the piloting of kiosks from which travellers can hail an Uber ride, so they can avail of the service even if they didn't take their phone or the battery has run down.
"It's about offering a good experience," says Regimbald, "so we have gone an extra step with the kiosks. What was important from the start was that we involved the other transportation companies, worked out a plan for them, recognising their loyalty and being transparent but all the while underlining that our customers wanted these ride-sharing services.
Mark Regimbald: "Competition elevates everyone's game and the passenger is the winner"
"We have enabled the taxi and limousine business to compete and continue to work with all transportation partners to enhance levels of service to best serve the airport passenger.
"We recognise that there has been some cannibalisation, but our overall airport growth will in short order address that shortfall. And let's not forget, our traditional taxi/limo services are arguably the best in North America and remain quite popular with our international passengers. Providing more choice for passengers, the foundation of our "Passenger First" Strategy has generated more competition among the various transportation providers. Competition elevates everyone's game and the passenger is the winner.
"We see this business becoming an integral part of our ground transportation story and it continues to enjoy strong support from our passenger base."
Toronto Pearson management acknowledges that introducing Uber brings competition for other ground transport services,
but the consumer demand could not be ignored
Making the most of real estate
In 2017, Toronto Pearson International Airport took the view that it could better control its own destiny by investing in commercial real estate. It was a strategy designed to add sufficient land to support airside and terminal expansion resulting from passenger growth. Beyond that, with this far-sighted approach, Pearson could acquire industrial and commercial office space and buildings to satisfy growing demand for relevant ancillary services.
That plan has paid off to date. In 2018, the real estate business (including the properties from the GTAA's wholly-owned subsidiary, Airway Centre Inc.) generated C$133 million in revenues. That's a sharp rise from the C$87 million this business generated in 2014, with a CAGR of over +8.2%.
"Real estate is fundamental in the growth and sustainability of the airport. Making investments in commercial real estate will equip us with the required flexibility for growth and redevelopment while driving revenues," says Associate Director, Real Estate Development Pat Garisto.
The major revenues from GTAA's real estate business come from terminal space rentals (including over 100,000 sq ft of airline lounges), flight kitchens, hangars, cargo facilities, ground handling, land leases, hotels and other property rentals. Across all of these sectors the department works with almost 200 partners.
Garisto says: "Toronto Pearson is at nominal capacity in the terminals and airside. As Pearson continues to grow, demand for space to support direct and indirect commercial, transit and aviation-related operations eclipses current land inventory."
Since 2017, for example, Airway Centre Inc. acquired properties near the airport primarily consisting of 2 million square feet of industrial and commercial office space and buildings. These are unrelated to the airport's direct operations but present opportunities for new revenue streams now and in the future.
Pat Garisto: "We are extremely active in the market and will continue to be opportunistic in acquiring new assets"
Garisto says: "We are extremely active in the market and will continue to be opportunistic in acquiring new assets. However, all acquisitions need to support our long-term growth strategy and make positive financial returns for the organisation."
In one of its most ambitious projects, the GTAA began preliminary design in 2018 on an integrated Regional Transit Centre (RTC), connecting not only the airport but the wider region.
Currently, one million car trips a day are taken into and out of the airport employment zone and driving times to Toronto Pearson are expected to rise by an average of +30% over the next two decades. The airport's long-term vision is to build the RTC to better move people to, from and around the airport, making it easier to travel, connecting people with jobs, facilitating tourism, enabling business and facilitating the movement of goods.
Convenient connection: The train shuttle between terminals at Pearson; much more transport investment is planned in the years ahead

Spotlight Series - January 2020