---
Curating new dining and shopping experiences
"The future will be about creating a curated experience or facilitating one the traveller can create themselves," says Toronto Pearson Senior Manager, Retail Operations and Performance Suzanne Merrell of the approach to services, travel essentials and dining at the airport.
A creative food & beverage programme is a key commercial component, built on newness in the concept offer, chef partnerships and Sense of Place. Expect new projects to feature sustainable dining concepts, health-conscious options and quick service restaurants, with a more evolved use of technology.
Suzanne Merrell: "We have done a lot of work with brands to change processes, but we must step in and support our partners"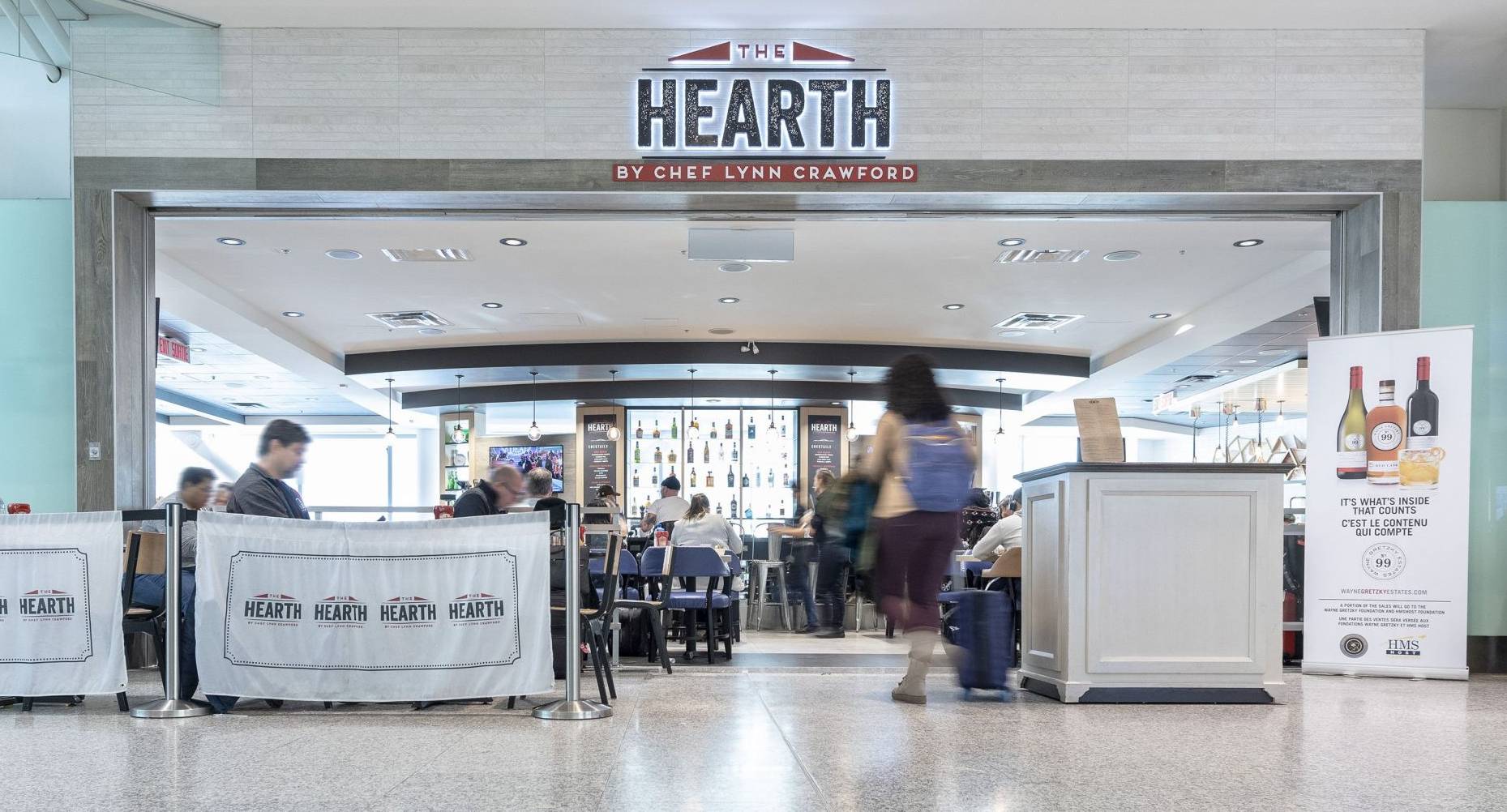 Chef Lynn Crawford's The Hearth: The highest grossing restaurant at Toronto Pearson
Key projects that will lift the F&B space include upgrades of the T1 domestic food halls and T1 landside hall, wider T1 expansion and T3 redevelopment.
"It's about choice," says Director Commercial Development Giovanna Verrilli. "Dining is an incredibly subjective experience based on personal tastes and if we don't give people the right suite of options, we will likely lose them as a customer. Choice needs to come in a variety of formats including brands, service model (sit-down, quick serve), food types, price points and methods of interacting – the right blend of human interaction and technology.
"In addition, we need our partners to deliver great service consistently. We need to think about our business through the lens of a passenger. Operational excellence is a critical pillar to our collective success. We have a ways to go but this needs to be one of our priorities moving forward."
Merrell says: "In addition to helping our partners deliver consistent service we need to think about the integration of experience zones in our commercial operations and how our brand partners can play a part in this. This approach will help us to elevate our offer."
To that end, the airport and its partners have launched a new Subway Café, the first of its kind in the world, under a different look and feel. It has a new partnership with HMSHost and Uber for Uber Eats.
These are in addition to an array of chef-led concepts from famed Toronto chefs such as Lynn Crawford, Roger Mooking, Massimo Capra and Susur Lee.
While managing the dining estate, Toronto Pearson management is also trying to identify what will whet consumers' appetites in the future.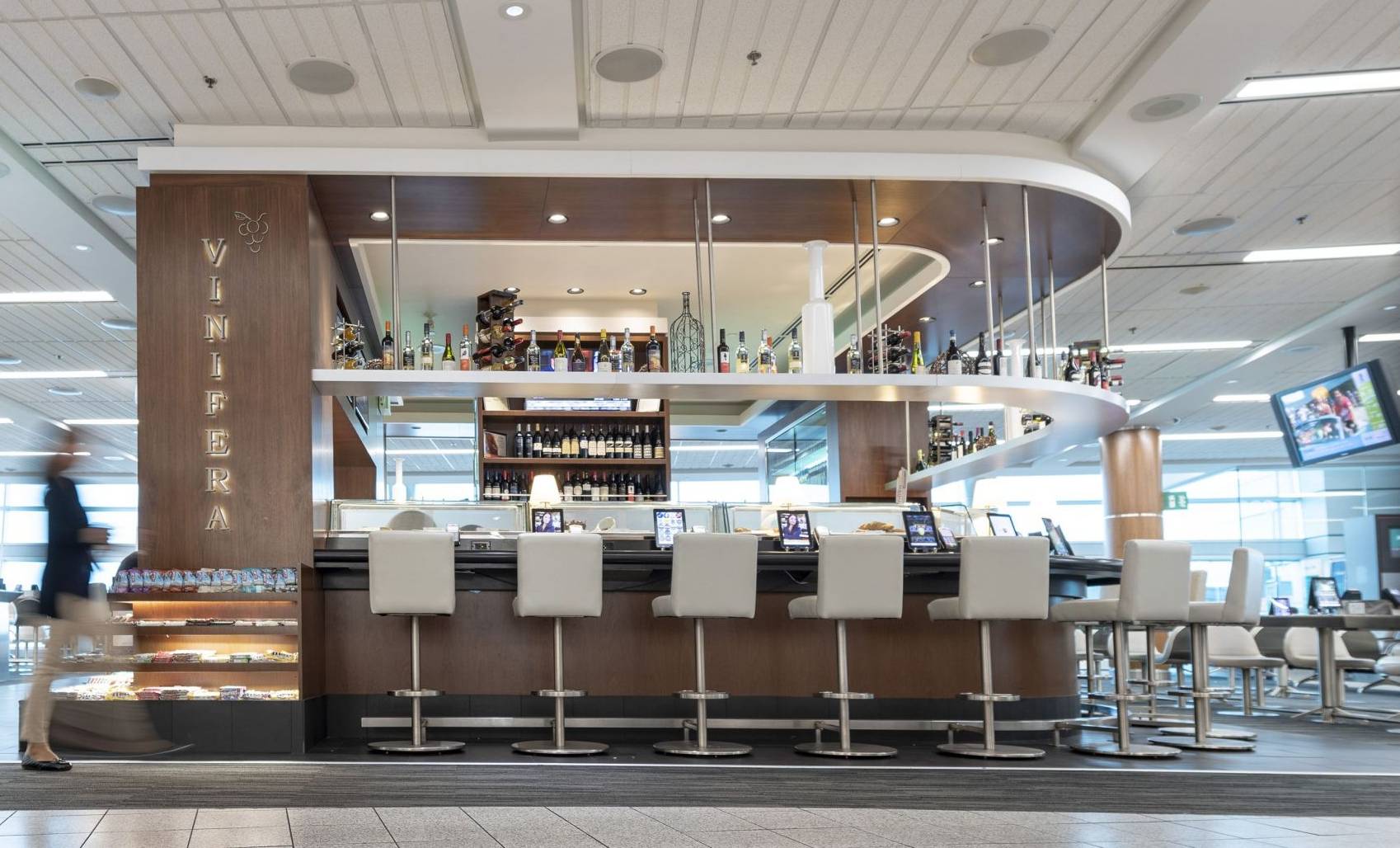 An elegant, eclectic mix in F&B: Vinifera (above) and Roger Mooking's Twist (below)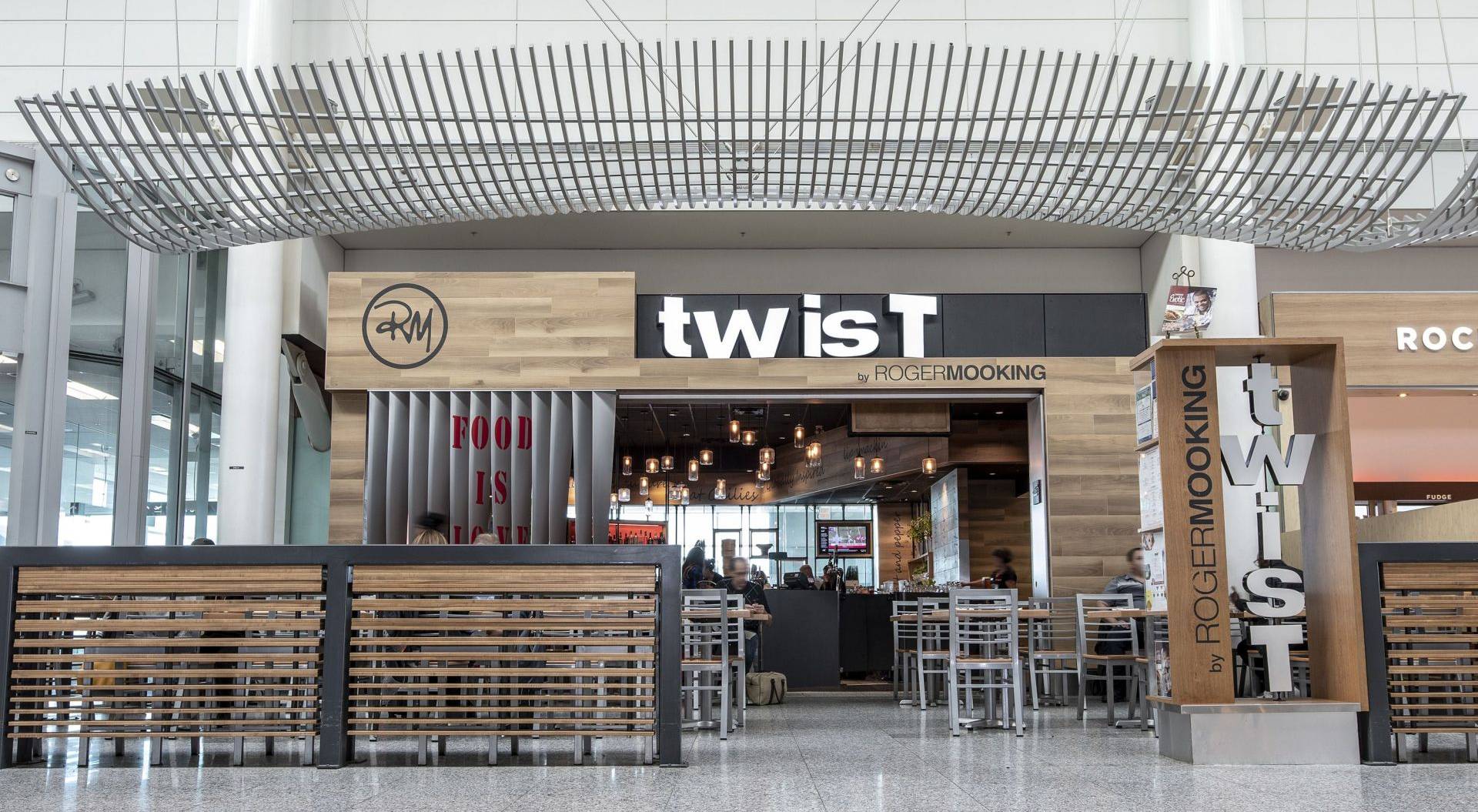 Merrell says: "We think about this all the time. How will we dine differently? How do we get rid of queues? We have done a lot of work with brands to change processes but we must step in and support our partners with the brand dynamic when needed. We cannot charge our partners with the full weight of that challenge."
Within the offer, there remains a strong place in the mix for sit-down dining, with The Hearth by Lynn Crawford in the Terminal 1 US transborder area, for example, one of the most popular restaurants at the airport.
"It's about finding the right spaces that are experiential," says Merrell. "At The Hearth, we had line-ups at dinner and no space to expand in-line, so working with our terminal operations team, we carved out seating on the concourse and found that people then wanted to sit out on the 'patio' as they called it, to see and experience the vibrancy of the airport. Now we've added similar spaces to three more restaurants and it's great new business. It's all about perception.
"Beyond that, the future of grab & go will be very interesting. For high-volume locations, we could see grab & go in formats with a quick mis en place finish for quick customisation or even on occasion vended. You'll see self-serve in the future as we navigate the journey of our growing international connecting passenger."
GTAA, along with its partners, has changed the dining experience to create a world-class offer over the years, but the airport company is not content to sit still. "We don't receive the volume of complaints about food that we did ten years ago because the offer has increased in variety and quality. This does not mean, however, that our work is over or that we have reached the bar we have set for ourselves," says Merrell.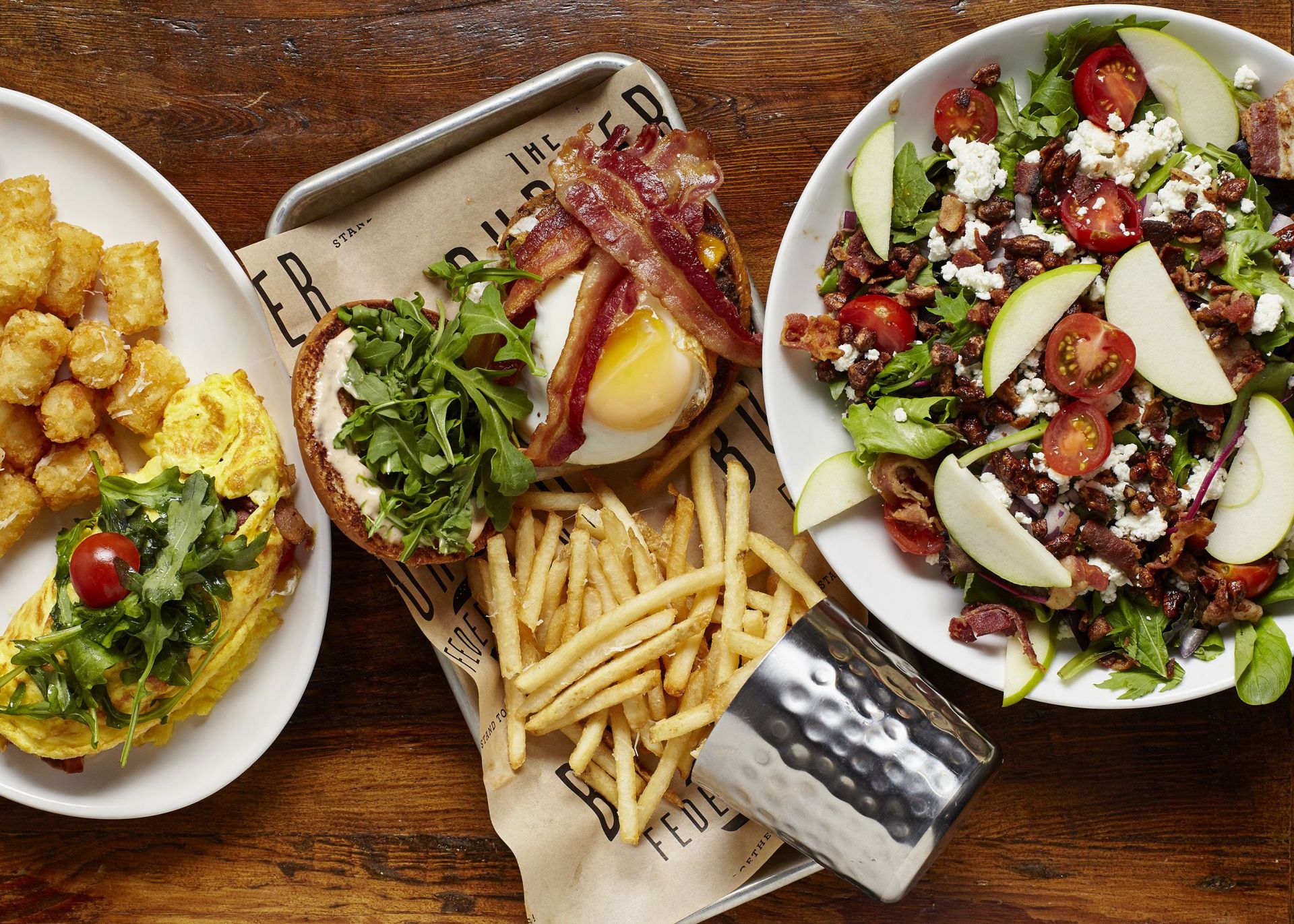 It's all about the food: Signature dishes (clockwise from top left) from The Burger Federation, Bar 120, Tap & Pour and Twist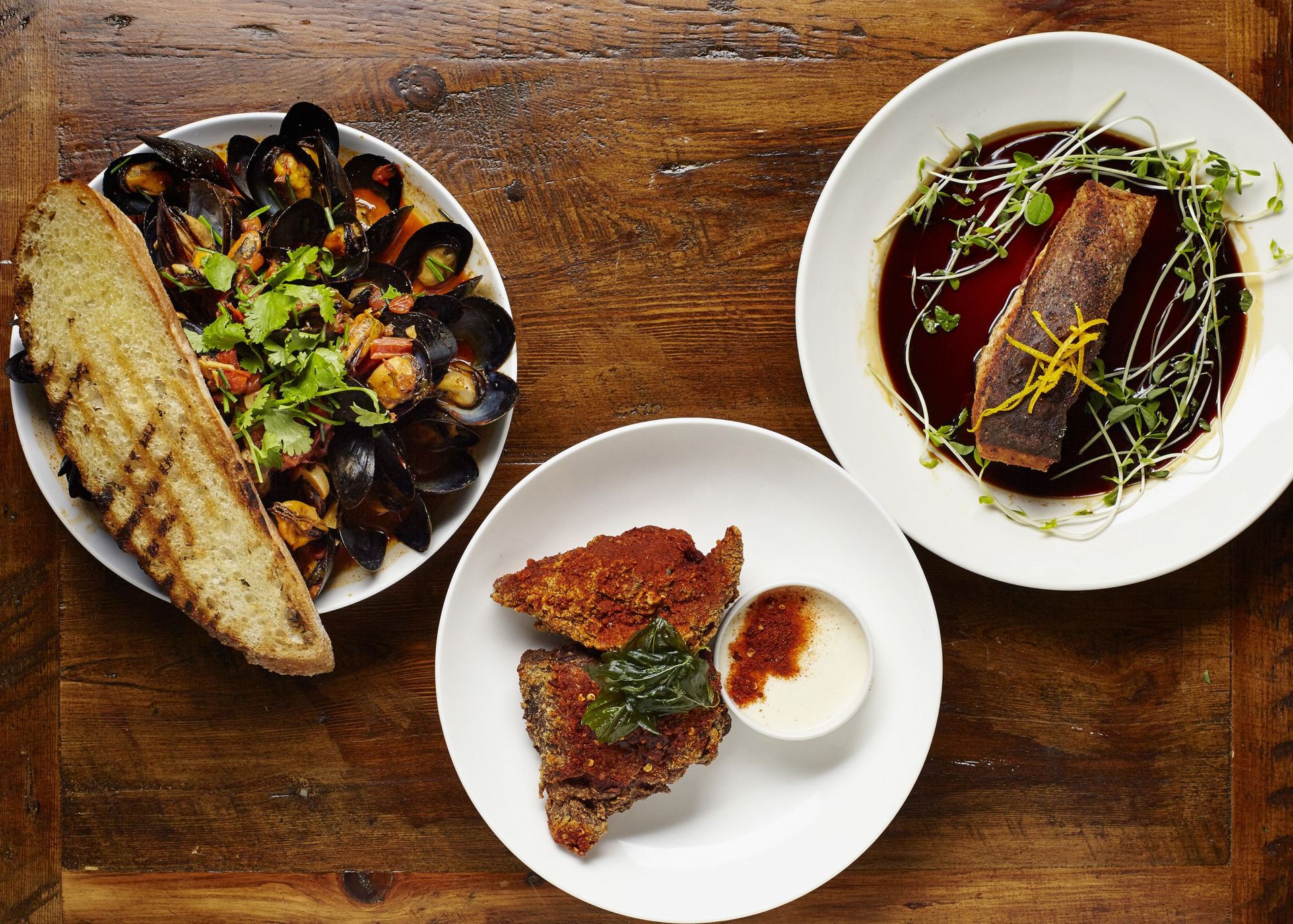 It's all about the food: Signature dishes (clockwise from top left) from The Burger Federation, Bar 120, Tap & Pour and Twist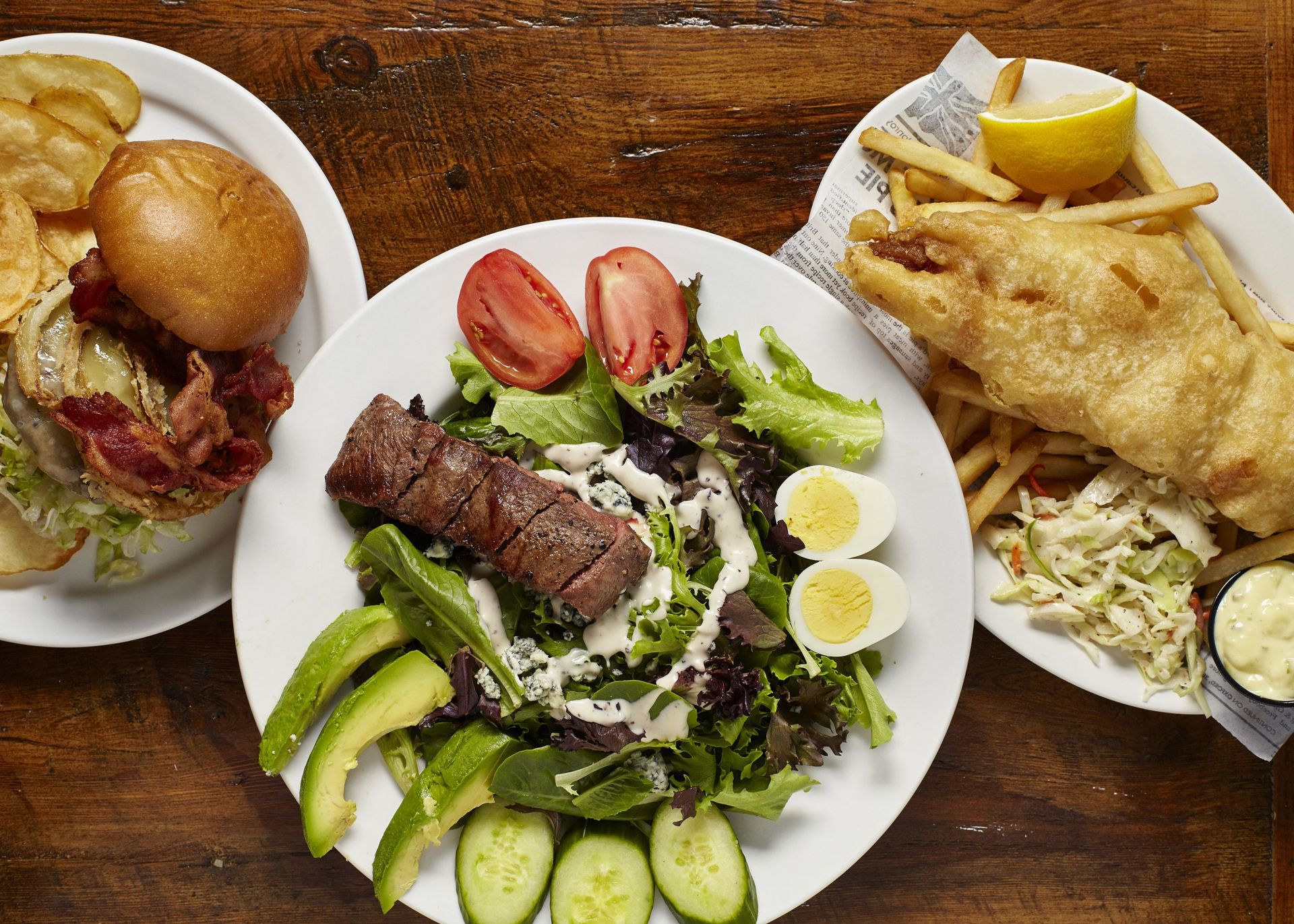 The convergence of channels, a highly relevant topic today among airports and retailers, is another theme that exercises the Pearson team.
Merrell says: "Food and travel essentials have a connection, but how do you tease that out in future store formats? It's not just about replacing magazines with grab & go meal options, but how do the travellers flow through, what do they want and can it be fresh and appealing?
"We are in travel essentials 2.0 but what does travel essentials 3.0 look like? We know that in another three years today's approach won't work. 30% of our business is connecting traffic, and some people have time, others do not. How do we build models that are easy to access with great choice and simple to check out? Can we adopt an Amazon Go-type model where you pick up and swipe? For us, what the world of essentials will look like is bigger than just thinking about where the neck pillows sit."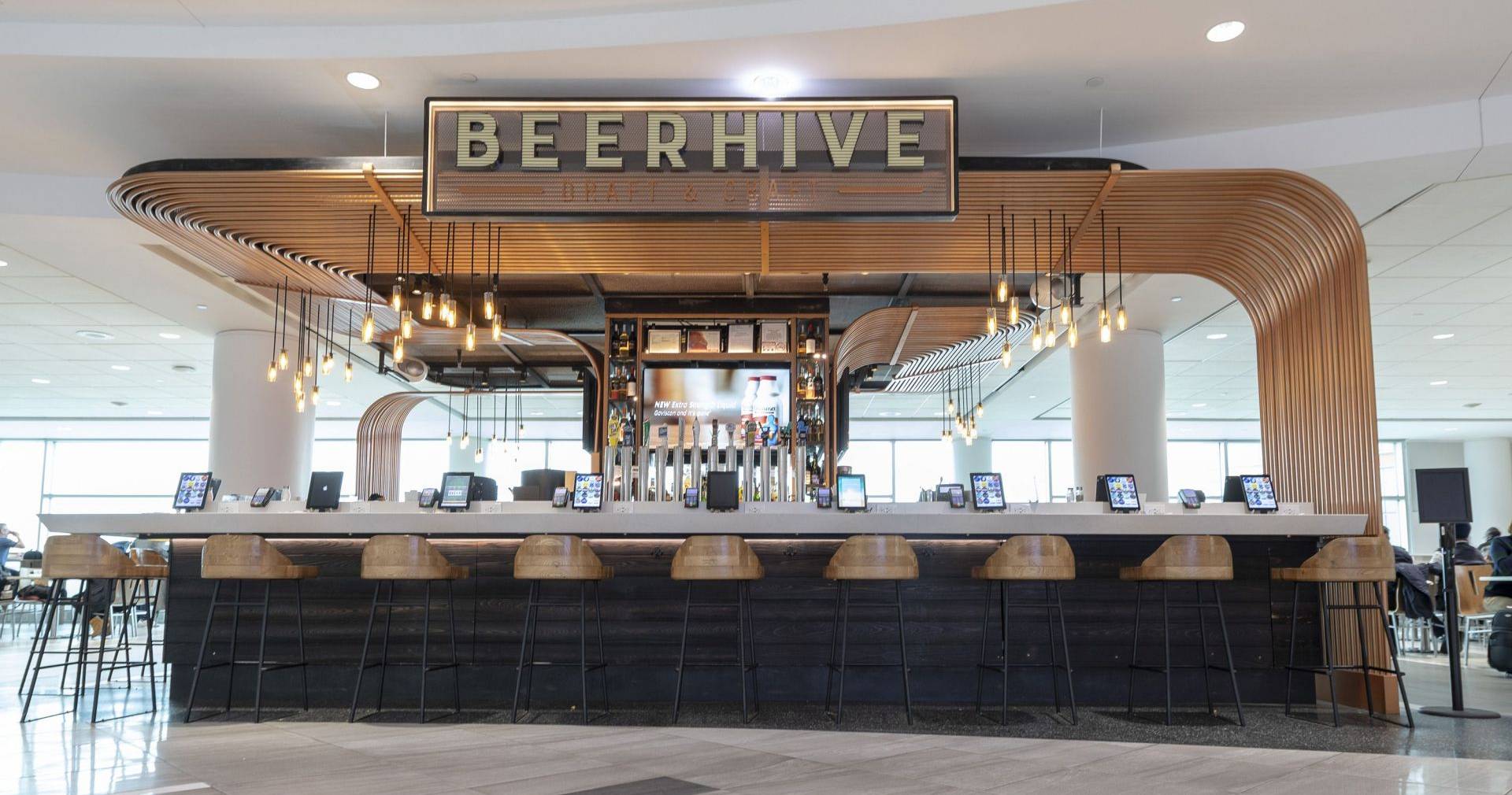 The OTG-managed Beerhive in T3 puts the emphasis on local brews, including Muskoka, Creemore Springs and Great Lakes breweries from Ontario
With new Relay concepts and a first TripAdvisor store in the world introduced at Pearson, there has already been healthy innovation in this category – and more will follow.
"In travel essentials we downsized our footprint by -30% over three years ago with our partner at Paradies Lagardère and it had zero impact on revenues, with strong growth to the market since then," says Merrell.
"To achieve this success, an in-depth review of merchandising and product mix to maximise efficiencies took place.
"Our partner took the challenge, rose to it and surpassed expectations. The programme was over-sized; now we have appropriate space and it's about multiple categories and use."
Ultimately, creating appeal and driving footfall to the stores relies on trust and partnership.
Merrell says: "This business is about story-telling and engaging in an interactive way. We are doing a lot of work on this, improving our website with a new launch this year for example. We have taken a while to get our social media platform ready as a commercial group to understand how we best attract passengers to our programmes. You'll see a new approach with the passenger through the Toronto Pearson platform in 2020."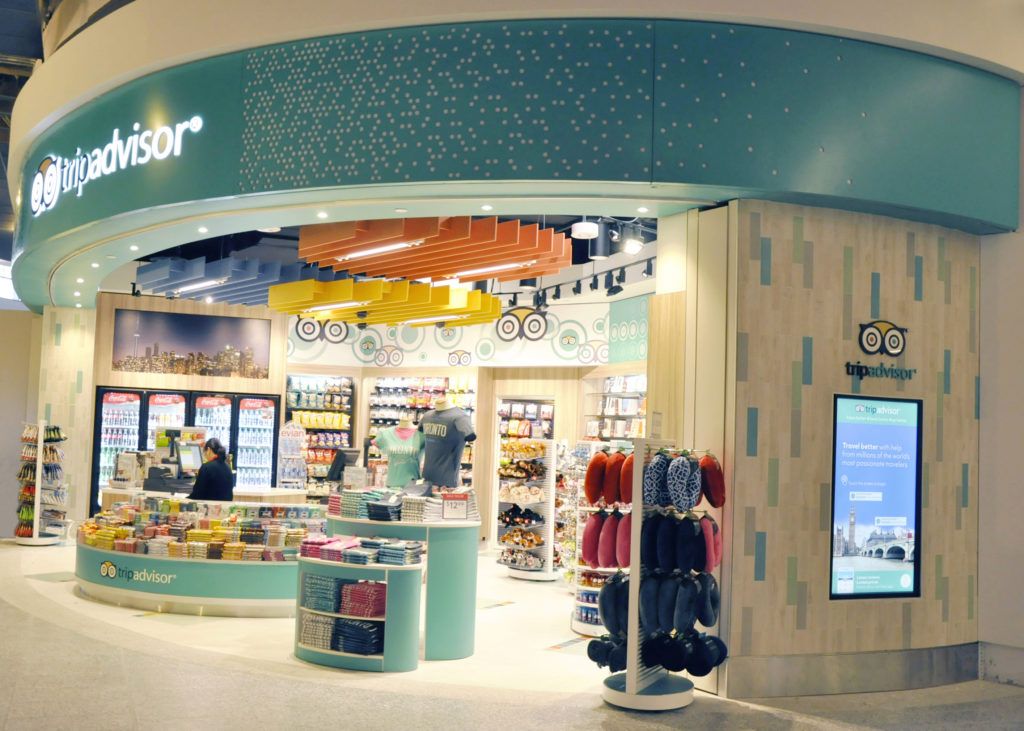 World first: Paradies Lagardère opened TripAdvisor's debut airport store at Toronto Pearson Terminal 1 (domestic) in 2017
Leveraging tech for a world first
Through a pilot programme – the first of its kind in the world – Toronto Pearson, Uber Eats and HMSHost partnered recently to bring Uber Eats to the Terminal 3 international and domestic departures areas.
Using the Uber Eats iOS iPhone or Android app, passengers can have food from HMSHost restaurants Caplansky's Deli, Paramount Fine Foods, Smoke's Burritorie, Smashburger or Fionn MacCools delivered to their gate.
Vice President, Customer and Terminal Services Scott Collier says: "This innovative partnership with Uber Eats and HMSHost underscores our commitment to continued innovation in passenger service. Kudos to HMSHost and Uber: that is leadership in action."
He adds: "What was important was that the partners built this, not us. It is early days and we have not scaled it yet but it is the direction we need to be thinking in."

Spotlight Series - January 2020